Dali Lighting Lab
Penn State AE is in the forefront of lighting technology innovation with the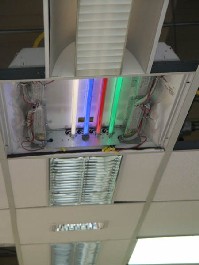 installation of the first digital addressable lighting interface (DALI) instructional laboratory in the United States.
This "hands-on" teaching laboratory is a 1,200 sq. ft. facility housed in 108 Engineering Unit B on campus, and contains over 70 examples of state-of-the-art lighting fixtures, including color changing fixture (shown right), TV lights, spotlights, and typical commercial lighting. Every lamp can be controlled, dimmed or switched either locally, or from remote access. Innovative features include DALI spotlights and real time remote control via web cam and web browser, which enables a user to logon to the Internet with a password and control the camera and lights live from their desktop from anywhere in the world. DALI is an extremely effective tool to use in conjunction with building automation systems where remote supervising and service reports are required. This technology is incorporated into the AE curriculum through AE 461 Building Illumination Theory class, allowing students the opportunity to have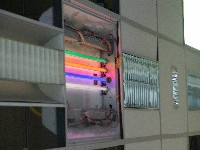 hands-on training with the integration of light control systems based on the DALI interface.
The establishment of this state-of-the-art lighting laboratory at Penn State AE could not have been accomplished without the phenomenal generosity of several sponsors who donated more than $186,000 worth of equipment and resources to the facility. Their outstanding support has enabled us to create a premiere instructional and training facility that is unique in the nation. We gratefully acknowledge the following sponsors of the AE DALI Lab.
Advance Transformer Co.
ALP Lighting
Bplus1/B+L Technologies
ERCO Lighting, Inc.
Gam Color
GE
Hess America
Indy Lighting
Juno Lighting
LSI Lighting
Lucifer Lighting
Lutron
Mechoshade Systems Inc.
Mitsubishi International Corp.
Osram Sylvania
Peerless Lighting
Philips Lighting
Starfield Corporation
Sterner Lighting
Sylvania
Tridonic Atco, Inc.
Wattstopper, Inc.
Duane Wiedor Company
Woodhead, L.P.
Zumtobel Staff Lighting Inc.
Additional donations will be used to create displays of a variety of architectural and window surfacing materials. Students will have an opportunity to study the effects of light sources and light distribution behavior on these items.