Welcome to the Summer Program at the Pantheon Institute
For information and to enroll in the program contact Professor Moses Ling via email at mosesling@psu.edu.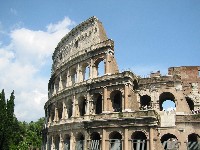 The Architectural Engineering Department is offering a 12-credit, 7-week semester in Rome, Italy for Penn State Architectural Engineering students during the Summer I term.
This is an intensive academic, cultural and maturing experience. While much of the lecturing involves site visits to Rome archeological sites and other Italian cities, students should be committed to a heavy workload. The program is a faculty led program and will provide the necessary credits for an Architectural Studies Minor.
All classes will be offered at the Pantheon Institute located in two revered piazzas of Rome, Piazza Venezia and Piazza della Rotunda (Pantheon).
Use the links below and to the left to learn more.
| | |
| --- | --- |
| General Information | For Participants |