Overview
Our projects have spanned several exciting research areas including creativity support tools, design cognition and fixation, and medical product design. To find out more about these projects, click on the relevant picture below.

Creative Concept Selection
Sponsored by: The National Science Foundation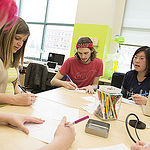 The goal of this award is to develop a theoretical understanding of the factors that influence the filtering and promotion of creative ideas through the concept selection process by exploring the impact of the decision maker and the concept selection tools utilized. Three research tasks contribute to achieving this objective. First, an understanding of the fundamental relationship between risk aversion and innovation is being developed through experimental investigations with engineering design students and industry professionals. Second, novel methods for assessing concept creativity are being developed and tested for their impact on the promotion of filtering of creative ideas during the concept selection process. Third, substantive and empirical studies are being conducted to validate the utility of concept selection methods for maximizing the potential for innovation through engineering design courses.

Relevant Publications
| | | |
| --- | --- | --- |
| | How Engineering Teams Select Design Concepts: A View Through the Lens of Creativity | |
| | Which One Should I Pick? Concept Selection in Engineering Industry | |
| | Implementing Creativity Evaluation Tools into the Concept Selection Process | |
| | A novel method for assessing design concept creativity using single-word adjectives and semantic similarity. | |
| | The role of individual risk attitudes on the selection of creative concepts in engineering design | |
Research Materials
TASC: Tool for Assessing Semantic Creativity

Research Assistants: