Overview
Our projects have spanned several exciting research areas including creativity support tools, design cognition and fixation, and medical product design. To find out more about these projects, click on the relevant picture below.

Product Dissection in Engineering Design
Sponsored by: The National Science Foundation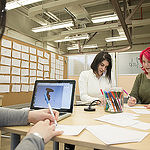 Product dissection, or the systematic disassembly of products, is used as a means to help designers discover the inner workings of products and inspire new design ideas. While product dissection has been widely adopted in both engineering education and industry, there are many widely varying approaches of dissecting products for encouraging creativity and design learning. However, almost all dissection activities currently require products to be dissected physically which limits the utility of these activities due to the cost of the materials, space requirements, and the effort required to dissect the product. This award supports fundamental research to provide needed knowledge for the development of cognitive models of product dissection innovation and learning practices.

Relevant Publications
Let's get Physical? The Impact of Dissection Modality on Engineering Student Design Learning





Harnessing the Power of Fixation for Design Creativity.





Dissecting creativity: How dissection virtuality, analogical distance, and product complexity impact creativity and self-efficacy.





The Impact of Virtual Product Dissection Environments on Student Design Learning and Self-Efficacy





The impact of virtual dissection on engineering student learning and self-efficacy





The Impact of Team-Based Product Dissection on Design Novelty





Product Dissection or Visual Inspection? The Impact of Designer-Product Interactions on Engineering Design Creativity







The Impact of Product Dissection Activities on the Novelty of Design Outcomes





Virtual Dissection Instructional Video