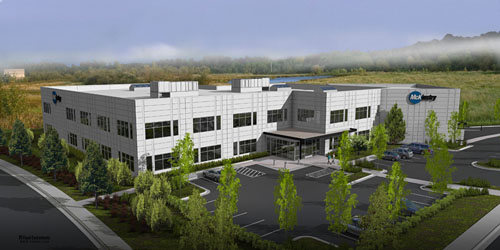 Building Name:McKinstry Oregon Headquarters
Location and site:  16790 NE Mason St, Portland OR 97230
Building Occupant:McKinstry Portland
Building type and SF: Office – type B (46,215SF) 441 person occupancy
Warehouse – type F1 (4,375SF) 44 person occupancy
Number of stories: 2
Primary Project Team:
Owner – McKinstry, Seattle WA
General Contractor – Hoffman Construction Company, Portland OR
Construction Manager – TS Construction Management, Portland OR
Architect – Mildred Design Group, P.C., Portland OR
Mechanical and Electrical Engineers – McKinstry, Seattle WA
Structural Engineer – T.M. Rippey Consulting Engineers, Tigard OR
Civil Engineer – AAI, Beaverton OR 
Landscape Architect – Viridian Environmental Design, LLC, Portland OR
Geotech Engineer – Geo Design, Inc., Tigard OR
Dates of Construction: March 17, 2008 – March 1, 2009
Cost Information:
The most recent estimated cost of the entire project is $15.5 million.   This includes construction costs, soft costs, and land for 2 buildings.  For this thesis I will focus on the larger, office building.  Costs for this building are $11.1 million (hard costs), $1,972,000 (soft costs), and $870,000 for land.  This totals $13,942,000.
Project Delivery Method: Design - Build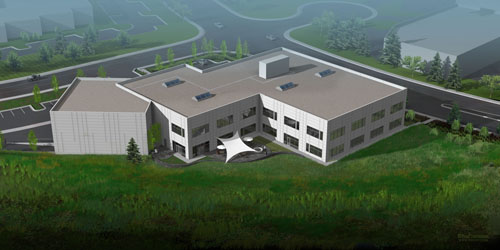 ARCHITECTURE
Description:McKinstry Oregon Headquarters is a 2 story office building.  The office is laid out in a simple rectangular grid.  At the West end of the building a 1 story warehouse attaches at a rotated angle.  The flat, tilt-up concrete walls have vertical and horizontal lines to break the long straight façade. The building has about 30% window area and employs solar shades and skylights.  The owners are anticipating a LEED Gold rating.
Major National Model Codes:  IBC 2006, as amended by 2007 Oregon Structural Specialty Code; ASHRAE 2004
Zoning: IG2 Industrial Park with Columbia South Shore Watershed underlay
Special requirements: The footprint of the building is strongly dictated by the Environmental Protection Zone which surrounds the property.  In this zone, there are setbacks which don't allow anything to be built, no alterations to the landscape, and no overhangs.
Building Envelope:  The envelope starts at its base with a reinforced concrete slab (there is no basement).  The exterior walls are tilt-up concrete panel walls backed by 3-5/8" metal studs and 3.5" batt insulation.  Approximately 30% of the office façade is glazing and windows are double glazed.  A built-up roof with 3" rigid insulation and 1.5" metal decking tops off the structure.  The roof also has several translucent skylights for natural day lighting.
PRIMARY ENGINEERING SYSTEMS
Construction:
Building construction began on March 17, 2008, headed by Hoffman Construction as the general contractor and T.S. Construction Management as the CM's.  Move In Date is scheduled for March 1, 2009.  The headquarters will be built using type IIIB construction and is design-build delivery.  One interesting feature of construction is the tilt up walls. All the exterior walls will be poured on site and tilted up after curing.
Electrical and Lighting: The building is powered by 480/277 volt 3 phase 4 wire stepped down to 208/120 volt.  Lighting is all fluorescent fixtures, standard strips, downlights, and sconces.  There are also 4 - 8'x15' skylights on the roof of the building.
Mechanical: 
The central plant of the building is a heat recovery chiller that is used for both heating and cooling.  The mechanical system also includes an open loop ground source heat pump.  Ground water accepts heat from the condensing water in cooling mode and provides heat to the evaporator water in heating mode.  On the air side, a single rooftop AHU (with VFD) distributes air via ducts to the office section of the building.  Series VAV boxes with hot water reheats are located throughout the office.  Also, an airside economizer can provide cooling on light load days.  Two hot water unit heaters keep the warehouse warm in the winter.  Heating is provided by the hot water loop and there is no cooling or ventilation.  An eQUEST model has been performed on the building to satisfy LEED requirements.
Structural:
The main office portion of the building sits on a 6" reinforce concrete slab-on-grade.  7" concrete walls as well as 6x6 and 8x8 concrete columns provide a load path to the ground.  Drag struts provide lateral support for the building.   W 12x19 joists spanning 25' and W18x35 girders also spanning 25' hold up the second floor, which consists of 2" composite deck with 2-1/2" topping.  Open web joists (32LH375/208) spanning 50' and 48G6N18.8k girders spanning 50' keep the roof up which is a built-up roof with 3" rigid insulation and 1.5" metal deck.  Interior partitions are 3-5/8" metal studs and are non-load bearing
The warehouse sits on a 6.5" concrete slab.  Open web joists, similar to those on the second floor, and W27x84 girders spanning 25' hold up the roof, which is similar to that on the main office building.
ADDITIONAL SYSTEMS
Fire Protection: Sprinkler system, Automatic smoke detection, fire rating between warehouse and office?
Transportation: 1 elevator, 3 stairwells, 4 exits
Plumbing: Supplemental rainwater harvesting for toilets