Student Reflections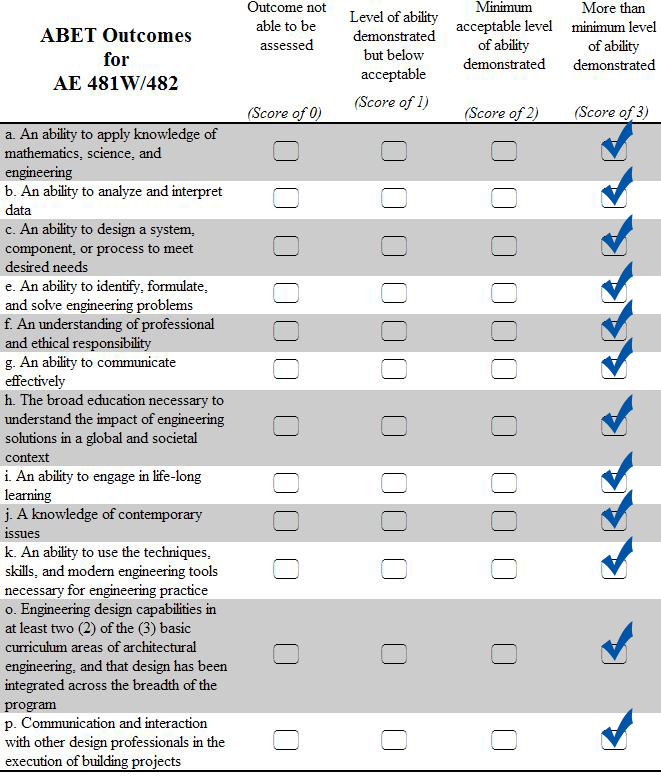 AE 481W/482 Course Reflection
The AE Senior Thesis project has provided me with an experience that has been beneficial both in learning how to tackle real life problems as well as effectively designing all aspects of a structure. The course has also allowed me the opportunity to communicate with my peers, teachers and industry professionals in a way that has benefited my thesis project while furthering my understanding both of engineering and communication within a working atmosphere. Through the thesis project I was able to channel the knowledge that was obtained in the first four years of the Architectural Engineering program, to develop an interesting and challenging thesis project while also continuing my advancement as an engineer. Overall, I believe that the thesis project was a huge personal success and I feel that it has helped me to be adequately prepared for a career in structural engineering.
CPEP Discussion Board Reflection
The discussion board was extremely useful tool that allowed me to access the experience and knowledge of professionals that have been handling the problems that arise during senior thesis for many years. Personally, I used the discussion board a few times in order to seek the opinion of experienced design professionals or to see if any of my classmates could help me figure out a problem that I was having. Overall, it is a great tool that I feel should be continued in its use.
CPEP Reflection
The senior thesis e-portfolio was a great way to post and update the progress that I was achieving during the entirety of the senior thesis project. It was also a resource used by my friends, family and peers to enjoy my projects progress and appreciate the hard work and dedication that goes into the Architectural Engineering program at Penn State.