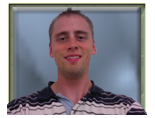 Before attending Penn State University, Joseph earned his Associates degree in Applied Science at Johnson College (formerly Johnson Technical Institute) in Scranton, PA. There he majored in Architectural Drafting and Design and gained valuable residential and commercial design experience. Outside of the classroom, Joseph took part in the Social Force club assisting with food drives and collecting for Toys for Tots.

Joseph was hired right out of college and has 3 ½ years of experience working in the Automatic Temperature Controls division for a Mechanical Contractor based in Lehigh Valley, PA.  His office was located in Scranton where he gained experience in HVAC control system design, control system programming, systems commissioning, process piping, as-builts, and purchasing. He has worked on several job sites including the Central Utility Plant project at a major pharmaceutical company, Sanofi Pasteur, in Swiftwater, PA. Another major project Joseph worked at was the new Olympus America Corporate Headquarters located in Center Valley, PA.

Joseph Podwats is now a 5th year senior at Penn State University earning his professional degree in Architectural Engineering. He will be taking the Fundamentals of Engineering Exam (FE) in October 2008 and will be an Engineer in Training (EIT) upon graduation. Joseph is graduating in May 2009 and will receive his Bachelor of Architectural Engineering degree (BAE) with a focus on Construction Management (CM). While attending the Worthington-Scranton Commonwealth Campus his involvement included the Engineering Club, Business Club, and the 2005 Summer Leadership Conference. Joseph has been instrumental in student organizations such as the Greenbuild Planning Committee and Fresh Start while at University Park.

Joseph was hired as a Project Management intern on the owner's side with Penn State's Office of Physical Plant and has been employed since May of 2007. He is exposed to a multi-project environment and assists in projects that fall under the Energy and Engineering Division and the College of Agriculture. Joseph plans to work for a CM or General Contractor (GC) after graduation and is willing to travel nationally/internationally. As an advocate of the sustainability movement, Joseph plans on becoming a LEED Accredited Professional after graduation so he can become a key player in the future of good design and construction practices.
This page was last updated on 9/13/08 , by Joseph Podwats and is hosted
by the AE Department ©2008 2009