Natalie Bryner will be graduating from the Pennsylvania State University in December 2009 with an integrated Masters of Architectural Engineering and Bachelors of Architectural Engineering. Her particular concentration is construction management.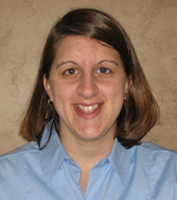 During the summer of 2007, Natalie interned with Truland Systems Corporation, which is based out of Reston, VA. That summer, she had the opportunity to work on all electrical construction aspects of the $611 million Washington, DC Nationals' Baseball Stadium. This past summer, Natalie interned with James G. Davis Construction Corporation, which is based out of Rockville, MD. She was a part of both the Superintendent and Project Management staff of the $248 million 1.5 million square foot Constitution Center.
Throughout the school year, Natalie works part time in the Engineering Cooperative Education and Professional Internship Program. Outside of Architectural Engineering, Natalie is an active member of several organizations at Penn State. She is serving as the 2008-2009 President of the Society of Women Engineers (SWE). Natalie also is a part of the Women in the Engineering Program (WEP). With this group, she has served as both the Computer Lead and Mentor for the Women in the Engineering Program Orientation (WEPO).
Additionally, Natalie is involved with:
Treasurer – Student Chapter of PACE
Envoy – Architectural Engineering Department
Envoy – Engineering Internship Program
Security Leader – THON Rules and Regulations Committee
Volunteer Leader – Girl Scout Saturday Outreach
Member – Architectural Engineering Institute
Member – Lion Scouts High School Visits
Member – Habitat for Humanity
Please click here for a copy of Natalie Bryner's Resume.