Welcome to the Senior AE Thesis e-Portfolio for Ryan Klinicki
Note:
The name of this project, along with all parties associated with the project have been ghosted for confidentiality purposes.  Various information from reports will be blacked out or ghosted such as cost and schedule, to meet the wishes of the Owner of the Hospital.  If additional information is required, please contact Ryan Klinicki.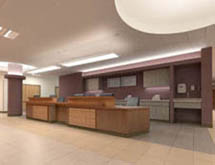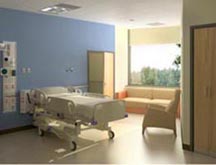 Project Overview:
The new Unknown Hospital Expansion was designed to meet growing demands of the community. The Hospital Expansion is comprised of 5 total stories with a penthouse roof space, and a three story arrival lobby totaling over 280,000 SF. The project includes the construction of a new 4-story building that will house a new emergency department, a new surgical department including 14 new operating rooms, ambulatory surgery beds, a new critical care area and new private inpatient beds for adult acute care.
Construction for this project began in March 2007.  They are scheduled for project completion by May 2009. The Owner of the Hospital has invested in overall Hospital campus by building the new Hospital Expansion, a new parking garage with over 700 spaces, renovation of the Hospital campus entrance, and various other improvements to the existing Hospital. The architect of project came up with a unique design that fits the surrounding campus and integrates the new building with the existing hospital effortlessly.  Among the distinct architectural features include a unique open 3-story arrival lobby with an escalator, a bridge vestibule linking the recently completed parking garage and the arrival lobby space, and two atrium spaces at the third and fourth floors that are open to the outdoors.
Thank You:
I would like to thank all the parties involved in this project for all their help and cooperation.  This thesis project would not be possible without your contribution to the students of the Penn State AE program.