Building Name
The Towers at Greenville Place: Tower 'B'
Location
220 Presidential Drive, Wilmington, DE, 19807 (See Figure 1)
Building Occupant Name
The Building is owned and managed by Pettinaro Real Estate Development Company
Occupancy
Residential; Upscale apartment building consisting of 89 units
Size
180,000 Square Feet
Number of stories above grade / total levels
7 stories above grade / 1 story partially below grade
Date of construction (start-finish)
November 2006 - May 2008
Costs

Building cost: $ 10 Million
Overall Cost: $11.5 Million
Soft Costs: $500,000

Delivery Method
Design-Bid-Build
Major Codes
IBC and Amendments adopted by New Castle County (DE)
Zoning
B - Apartments, NCap Classification (Apartment Buildings) on Zoning Maps 15, 16, 22, & 23 of New Castle County (See Figure 3)
Historical Requirements
None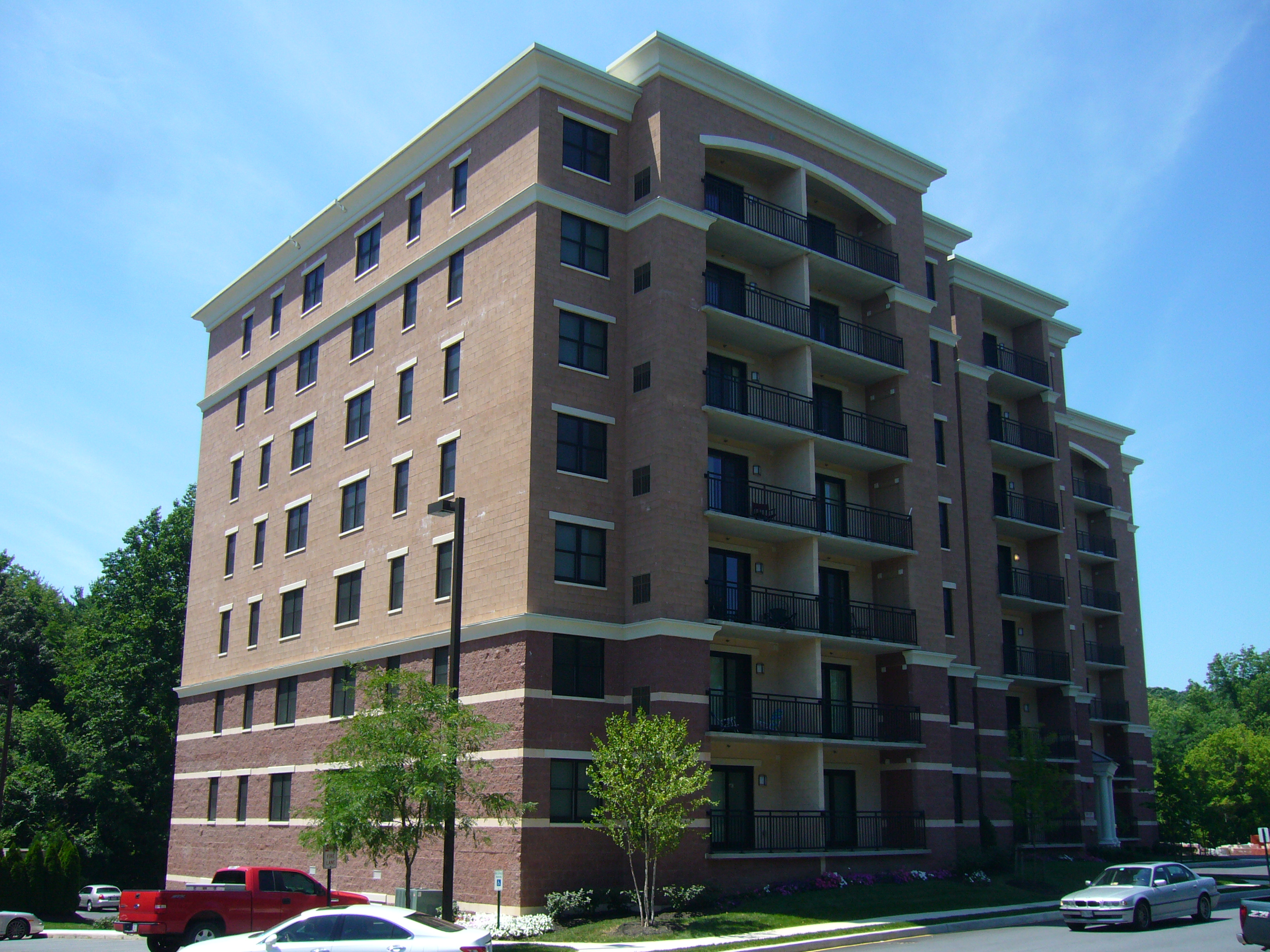 Figure 2: North-east Tower 'B' facade.
Building Façade:  
          The façade of the building is 8-inch splitface CMU. Three different colors of these decorative blocks provide both aesthetic and structural functionality (figures 2 & 4). The structure of the building is primarily 8 inch CMU and precast concrete planks. Precast concrete lintels span the width of all doorway and window openings. Almost every apartment in tower 'B' comes with a balcony closed off by metal railing. Throughout the building there are 4 different types of glazing used.
The most common type is a clear low 'E' insulated glazing and is used for nearly all windows. The second type is just a clear glazing for hinged doors.
The third type of glazing is same as used on the windows, but meant for door instead.  The last type is a laminated glazing used in side doors and emergency exits.
The roofing of this building is fully adhered EPDM Roofing over tapered rigid insulation.  22-gage metal flashing provides a drip edge from the parapet onto the EPDM flashing around the perimeter. Periodic scuppers consist of EPDM lap flashing overlapping 24-gage metal flashing with metal at the edge.            
Construction:
Tower 'B' of the Towers at Greenville Place started construction in July of 2006. The Design-Bid-Build project was contracted to Pettinaro Construction Co. of Newport, Delaware. The construction process took about 12 months at a total cost of $11.5 million.
Electrical:
Tower 'B' runs on a 208/120V 3 phase, 4 wire primary feed. Buildings electrical room is located on the ground floor and houses the panels for the elevators, corridor heat pumps, corridor lighting, and other building wide systems. The electrical room also houses the meters for the individual apartment units. From the ground level electrical room, the feeds to each apartment are 208/120V single phase, 3 wire systems on a 150A bus. Each unit has its own panel for its separate needs.
There is a 400A automatic transfer switch for the emergency power.  A 375KW/469KVA 3 phase, 4 wire generator supplies emergency back up at 208/120V.
Lighting:
The corridors and all other public spaces of Tower 'B' are illuminated by recessed hi-hat lights. Housekeeping and service corridors are illuminated by 2x4 fluorescent lights. The apartments units have a variety of lighting types from closed to ceiling lights to pendant lighting in dining rooms.
Mechanical:
Each apartment unit is serviced by a thru wall heat pump. These completely self contained heating and cooling units operate at 1130 CFM with ductwork spread throughout the individual units. The heat pumps are located and vented directly adjacent to the balconies in each apartment.
Public areas, such as lobbies, community rooms, and ground floor corridors are serviced but exterior pad mounted condenser units. They provide 14,600 BTU of cooling and 14,800 BTU of heating. These units run on a 208V single phase, 60 hertz feeder. Three condenser units are used for these ground floor applications.
Upper floor corridors achieve their climate control by thru wall heat pumps mounted in wall sleeves. Tower 'B' consists of two of these units per floor. They are each capable of providing 15,000 BTU of cooling and 14,000 BTU of heating. These too run on a 208V single phase, 60 hertz feeder.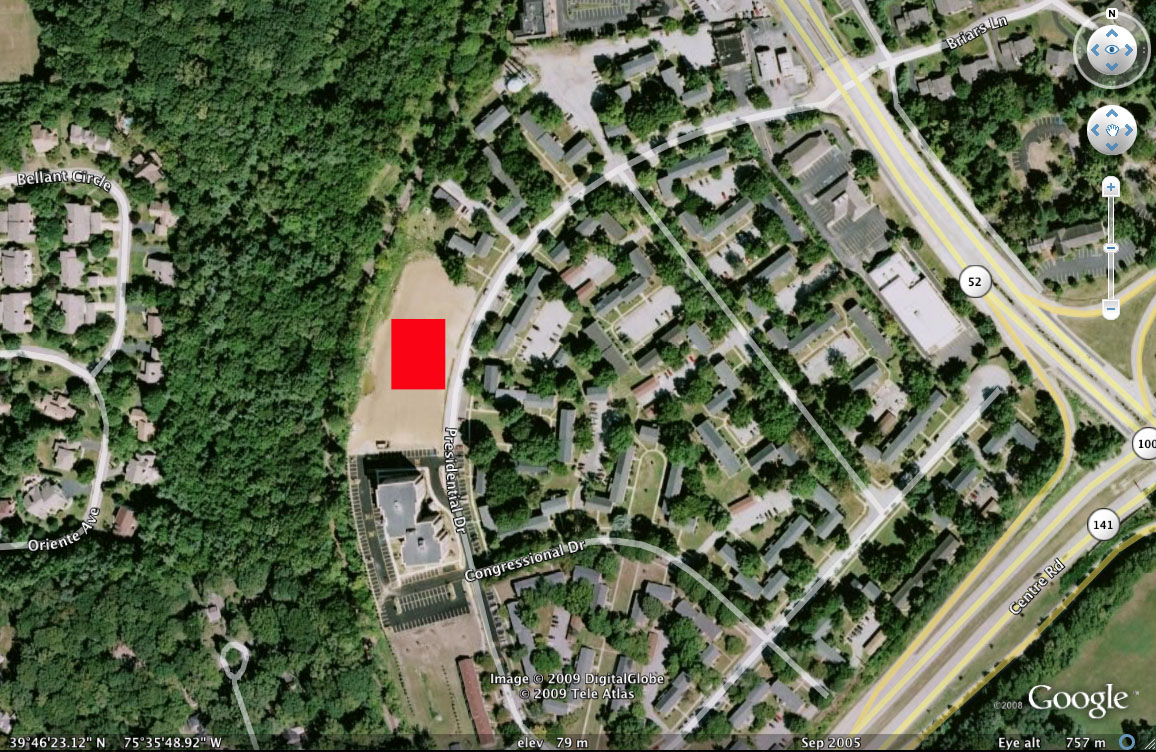 Figure 1: Image from Google Earth, Site Location
Architecture:
          Tower 'B' is made up nearly entirely of masonry and precast concrete construction. The exterior walls are structural 8-inch CMU supporting 8-inch precast hollow core concrete planks. The 8-story apartment building has a balcony for nearly every unit closed off by metal railing. As you can see in figure 2 the elevation of the building consists of three distinct sections defined by white strips of ledge, which are an assembly of metal flashing and decorative solid insulation. A rustic base of textured and dark CMU seems to create a solid foundation for the large, lighter colored middle portion. The top floor displays its final section with a profound parapet proudly marking its summit. Arched precast concrete lintels provide character for the uppermost balconies.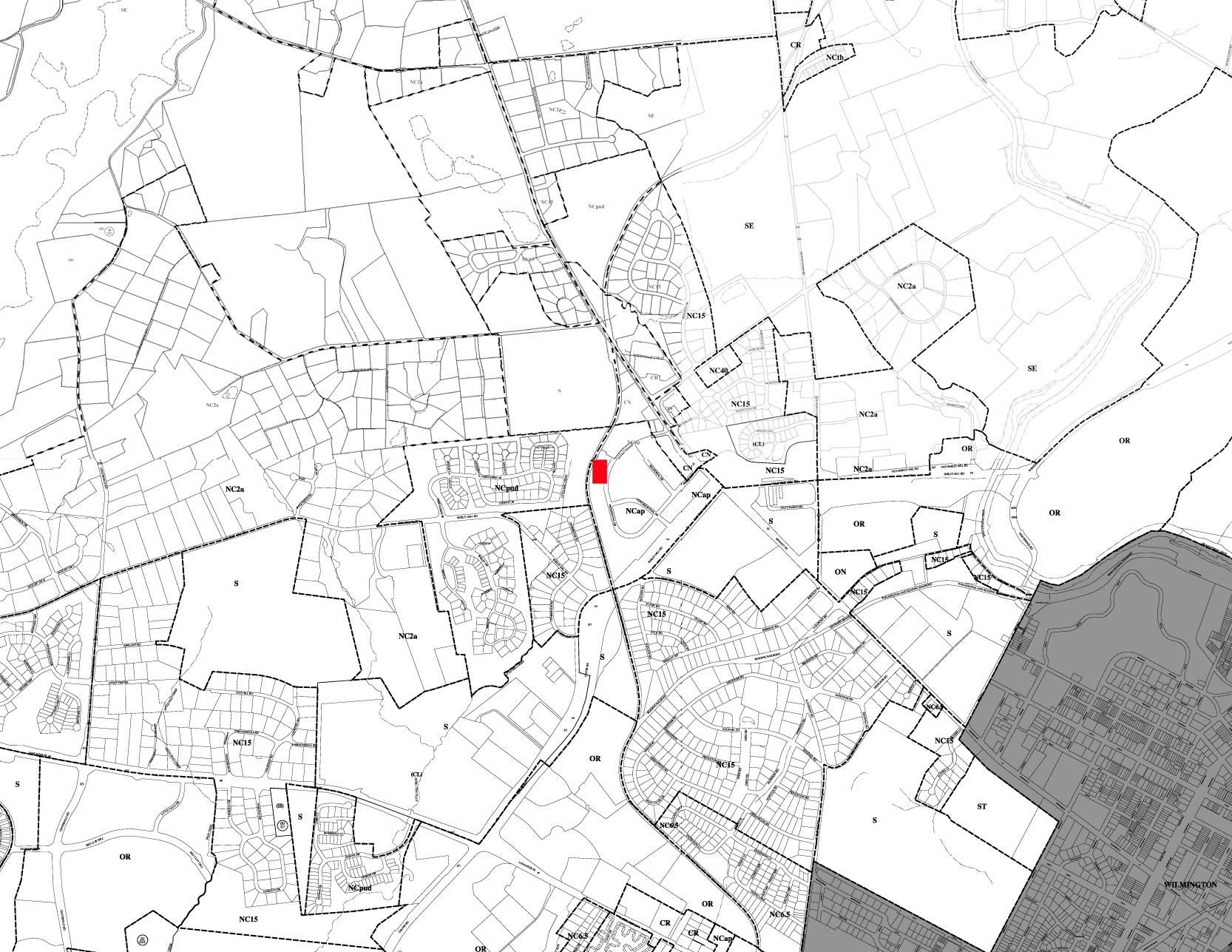 Figure 3: Zoning Map and Site location. Map section from http://www.nccde.org/zoningmaps/pdf%20maps/zone22.pdf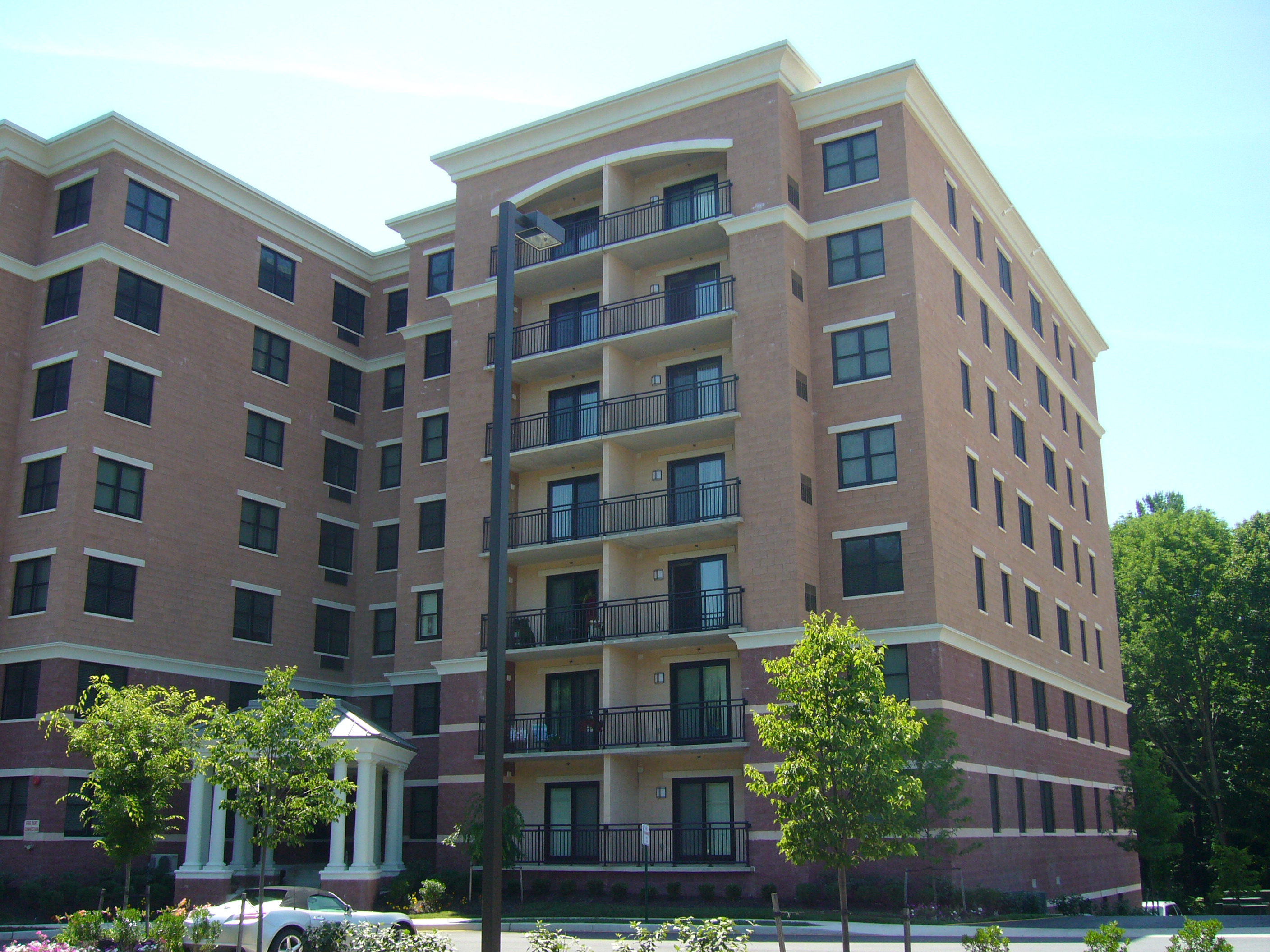 Figure 4: North-west Tower 'B' façade, showing canopy entrance.
Sustainability Features:
At this time I have found no indication that sustainability was a basic consideration in the design of this building. Since it is an apartment tower, sustainability was not easy to implement beyond items such as where the material came from or how site waste was handled.
Structural:
The structural system for Tower 'B' is essentially consistent from floor to floor. The floors are primarily 8 inch hollow core precast concrete plank spanning an average length of about 27 feet. The corridor floors vary slightly by being only 6 inch hollow core precast concrete planks. All floors are supported by load bearing, reinforced 8 inch CMU wall. All CMU cores are grouted solid from foundation up to the third floor planks. From the third floor to the roof, cores are reinforced and grouted per the engineers specifications. The lateral support for Tower 'B' is also composed of reinforced 8 inch CMU walls. The foundation is system of continuous spread footings and cast in place retaining walls.
Fire Protection:
The Fire protection for Tower 'B' was design to the requirements and conditions of NFPA 13 and 14. It is a hydraulically designed, light hazard wet pipe sprinkler system. Each room except kitchens and bathrooms has smoke detectors. Each apartment unit has one centrally located fire alarm speaker. There are 6 inch diameter standpipe raisers in ach stairwell. It was designed to provide 0.15 gpm per square foot. There was also a requirement for a 250 gpm allowance to be taken off for the city water main.
Transportation:
Each floor of Tower 'B' has two sets of stairs that run the entire height of the building. They are located at the polar opposites of each floor's corridors. Centrally, there are two elevators that service all floors.
Telecommunications:
All telecommunications, such as phone, internet, and television are services provide by a private company and enter through the ground floor. Lines are then run from the ground floor to each apartment unit.
Special Systems: Door Entry system:
Tower 'B' is equipped with a door entry system. It is a system that allows resident and service only access. The card access at the entrance is designed to work for up to 150 names and 900 access cards. Doors are secured by a magnetic power lock mechanism. An intercom provides communication between outside guests at the entrance and individual apartment units. Guest can call a desired apartment and the tenant in return can remotely unlock the entrance.