Thesis Proposal:
Depth:
In this proposal, the design for the ECMC Skilled Nursing Facility will be evaluated in a different location, specifically in Los Angeles, CA where seismic activity will predominate lateral loads.  The buildings existing structural system and foundations will be analyzed and re-designed to resist high seismic loading in this different location.  The specific systems that would be re-designed will include the building's soil and foundation system, floor system, and lateral system. Soils found in Los Angeles, CA will be classified and checked for adequate strength or other possible failure modes such as soil liquefaction.  Additionally, the existing foundation system will be analyzed for its adequacy in this new location.  Also, some research has been done on the use of lead rubber base isolators to reduce seismic damage on the foundation and the structural framework.  The use of these dampeners will be specified in the design, which proves to be a key component in the foundation system. The building's existing floor system will be evaluated and re-designed to accomodate these large seismic forces.  Specifically, a floor system with the least amount of mass and weight would benefit greatly in this region and this composite system proves to be the best candidate for re-design at this location since it will help reduce the story shear forces produced during an earthquake.  Building pendulums and mass dampers were ruled to be unfit for this building since it only reaches about 90 feet in height. Those type of dampeners are best used in high-rise buildings and skyscrapers. The lateral system will also be re-designed to resist the story shear forces caused by seismic activity. New locations for lateral braced frames will be analyzed and may change depending on the re-design. 
Breadths:
Breadth Study 1:
Upon changing the location of the ECMC Skilled Nursing Facility, the thermal impact on the building will change greatly since the climate is significantly different.  At its current location in Buffalo, NY, the building experiences lake effect snow in the winter months and a moderate climate in the summer.  Los Angeles, CA rarely experiences any snowfall and its average temperatures are significantly higher than in Buffalo, NY throughout the year.  Considering these effects, the existing mechanical system will be evaluated and checked against figures for this new location.  If the existing system is proven inadequate, specification changes will be made to the mechanical system to ensure the system will function adequately.
Breadth Study 2:
This breadth analysis will be made in connection with the structural depth.  Any proposed changes to the foundation system, floor system, or lateral system will have an impact on the project's cost and schedule.  In addition, availability of materials and possible labor costs are also important factors to consider.  Once the analysis of the cost and schedule changes are considered, these proposed changes to the ECMC Skilled Nursing Facility will be evaluated for feasibility.
To view the Proposal in a PDF format, please click the image below: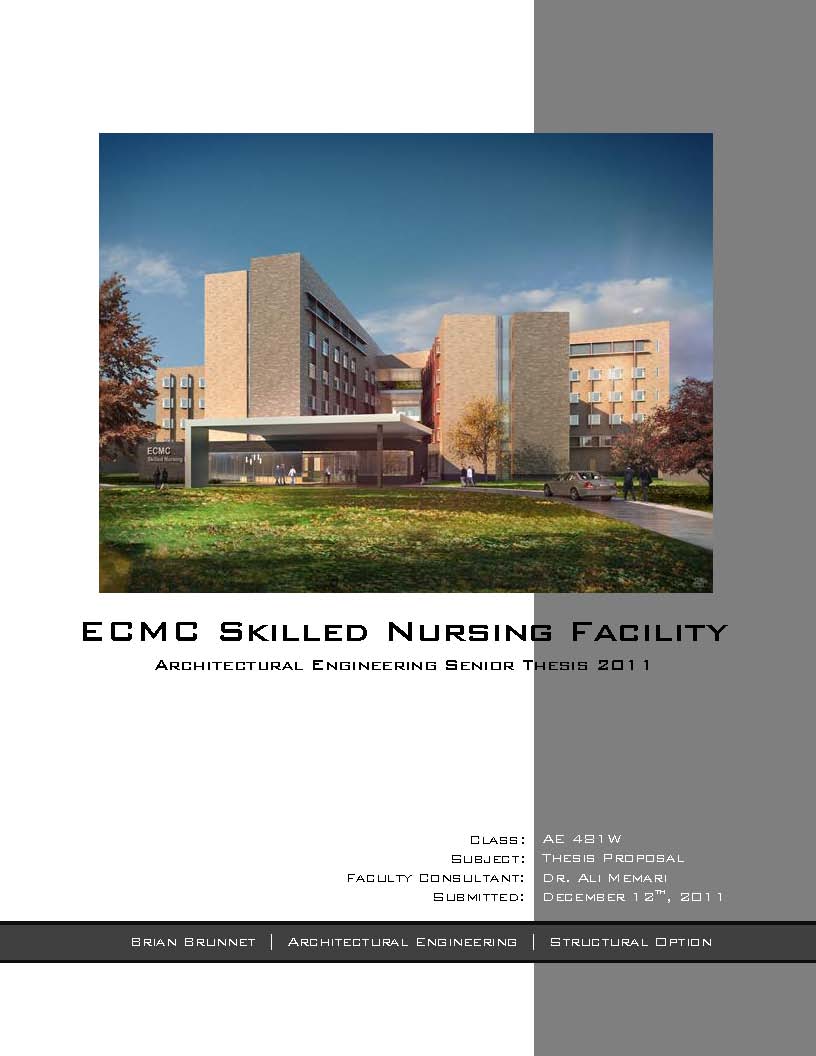 Original Proposal (12/12/11)