Overview
Our projects have spanned several exciting research areas including creativity support tools, design cognition and fixation, and medical product design. To find out more about these projects, click on the relevant picture below.

Dynamic CVC Haptic Robotic Training
Sponsored by: The National Institute of Health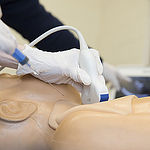 Successful training of medical residents to perform Central Venous Catheter (CVC) placement is of critical importance to ensure patient safety. Mechanical complications including arterial puncture, pneumothorax, hemothorax, and failed puncture commonly occur in CVC procedures. These complications can be reduced by improving medical resident's mechanical skills before they operate on human patients. The goal of this project is to develop, explore the effectiveness, and implement the novel training method of dynamic haptic robotic training (DHRT) for central venous catheter (CVC) placement. This novel method continuously evaluates the medical resident's cognitive and dexterity skills and prescribes tasks to build these skills and feedback of performance to provide understanding for areas of improvement. This standardized method of learning can help to reduce complications in CVC insertion.

Relevant Publications
Personalized Learning in Medical Education: Designing a User Interface for a Dynamic Haptic Robotic Trainer for Central Venous Catheterization





Improving medical education: Simulating changes in patient anatomy using dynamic haptic feedback





Engineering and Better Simulator: A pilot study assessing a haptic robot as a training system for Central Venous Catheter Insertion





A Virtual Reality Haptic Robotic Simulator for Central Venous Catheterization Training





Stochastic Event Detection in Needle-Tissue Interaction





Using Learning Curves to Assess Resident Surgical Skill Acquisition: A Case Study of Ultra-Sound Guided Catheter Insertion.





Motion analysis as an evaluation framework for eye-hand coordination: A case study in ultrasound-guided catheter insertion




Research Materials
Central Line Self-Efficacy Survey:
CLSE Survey
Internal Jugular Central Venous Catheterization Form:
IJCVC Form
Training Evaluation Survey:
TES
Coding Handbook for Qualitative CVC Training Feedback:
Coding Handbook

Research Assistants: