The environmental engineering laboratories cover an area of approximately 16,000 sq. ft., including a
2,000 sq. ft. laboratory at the University Wastewater Treatment Plant (less than one mile from the
Department of Civil and Environmental Engineering
). The Water Quality Lab at the
Environmental Resources Research Institute
performs contract analyses for research projects.
Major equipment
in the environmental engineering laboratories includes an atomic absorption
spectrophotometer with flame and graphite furnace, gas chromatographs,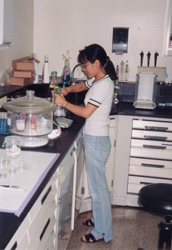 high- pressure liquid
chromatograph, UV spectrophotometers, scintillation counter, carbon analyzer with NDIR detector, particle counters, pore size distribution and surface- area analyzer, laser zeta meter, streaming-current detector, computer- aided titrimeter, an Axiophot microscope with image analysis and
photometric detection, and anaerobic and aerobic respirometer systems. Equipment is available at various locations on campus for other analyses; for example, laser Ramanspectroscopy, nuclear magnetic resonance, calorimetry, and thermogravimetric analysis.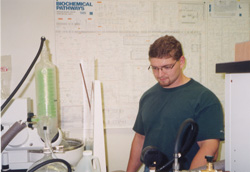 The Center for Bioremediation and Detoxification further broadens the industrial emphasis through assistance in waste minimization, reduction of the toxic character of waste streams, and correction of site pollution problems. This interdisciplinary center coordinates and supports the use of biological methods to treat soil environments that have been contaminated with toxic or hazardous materials. The detoxification component addresses prevention of pollution through direct source control, wasteminimization, or neutralization or destruction of the toxic materials prior to their final disposition. Specific projects have included development of cultures to degrade toxic organic chemicals as well as the development of protocols for assessing the fate and effect of toxic chemicals in wastewater treatment processes. Application of biological processes for pretreatment of industrial wastes is an important element of the bioremediation and detoxification program.