NEWS & EVENTS (IN DETAIL)
December 22, 2009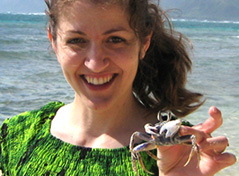 New research may improve treatment of "high risk" acid mine drainage. Acidic drainage from abandoned mines contaminates tens of thousands of miles of streams in the United States, including more than 5,000 miles in Pennsylvania.
With funding from an NSF Faculty Early Career Development award, Rachel Brennan is experimenting with the use of crab shell chitin to clean up particularly difficult sites. Preliminary results from her experiments in Cambria County show definite promise -- increased pH levels and re-capture of toxic metals at potentially less cost than active chemical remediation. Read the full story on Research Penn State.
December 15, 2009
Maha Mehanna, Post-Doctoral Researcher for Dr. Bruce Logan, receives "The Leopold Escande Prize 2010" for the best theses of 2009.

Every year the National Polytechnic Institute of Toulouse organizes a prize-giving ceremony for the best theses conducted within the School's Research laboratories. Among the selected number of about 100 theses, a maximum of 15% are awarded the Leopold Escande prize. The thesis that are awarded are chosen among different fields from applied to theoretical sciences: mathematics, chemistry, biology, physics, and from different research laboratories. The prize distinguishes the excellence of the work and its valorization. This prize is awarded on the basis of such criteria as originality, concrete contribution to the specific scientific field in question, and also socio-economic repercussions.
December 14, 2009
Andrew Scanlon, professor of civil engineering, presenting a seminar at Central South University, Changsha, China.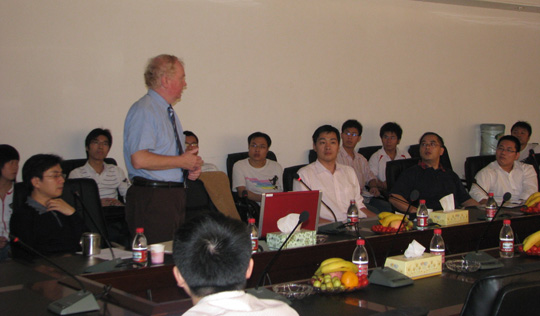 December 1, 2009
A new version of the Protective Technology Center's web page is now available! The page can be accessed at www.ptc.psu.edu or via the Research Centers and Units link from the Civil and Environmental Engineering web page. The PTC, currently under the direction of Daniel Linzell, was formed in 2001 and initially focused on research related to making building and bridges more resilient against terrorist attacks. The role of the Center has now been expanded to include research related to protecting all civil infrastructure components against natural or man-made threats. Check out the web page!
October 30, 2009
Three groups of PSU students won awards at the 2009 Big Beam Competition. This nation-wide competition is sponsored by the Precast Concrete Institute. PSU students placed second, third and fourth in their regional zone (Zone 5 includes schools from PA, NY, NJ, VA, DE & Washington DC). Students were required to design, fabricate and test a precast prestressed concrete beam, with support from the local precast concrete producer. This work was developed as part of the CE543 prestressed concrete class in the Spring 2009. Dr. Maria Lopez de Murphy, Assistant Professor, was the faculty advisor.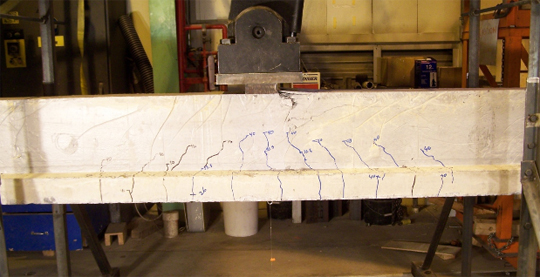 A complete list of winners can be found here.
October 14, 2009
Thorsten Wagener, associate professor of civil engineering, has been invited to join the Editorial Board of the journal Hydrological Processes. Hydrological Processes is an international journal devoted to the publication of original scientific and technical papers in hydrology. It has been consistently ranked amongst the top 10 water journals. The scope of the journal encompasses disciplines focusing on the physical, biogeochemical, mathematical and methodological aspects of hydrological processes together with research on instrumentation and techniques. Thorsten Wagener will start his three-year term on January 1st 2010.
October 13, 2009
Daniel Linzell, associate professor of civil engineering, was recently appointed Chair of the ASCE Technical Activities Committee on Steel Bridges. The purpose of the Committee is to: promote the use of steel bridges; disseminate new and improved methods of steel bridge analysis, design, fabrication, erection, and construction; and to identify research needs and provide input and commentary to the various technical and professional organizations focusing on steel bridges.
September 8, 2009
Bohumil Kasal, professor of civil engineering and Hankin Chair, was invited to China in June 2009 to teach undergraduate and graduate courses in residential building construction at Inner Mongolia Agricultural University, College of Water Resources and Civil Engineering. He joined faculty from the US and Israel who taught courses related to water resources. Low-rise light-frame wood structures prevailing in the US are virtually unknown on China and the courses and lectures enjoyed great interest from students and faculty. China consumes about 2/3 of the world's production of cement and the environmental impact of construction practices was always one of the focal points in discussions. Kasal also visited several construction sites and construction companies and studied the residential construction systems used in China.
September 3, 2009
The student chapter of the American Society of Civil Engineers (ASCE) received the Region 2 Governor's Award for 2009. The ASCE Committee on Student Activities recognized the chapter for its consistent involvement in activities such as community service projects, professional meetings and social activities. The committee selected winners based on activities recorded in the 2008 Annual Report. Region 2 of ASCE consists of Pennsylvania, Maryland, Delaware, and Washington, D.C.
August 24, 2009
Martin Pietrucha, professor of civil engineering, has been named the director of the Thomas D. Larson Transportation Institute (LTI). Pietrucha had been serving as the LTI interim director since July 15 and has been a member of the Penn State faculty since 1990, and previously served as director of the Science, Technology and Society Program in the College of Engineering. Pietrucha's work includes highway traffic operations and highway safety and human factors issues. His research projects have included traffic signage, roadway delineation, pedestrian safety, highway geometric design, road safety audits and commercial signing visibility. Pietrucha is a fellow of the Institute of Transportation Engineers. He holds memberships in the American Society of Civil Engineers, the National Research Council's Transportation Research Board and the Intelligent Transportation Society of America. He is a licensed professional engineer in New Jersey. He earned his bachelor's from the New Jersey Institute of Technology, his master's degree from the University of California, Berkeley, and his doctorate from the University of Maryland, all in civil engineering. Pietrucha was honored with the Penn State Engineering Society's Outstanding Teaching Award in 2001.
August 20, 2009
Raymond Regan, professor of environmental engineering in the College of Engineering at Penn State, retired in June after 37 years at the University. Regan joined Penn State in 1972 as an assistant professor of civil engineering. In 1978, he was named an associate professor of civil engineering and, in 1996. He became a professor of environmental engineering. Prior to joining Penn State, Regan was a project engineer at Manhattan College in N.Y. His research and teaching at Penn State focused on environmental pollution control, solid and hazardous waste management and beneficial use of industry residuals. During his tenure, Regan served as an associate director of the College's Metal Casting Center for Excellence and as a University Scholars Adviser for the Department of Civil and Environmental Engineering. A registered professional engineer in Pennsylvania, Regan is a member of the Water Environment Federation, the American Society of Civil Engineers and the American Foundrymen's Society (AFS). Throughout his career, he has authored dozens of journal articles and was a four-time recipient of the AFS Environmental Control Division Best Paper Award. Regan received his bachelor of engineering degree in chemical engineering and his masters of engineering in sanitary engineering from Manhattan College and his doctorate in environmental health engineering from the University of Kansas.
August 11, 2009
Brian Dempsey, professor of civil engineering, was recognized on July 29 by an environmental engineering faculty group for a milestone research paper he co-authored. The Association of Environmental Engineering and Science Professors (AEESP) awarded Dempsey and his co-authors its Outstanding Publications Award for their paper titled "The Coagulation of Humic Substances by Means of Aluminum Salts" at its annual conference in Iowa City, Iowa. According to AEESP, the award recognizes the authors of a landmark environmental engineering paper that has withstood the test of time and significantly influenced the practice of environmental engineering. The paper, published in 1984 in the Journal of the American Water Works Association, was co-written with Rui Ganho of the Universidade Nova de Lisboa in Portugal and Charles O'Melia at the Johns Hopkins University. The paper's importance centers on how coagulants are used to treat water and its impact on researchers, chemical manufacturers, consultants and water utility professionals in understanding the underlying mechanisms in removing natural organic materials in water treatment. The Journal of the American Waters Works Association named the team's work its Outstanding Paper for 1984. Dempsey is an expert in water treatment and a leader in developing new chemicals and improved processes for water treatment. He has served on the board of AEESP, chaired various AEESP committees and received two Outstanding Service Awards from the group. AEESP has more than 900 faculty members representing major U.S. academic programs in environmental sciences and engineering.
July 27, 2009
Thorsten Wagener, associate professor of civil engineering, is a co-author of an award winning paper. The Best Paper Award 2008 in the Category Integrated Modelling of the journal Environmental Modeling and Software was awarded to Yuqiong Liu, Hoshin Gupta, Everett Springer and Thorsten Wagener for their paper: "Linking science with environmental decision making: Experiences from an integrated modeling approach to support sustainable water resources management". In this paper the challenges involved in bridging science and decision making in water resources management are discussed with reference to lessons drawn from a long term integrated modeling project in the semi-arid southwestern USA. The authors present a generic framework and guidelines for effective decision support using integrated modeling and scenario analysis. The proposed approach aims to produce 'usable' scientific information, by improving its credibility, legitimacy and saliency for decision support.
July 24, 2009
Daniel Linzell, associate professor in civil engineering, returns from sabbatical at University of Navarra and assumes role as Director of the Protective Technology Center.
July 24, 2009
Daniel Linzell, associate professor in civil engineering, recently completed a sabbatical at the School of Engineering at Tecnun, the Technological Campus of the University of Navarra, in San Sebastian, Spain. While at Tecnun, Dr. Linzell taught an infrastructure health monitoring course and helped perform research examining laser based methods for establishing structural health. After returning from sabbatical, Dr. Linzell has assumed the role as Director of the Protective Technology Center. The PTC, housed within the Department of Civil and Environmental Engineering, attempts to create synergy and spur interdisciplinary research in areas related to protecting civil infrastructure from undesirable, man made threats.
July 6, 2009
Douglas Call, Ph. D. candidate and faculty advisor Dr. Bruce Logan, Kappe Professor of environmental engineering are the 2009 recipients of the First Place Montgomery-Watson-Harza Consulting Engineers / AEESP Master's Thesis Award in recognition of your thesis entitled: Hydrogen production in a microbial electrolysis cell lacking a membrane.
June 22, 2009
LeAnn Anderson, administrative assistant in civil and environmental engineering, won the Penn State Educational Office Professionals 2009 Lisa Brungart Leadership Award. The purpose of this award is to recognize and reward a PSEOP member who exhibits exemplary performance; shows outstanding spirit and teamwork; and carries out the duties of their position with integrity and dedication. The candidate should also foster an atmosphere of cooperation and creativity, which contributes to the efficiency and effectiveness of their peers. Superior leadership skills, such as skillful motivation, planning and organization are also required.
June 16, 2009
Civil engineering senior Amanda King has been named a collegiate senator for Region G of the Society of Women Engineers (SWE). King will serve as a member of SWE's national governing group for the 2010 fiscal year. SWE's national governing group includes its board of directors, board of trustees, regional governors, professional senators and collegiate senators.
June 10, 2009
Converting waste water into energy has earned Bruce Logan, Kappe professor of environmental engineering, Penn State, the 2009 National Water Research Institute's Athalie Richardson Irvine Clarke Prize for excellence in water research. The prize was established in 1993 to recognize outstanding research scientists who have demonstrated excellence in water-science research and technology. The prize includes a medallion and $50,000 and is awarded annually. Logan is the 16th recipient. Dr. Logan, receives the award for his innovative efforts to generate clean, renewable forms of energy during the treatment of wastewater. The energy needed to power water infrastructure is often cost prohibitive in developing countries. Logan, who is director of Penn State's Hydrogen Energy Center, has developed an energy-sustainable water infrastructure for both industrialized and developing nations. His microbial fuel cells allow energy generation form organic materials found in wastewater, producing clean water and energy. His microbial electrolysis cells break down organic matter to produce hydrogen -- a portable fuel -- and clean water. The author of Microbial Fuel Cells, one of the first books written on the technology, he has also published more than 220 technical papers. He is a Visiting Professor at both Harbin Institute of Technology, China and Newcastle University, U.K., where he focuses on renewable bioenergy production. He also collaborates with Tsinghua University, China, where he is developing a zero-electrical energy desalination technology. He is a Global Research Partner with King Abdullah University of Science and Technology, Saudi Arabia. The prize was awarded on July 9 at the Sixteenth Annual Clarke Prize Lecture and Award Ceremony, Fairmont Newport Beach, Newport Beach, Ca.
June 1, 2009
Jack Matson and a team of students from Penn State's class C E 497B, Eco-Innovation, NYU-Poly and Georgia Tech will present at the NASA sponsored 2009 RASC-AL Forum in Orlando, Florida. The three school team designed a permanent settlement on the Moon. Design Proposal
May 4, 2009
David Hill, associate professor of civil engineering, was recently awarded a three-year, $250,000 grant by the North Pacific Research Board. The grant will be used by Dr. Hill and his students to investigate the coastal hydrology of the Gulf of Alaska. Freshwater runoff into the Gulf comes from the abundant precipitation received by the area and by the retreating glaciers found throughout south central and southeastern Alaska. This runoff helps to control the near shore oceanography, including the strong Alaska Coastal Current. Dr. Hill will be collaborating with scientists from the Geophysical Institute at the University of Alaska, Fairbanks. Details of Dr. Hill's funded project, and the other projects funded by the NPRB, are available at www.nprb.org.
April 28, 2009
Dr. Kathryn (Katie) van Werkhoven has been selected as the first place recipient of the US Universities Council for Water Resources (UCOWR) 2009 Ph.D. Dissertation Award in the field of Natural Science and Engineering. Katie graduated from Penn State with a Ph.D. in Civil and Environmental Engineering in August 2008 with a dissertation titled "Evaluating model behavior for hydrologic forecasting in gauged and ungauged watersheds". She was one of the first two recipients of Clare Boothe Luce fellowships in the College of Engineering, as well as a recipient of GE Faculty for the Future and College of Engineering fellowships. During her studies at Penn State, Katie was also awarded two outstanding student paper awards from the American Geophysical Union (AGU) for both poster (in 2006) and oral (in 2007) presentations. Katie lives and works in Phoenix with her husband and her recently born son.
April 27, 2009
Adam Ward, Ph.D. candidate won 1st place in the Engineering category at the Penn State 2009 Graduate Exhibition. His poster was titled "Characterization of Hyporheic Solute Transport During Tracer Tests using Electrical Geophysics".
April 2, 2009
Christen Cieslak, a 1991 civil engineering alumna, has been named the winner of the College's 2009 World-Class Alumni Award. Cieslak is a principal with Pittsburgh, Pa.-based Chronicle Consulting, an engineering and Leadership in Energy and Environmental Design (LEED) firm. Read the full story on Live: http://live.psu.edu/story/38746/nw54