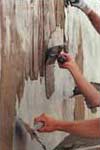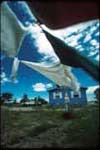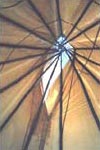 Teaching Sustainability - Hands on
AIHI Mission
The American Indian Housing Initiative is a collaborative effort to adapt and deploy sustainable building technologies on American Indian reservations. AIHI partners seek an educational exchange of cultural values and sustainable building technologies through collaborative and interdisciplinary partnerships.
Challenges facing American Indian Tribes
On most American Indian reservations, 40 percent of homes are overcrowded and have serious physical deficiencies- 6 times the national average.
The poverty rate for rural American Indians is 37% - three times higher than rural white communities, and the highest of any ethnic group.
The National American Indian Housing Council (NAIHC) estimates that 200,000 housing units are needed immediately in Indian Country to provide adequate housing.