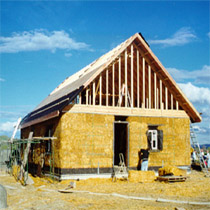 White Residence
Background
Our first adventure in strawbale construction, this project was initiated by the Kelly Foundation and the Red Feather Development Group. Peggy White, the homeowner, has since started a new business and community center on her property.
Design and Construction
This 1.5 story 1 bath home was designed by students and faculty at the University of Washington as a part of the first AIHI studio course. Students then led the construction of the project along with volunteers from the Red Feather Developent Group and Tribal members.