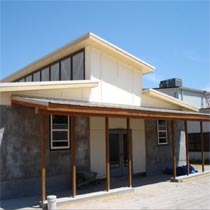 Technology Center
Design
This project was designed by the AIHI team at Penn State to utilize elements of an existing utility building. The shell of the building was completed in a 3 week blitz-build, with the balance of cosntruction completed by contractors on the Northern Cheyenne reservation.
Intended Use
The Technology Center will be a place for hands-on learning for students at Cehif Dull Knife College. With the help of a USDA grant awarded to AIHI in Sept. 2004, the buidling will be fit out with a construction lab and a new demonstration cooking lab.
Key Features
The building was designed to allow maximum daylighting. Highly insulating polycarbonate glazing combined with highly reflective surfaces allow daylight to pour into this building. Floor radiant heating and the trademark loadbearing strawbale wall system combine to result in a highly energy efficient and comfortable facility for learning.