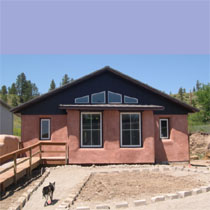 Adult Education Center
Design and Construction
This building was the first project to be planned and managed completely by the AIHI University Partners. Designed by the AIHI team, the Adult Education Center was built by classes of Penn State and University of Washington Students, along with alumni form both schools. A key feature of the project is the mosaic tiel artwork created by Cheyenne Artist Siedel Standing Elk.
Purpose
The Adult Education Center houses the GED and ABE programs at Chief Dull Knife College. The program included a study space surrounded by the "wall of buffaloes," office space for staff, tutoring spaces, and a waiting/reading area for children.
Financing
This project was funded by a USDA Rural Development Loan. In addition to in-kind design and construction management, the AIHI team also helped raise the remaining funds required to complete the buidling. A donation and tool loan from the Red Feather Development Group were also instrumental in the project.