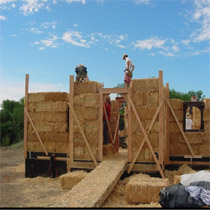 Bear Quiver Residence
Success Story
After seeing the first strawbale project on the Crow reservation, Cheyenne tribal member Martha Bearquiver set out to construct a strawbale home of her own. This project marked the first strawbale home intiated by a tribal member. After seucruing a USDA Mortgage on her own, martha constructed her four bedroom and 2 bath home wiht the help of Red Feather and AIHI partners at Penn State and the University of Washington.
Design and Construction
This project was designed by the Red Feather Development Group, in consultation with AIHI partners. The on-site construction was jointly managed by AIHI and Red Feather.