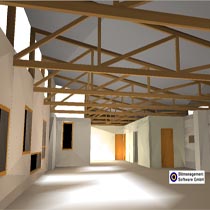 Early Childhood Learning Center
Design
The construction of this building is currently in progress in a combined effort by AIHI team members at 3 universities. This project will be a LEED certified Green Building.
Intended Use
This building will provide much needed childcare space for students and staff of Chief Dull Knife College, and at the same time, a chance for young parents to learn about how to best care for their infants and toddlers.
Key Features
The ECLC will feature a healthy and energy efficient design including maximum daylighting, floor radiant heating, and evaporative cooling.