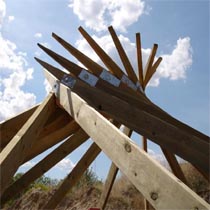 Sacred Spaces Sweat Lodge
Design
This cool little building was designed by students in the PSU AIHI course series. A 15 point reciporical roof frame honors the 15 poles in a Northern Cheyenne TeePee. This buidling was constructed in one week, with the help of a great group of guest from all over the US.
Intended Use
A "sweat" is an important and sacred cerimony for many American Indian tribes. This building will provide protection for a sweatlodge that is shared by many tribal members, and graciously maintained by teh folks at the Prayer Lodge on the Northern Cheyenne reservation.
Key Features
The building is 20 feet in diameter, and has an open skylight to let in light, and vent heat created during the cerimony. Glass beads and symbols designed by tribal members adorn this unique building.