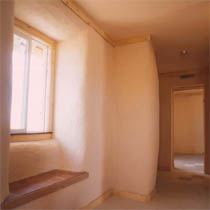 Fast Wolf Residence
Background
This two bedroom home was desined and planned by AIHI partners and students at Penn State. The funding and logistics of the project were managed by the Red Feather Development Group.
Design and Construction
Developed to imporve upon our first project on the Crow Reservation, this design maximumized the use of straw walls, and featured a prefabircated utility core build by students at the University of Washington and transported to the site. The project also features stucco reliefs created by tribal members and volunteers.