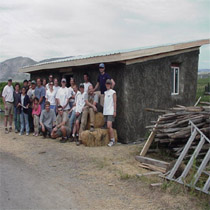 Migrant Worker Housing
Background
This project was designed as a demonstration of strawbale technology for migrant worker housing. This small sleeping cabin was built on an abandoned loading ramp on the Maldonado Farm.
Design and Construction
This project was designed by students and faculty at the University of Washington. It was constructed in a two-day blitz-build in collaboration with the Maldonado family.