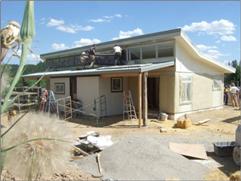 MorningStar Montana
Design
The AIHI team used strawbales, a locally available and abundant resource, to construct the home. Strawbale construction technique can easily be passed from builder to community. This building concept encourages community involvement in sustainable building projects, allowing for ownership of their future housing needs. It is also a sister home to MorningStar Pennsylvania, Penn State's debut entry to the 2007 Solar Decathlon competition in Washington DC.
Intended Use
The home will act as a residence for visiting faculty to Chief Dull Knife College. The greater purpose of the home is to provide an affordable model home for Reservation housing needs. The AIHI team looks forward to partnering with the Northern Cheyenne Housing Authority to develop a collaborative strategy that would use this or similar models for future sustainable housing projects.
Key Features
MorningStar Montana is the first residential scale solar home designed for the reservation. It features a 3 kW, 16 solar panel array, two sets of evacuated tubes for solar hot water heating, an open floor plan, natural ventilation, and culturally significant floor plan details.