Build a Team, Build with Straw
- Participate in a mini strawbale construction project.
- Learn the basics of strawbale construction
- Have fun and build a team with your class or group
With support from the Coen Memorial Foundation, we are pleased to offer a re-useable strawbale building on the Penn State campus. This cool little 12'x12' cabin can be assembled by a small group of people, and then taken apart used again and again.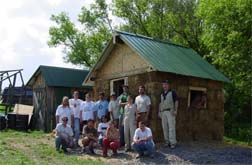 Location: The Penn State Center for Sustainability (map)
When: By Appointment
Duration: About 2 hours Schedule a workshop for your company or organization: Contact us