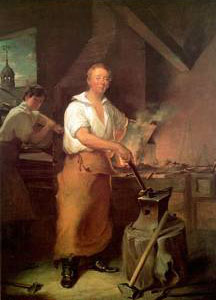 Photo right:
John Neagle's
Pat Lyon at the Forge
; 1826-1827; Oil on canvas; 93" x 68" Museum of Fine Arts, Boston; Herman and Zoe Oliver Sherman Fund
The portrait of Pat Lyon by the artist, John Neagle, revolutionized the realm of American portraiture. It is the first known portrait depicting a laborer at work. Pat Lyon's personal story, the social climate of early America, and his pride in being a working blacksmith formed the basis of his choice to be portrayed in this way. Pat Lyon at the Forge demonstrates not only a new style of painting and subject, but also a new attitude towards the laborer and his place in society.