Building Statistics Part 1
General Building Data
Building Name: Defense Media Activity
Location and Site: Forge George G. Meade, Maryland
Building Occupant Name: Army Corps of Engineers               
Occupancy:  B, Business & S-1, Storage with 3 separate fire areas.
Type of Construction: Type II A
Size: 185,870 SF
Stories/Levels: 3
Primary Project Team:  Joint Venture of HSMM|AECOM and HOK

Owner:  Army Corps of Engineers:
http://www.nab.usace.army.mil/


General Contractor:  Hensel Phelps
http://www.henselphelps.com/


Architect:  HOK
http://www.hok.com/

Engineers:  HSMM/AECOM Design
http://www.aecom.com/


Plumbing and Telecomm: Veterans Engineering Group
http://www.veteransengineering.com/


Fire Protection: Protection Engineering Group
http://www.pegrouppc.com/


AV and Acoustics: Polysonics Corp.
http://www.polysonics-corp.com/


Civil: Greenhorne and O'Mara, Inc.
http://www.g-and-o.com/main.asp
Date of Construction: Spring 2009 to September 15, 2011

Cost Information:

Estimated Cost Breakdown:
Estimated Contract Cost:                              $54.6 million
Total Request:                                                $61.6 million
Other  Appropriations:                                 $16.8 million
Grand Total:                                                  $78.4 million
Awarded for: $56,195,000 on March 13, 2009 to Hensel Phelps Construction Company

Project delivery method: Design-Bid-Build
Architecture
Design Based On:

"One of the finest examples of Georgian architecture for the new millennium" – Time
"Long live the king!"  - Rolling Stone

"Who really won the revolution?" – BBC America

"Merci" – Faux Muntin Manufacturers Annual Report

Georgian Architecture - The FGGM Installation Design Guidelines governs buildings at the garrison.  Those guidelines point toward "Georgian" Architecture. The Visitors Center is perhaps the only new building built to those guidelines.  The Visitors Center takes many of the aspects of (colonial) Georgian architecture quite literally:  red brick and white trim, symmetrical design, portico with classical columns flanking the entrance, large fireplace chimneys on both end walls, "punched" windows with multi-paned glass, a cornice, and slopped roof.  (DMA Final Design Analysis pg 26)

Actual Design:

Although Georgian Architecture was the goal in this design some of the features were modified to fit the function of this building. One of the things that were modified was the windows. Windows must be bigger to let light penetrate deeper into interior spaces.  Small punched windows run counter to the directive to be LEED/Silver that values daylight and views, which is why larger windows were used.

The DMA Exterior Design - DMA reflects the functions that occur inside the building.  Some spaces are high bay in type and require no windows; these spaces include the TV studios and a warehouse.  Some spaces are filled with people in a collaborative open office environment. These spaces value daylight and the views to a very picturesque landscape along Midway Branch.  Some spaces like the main street are meant to bring people and ideas together and to showcase the mission of DMA.  These spaces should be light and airy and exciting.  (DMA Final Design Analysis pg 26)
Major National Model Codes:
UFC4-010-01 DoD Minimum Antiterrorism Standards for Buildings
International Building Code (IBC) 2006
International Mechanical Code (IMC) 2006
International Plumbing Code, 2006
Uniform Federal Accessibility Standards
NFPA 10, 12, 20, 24, 70, 72, 101
Zoning: No Zoning Requirements
Historical Requirements: No Historical Requirements
Building Façades:
Exterior Window Wall:

Aluminum window wall with 1" insulated low -emissivity glass; spandrel glass.  Laminated glass outer lite required for AT/FP.

Exterior Wall System:

Stiff metal studs with 6" batt insulation and sheathing
Moisture and air barrier
2" Extruded polystyrene insulation
Cavity wall with red brick veneer

Entrance Doors:

Medium stile aluminum & glass.

The following are thermal characteristics of the building:

Component                            R- Value

Exterior Wall           Inside Air                                .68

5/8" Gypsum Board                   .48

6" Steel Studs                      Thermal Bridge

0 Batt Insulation                       .00

Sheathing                                  .45

3" Ext. Polystryrene Insul.    15.00

1" Air Barrier                             .44

4" Face Brick                             .80

Outside Air                              0.00

Total R-Value                         17.85

U-Value                                   .056

Roof                        Outside Air                             0.00

Membrane Roofing                  .15

3" Polyiso. Roofing Insul.      16.68

1/2" Gypsum Board                  .45

Inside Air                                0.61

Total R-Value                         19.92

U-Value                                   .056

Vision Glass             U-Value  Winter Night               .31

U-Value Summer Day                .32

Shading Coefficient, Max.     . 35

Visible Light, Min                   52%

Glass Spandrels       Outside Air                               .00

Insulating Glass                      3.22

2" Insulation                          10.00

Inside Air                                   .68

Total R-Value                         13.9

U-Value                                  .072
Renderings: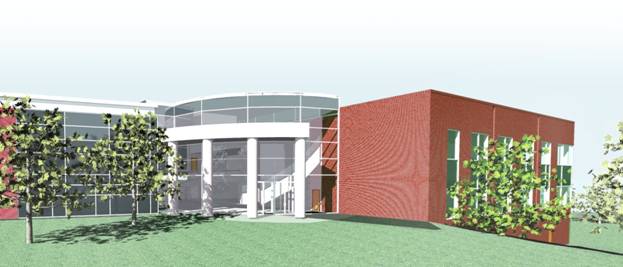 This Rendering shows the front (main) entrance curtain wall system. This entrance was designed only for visitors to the building.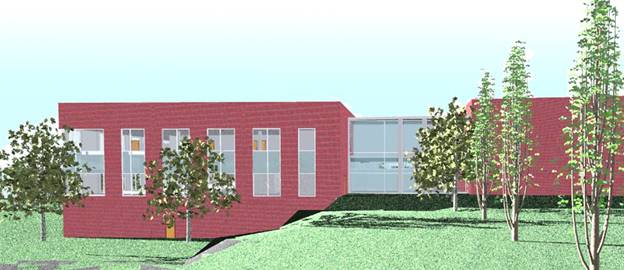 This is the second entrance of the building where the daily building occupants will enter. It shows the red brick veneer as well as the glazing system of the building.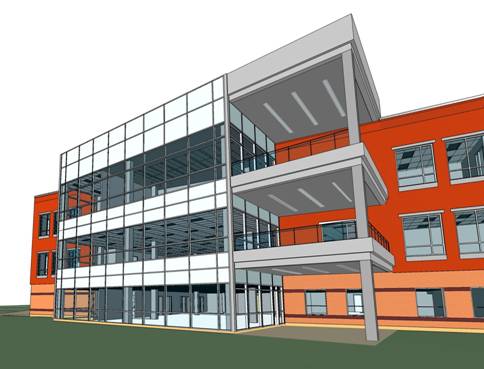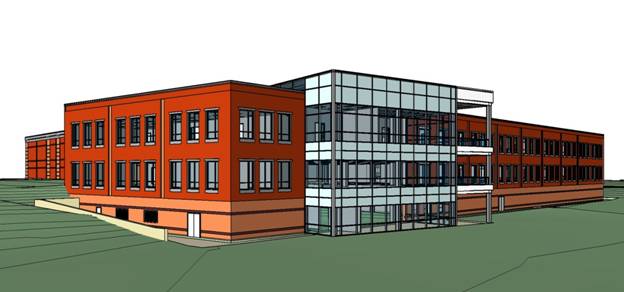 Roofing:

Energy star single-ply ethylene interpolymer (white) membrane roofing.
This Building is LEED Silver Certified.  The following areas show Sustainability Features.
Low Impact Design – In order to mitigate storm water quantity and quality, the parking lots respect the existing contours of the site as much as practical.  Rainwater off the parking lots is allowed to sheet flow into multiple bio-retention areas.
Air side economizers used on all the air handlers
Variable Frequency Pumps used for energy savings
Low Flow Fixtures used throughout the building

Building Statistics Part 2

Construction:

The DMA Building is the new media center for the Army Corps of Engineers. It is a 3 story, 185,870 SF building that will contain offices, editing suites, television studios, media centers and data centers. The building delivery method used was Design-Bid-Build with Hensel Phelps as the General Contractor for this project. This project was a joint venture between HSMM and HOK. HSMM|AECOM was in charge of the engineering while HOK was the architect of the project.  The DMA Building began construction in Spring of 2009 with a completion date set for September 15th 2011. Four special permits concerning site work had to be obtained in order to begin construction. Special precautions needed to be taken for erosion and sediment control. Wetland waterway and flood plain permits had to be obtained in order to begin site work.

Electrical:

The DMA building has redundant power from two separate utility sources as well as emergency power. It will be provided with two 13.8 KV feeds coming into the building from separate directions. The building uses 480/277-volt distribution coming from three exterior 3000 KVA 13.8KV-480/277V transformers. These feeds along with the emergency power will connect to one three-sectioned 480Y/277-volt 3600 Amp three-phase four wire switchgears.  Distribution circuits will be located below raised floor and along the ceiling. The electrical load for the building is 7,040KVA. Emergency power will come in at two levels, a technical and critical level. The technical level power is utility power backed up by a 20 minute UPS which includes (3) 750KVA UPS's and their batteries. The critical power level is utility power backed up by a 20 minute 750 KVA UPS and a 48 hour 2000KW 480/277V emergency generator. 

Lighting:

Lighting for the DMA building is done using electronic ballasts and energy efficient T8 fluorescent lamps. Occupancy sensors will be provided in all occupied spaces including offices, conference rooms and restrooms. Conference rooms will have dimmable compact fluorescent fixtures. Areas with computer workstations will have low glare and low brightness fixtures. Mechanical and electrical rooms will have surface mounted industrial fixtures. Exit signs are will use LED lighting. The exterior of the building will be lit according to Ft. Meade standards of lighting. Lighting will be provided at all entrances, loading docks, and other specialty areas.

Mechanical:

Major components of the mechanical system are located in the utility plant of the building. The DMA building uses a primary-secondary pumping system for heating and cooling. Three 500 ton water-cooled chillers are used to cool the building with one of the three chillers being a backup chiller that will provide redundant cooling for the Media Production, Technical, and Tele-Video parts of the building. Three 1500 gpm cooling towers are used in junction with the chillers with one being a backup as well. Pumping for the cooling system will include three primary pumps for circulation chiller water and two secondary VFD pumps used for distribution. An additional secondary pump is used as backup and is backed up by an emergency generator. Three pumps will also be used for the cooling towers that are located on the roof. The heating system is made up of three 3,000 MBH gas fired condensing boilers with one being a redundant boiler. Three primary pumps will circulate water through the boilers. Two secondary pumps will circulate hot water throughout the building. One extra secondary pump will be on stand-by for redundancy. The air for the three story part of the building will be delivered using six VAV air handlers. Two air handlers are used per floor.  The rest of the building is supplied by ten rooftop units. All of these units will have air side economizers and a waterside economizer will be used to cool the server room.

Structural:

The main superstructure for Defense Media Activity consists of steel girders and columns. The building has multiple floor-to-floor heights ranging from one to three stories high. The gravity loads in DMA are supported by steel composite beams with 3" metal decking topped with 2.5" lightweight concrete. All steel members used in the building are ASTM A992 Grade 50 steel. A typical beam size in the DMA Building is W14x22. A typical girder size used in the DMA is W18x35. The three story portion of the building is laterally supported using moment frames while the rest of the building uses a combination of braced and lateral frames.  Typical soil bearing capacity ranges from 2000psf for 3000psf for wall and spread footings, and 1500psf to 3000psf for the retaining wall. The roof is composed of 1.5" metal decking with 3.5" of lightweight concrete in junction with long span joists above the studio spaces. Roof construction for the low roof is composed of 3" metal decking with 3" lightweight concrete to support mechanical equipment.  The building is designed to resist Progressive Collapse using Tie Force Method as well as implementing blast resistant substructure framing and windows.