General Building Data
Building Name: Steelstacks Preforming Art Center
Location Site: Bethlehem, pa
Building Occupant: Artquest
Function Type: Preforming Arts Center
Size: 67,000 square feet
Stories: 4 above grade
Cost: 26 million
Dates of Construction: January 10, 2010 to February 26. 2011 (estimated)
Project Team
Architect: Spillman Farmer Architects
http://www.spillmanfarmer.com/
Mechanical/Electrical/Plumbing: Brinjac Engineering
Structural Engineering: Barry Isett & Associates
Site/Civil Consultants: French & Parrello
Food Services Consultant: Portere Khouw Consulting, Inc.
http://porterkhouwconsulting.com/
Acoustical Consultant: Acoustic Dimensions
http://www.acousticdimensions.com/
Audio/Visual Consultant: AVI/SPL
Architecture
SteelStacks is a dynamic arts, culture and education campus that will be constructed on 4.5 acres of former Bethlehem Steel Corporation land in Bethlehem, Pennsylvania. The SteelStacks campus is envisioned as a premier destination for people of all ages to experience the visual, musical and performing arts, all in one location.

Steelstacks is a striking four-story steel and glass structure with 68,000 sq ft of distinctive venues to showcase the arts. Inside, the first floor of the building features a two-screen state-of-the-art cinema theater as well as the Creativity Commons, a large public space capable of supporting a wide variety of live performances. Overlooking the Creativity Commons is the Loft, a unique mezzanine gathering space, and the multi-purpose Blast Furnace Room, which will host a variety of community and educational functions. The third and fourth floors of ArtsQuest Center feature the 450-seat, cabaret-style Musikfest Café, a venue to showcase a wide variety of live music performances.
Architecturally, the building was designed with economy in mind, with careful detailing to add depth and richness to the simple box shape. The exterior is composed of pre-cast concrete, a cost-effective construction material, but uses the pre-cast panels in innovative ways by mounting them with the rough, hand-screed concrete side facing outward (rather than facing inward as is typical). This approach gives the material physical texture and a visual interest that will change as the sun moves over the building. Overhead, the cantilevered outdoor terrace makes a dramatic statement with its bold steel beams painted in International Orange. The south side of the building offers a dramatic glass curtain wall overlooking the iconic Bethlehem Steel blast furnaces.
<![if !word & !ppt & !excel & !vml]>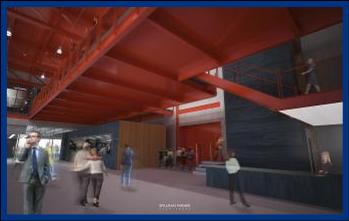 <![endif]><![if !word & !ppt & !excel & !vml]>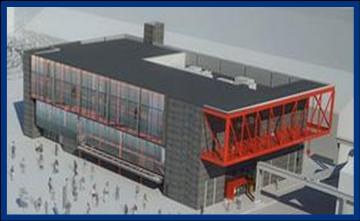 <![endif]>
Major National Codes
             Building:            2006 IBC
             Plumbing:          2006 International Plumbing Code
             Electrical:          2006 Electrical Code
             Mechanical        2006 International Mechanical Code
             Zoning
Type of Construction: IIA
Occupancy group: A1
             Historical Requirements
             Although there are no historical requirements, the building is located on the old Bethlehem Steel site, so great lengths have been              brought to this project to enhance the site.  The structure itself is has many exposed steel elements, that enhance the architecture              of the building.  Also the north side of  the building is a complete glass curtain wall that overlooks the Bethlehem Steel blast              furnaces.
                                                                  <![if !word & !ppt & !excel & !vml]>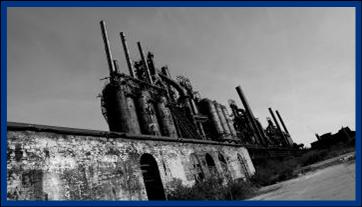 <![endif]>                                  

            

             Sustainability

             This building was designed with sustainability in mind.  It was designed for a LEED silver rating, which means it looked into              sustainability from start to finish.

Building Enclosure

         Building Façade

             The façade of this building is one of Architectural importance, as stated in the Architecture description, the building used precast

             Concrete for 3 (south, east, west) sides of the building.  The unusual part about this is that the precast section are place backward              to show off the hand scrapped side, this enhances and gives texture to the building.  On the north side of the building a glass              curtain wall for an exterior façade, the bottom floor of this 4 story high curtain wall has the ability to completely open, which will              allow for a very open environment.

             Roofing

             The roofing of this building is a fairly simple set up, the total composite depth of the roof assembly is 10 inches.  It consist of              acoustical decking, a light weight insulated concrete mixture, with a roof membrane on the exterior.

Building Statistics Part II

Structural System

The structural system for Steelstacks consists of structural steal beams and flanges as well as steal and concrete columns. (not complete)

Electrical System

The buildings electrical service enters a 3000A three pole main distribution panel with a distribution section with internally mounted TVSS (transient voltage surge suppressor).  From there the electricity is distributed around the building to various circuit breakers, MLOs and directly connected to two transformers.  The MDP also has connections to two ATS (automatic transfer switch) that supply the security and elevator controls for when electricity goes out.  The onsite generator is a 200kW, 3 phase, 480/277V which goes directly to the two previously stated ATS.

Mechanical System

The Steelstacks Performing Arts Center has six Carrier packaged rooftop units which provide most of the conditioning for the spaces, ranging from 3-55 tons. Three of the packaged systems have energy recovery wheels. Along with these systems, it also has a split AHU system to exclusively serve the Blast Furnace Room (The blast furnace room is a hall that is used for large gathering, and looks out onto the previously used Blast Furnaces of Bethlehem Steel). The Steelstacks also utilizes a mini-split system for additional temperature controls to the smaller areas of the buildings; these units are fed by 3 small condensing units on the fourth floor. The Steelstacks building also includes one make-up air unit for the Kitchen areas due to the large amount of exhaust coming from this area.

Lighting System

The lighting at the Steelstacks is very diverse due to the multitude on events it can host.  The main lighting for the two cinemas consist of wall mounted dimmable CFD, along with recessed LED downlights.  The main café and is lit with hanging pendent light that range from 50 – 250 Watts depending what the café is being used for.  The Blast furnace room is well diversified in it lighting, it has two lighting systems both capable of fully lighting the room, one consist of 4' strips with kicker reflectors and the other system uses 4" recessed LED downlights. Depending on the occasion, either one of these systems could light the room or a combination of both.  Many of the rooms with north facing exterior walls can utilize the natural light coming in form the large glass windows, each room is dimmable to allow for lighting loads to be reduced during the daytime hours.

Transportation

The Steelstacks building consist of three sets of exit stairs, two elevators, one service elevator and one spiral staircase on floors two through four. 

<![if !vml]>