Building Statistics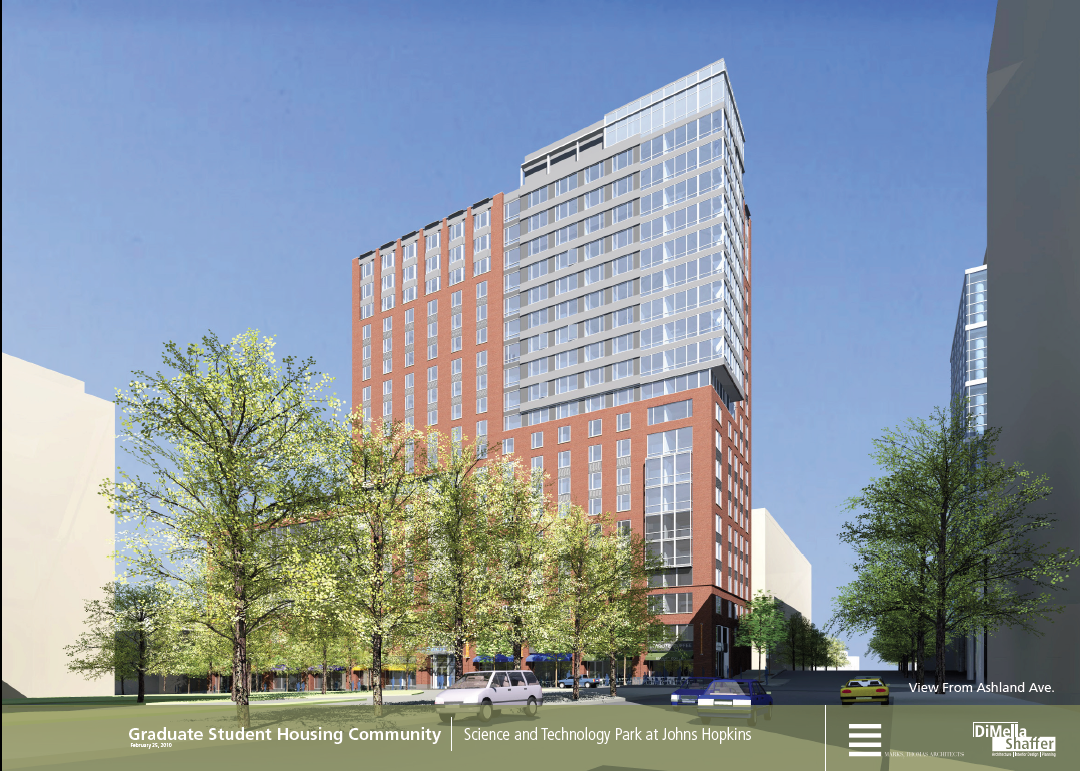 General Building Data:
Building name - Johns Hopkins Student Graduate Housing
Location and Site - Science and Technology Park at John Hopkins
Building Occupant Name - John Hopkins Housing
Occupancy Type - Residential
Size - 276,211 sq. ft.
Number of levels above grade/total levels - 20 + Mechanical Housing
Contract Information
Dates of Construction - August 2010-June 2012
Cost - $44 million which covers the hard costs of the building.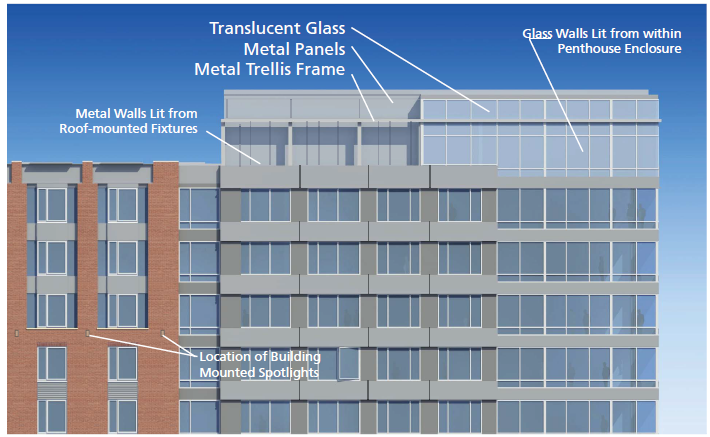 Architecture
Johns Hopkins Student Graduate Housing project is a new building constructed with brick and glass facades for a modern look. Upon completion, the building's main function is predominantly for graduate residential use, providing 929 bedrooms over 20 floors. There are efficiencies, 1 bedroom, 2 bedroom, and 4 bedroom apartments available. A secondary function of the building is three separate commercial spaces located on the first floor. This architectural feature will provide a mixed use floor, creating a welcoming environment to the building. At the 10th floor, the typical floor size decreases, creating a low roof and a tower for the remaining ten floors. A glass curtain wall on two corners of the building also begin on the 10th floor and extend to the top the building.
Codes and Zoning
IBC - 2006
IFC - 2006
Baltimore City Building, Fire and Related Codes - 2007
Maryland Building Performance Standards - July 2007
National Electric Code - 2005
International Mechanical Code - 2006
National Standard Plumbing Code - 2006, 2007 Supp.
International Energy Conservation Code - 2009
Baltimore Zoning Codes regarding structural design reference the adoption of all IBC standards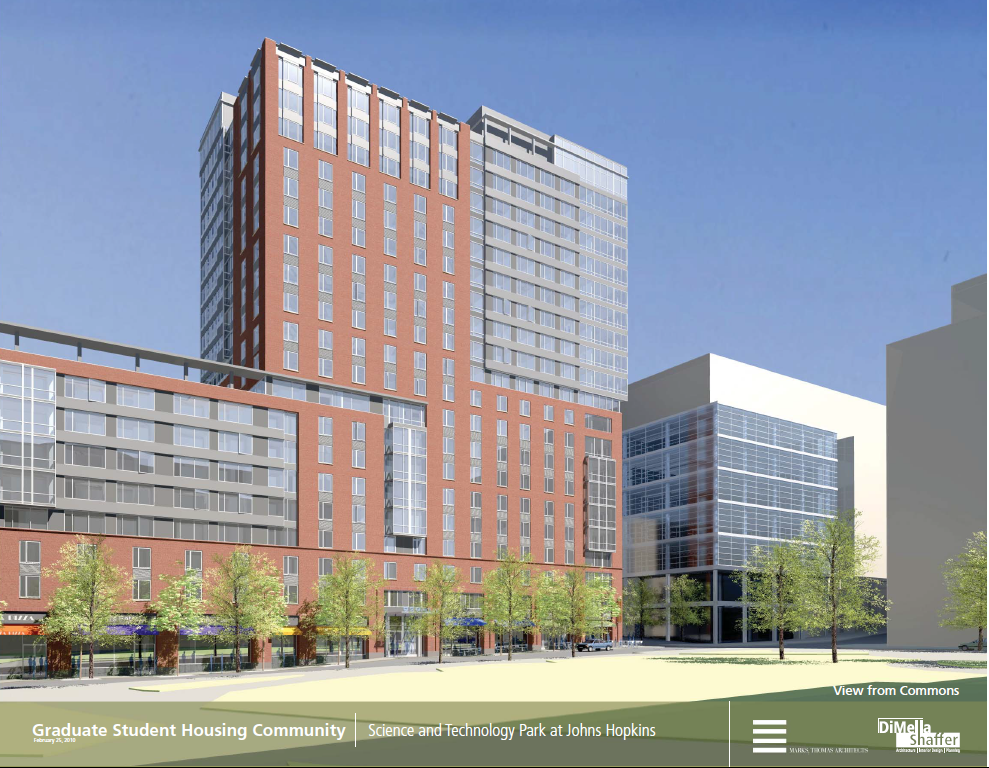 Building Enclosure
Facade
The facade of Johns Hopkins SGH is composed mainly of red brick and tempered glass with metal cladding. There will be large storefront windows on the first floor and approximately 6' x 6' windows in the apartments. The curtain wall is to be constructed of glass and metal cladding that can withstand wind loads without damage. There is a mechanical shading system in the windows to assist in the LEED silver certification.
Roofing
There are three different types of roofs on this project. Above the concrete slab on the green roof is a hot rubberized waterproofing followed by polystyrene insulation, a composite sheet drying system, and finally the shrubbery. The sections of roof containing pavers will be constructed using the same waterproofing, a separation sheet, the insulation and finally pavers placed on a shim system. The remaining portions of the roof will be constructed using a TPO membrane system.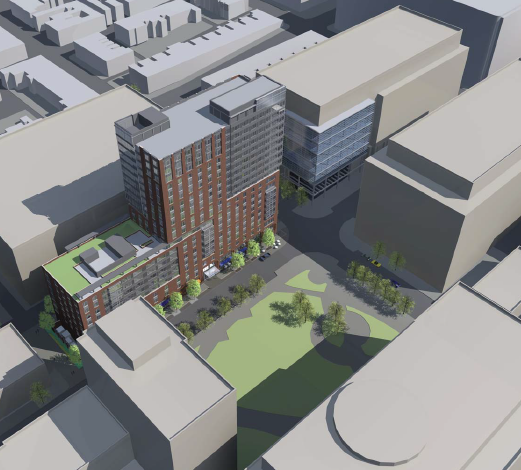 Sustainability
Johns Hopkins SGH is striving to achieve LEED silver certification. Most of the points accumulated to achieve this level come from the sustainable sites category. A total of 20/26 points were picked up in this category due to a number of achievements such as; community connectivity, public transportation access, and stormwater design and quality control. Indoor air quality is the next largest category where the building picks up an additional 11 points for the use of low emitting materials. Several miscellaneous points are picked up for using local materials and recycling efforts as well.
Structural
Gravity loads on a typical floor are resisted through an 8" thick two-way, post-tensioned concrete slab. The slab has a variety of spans, but is typically found to be 20-25 feet before the load is transferred to a 30" by 20" concrete column. Vertical loads are then transferred to a deep foundation system utilizing caissons as large as 4.5 feet in diameter. Lateral loads in the structure are resisted through 12" thick concrete shear walls which carry the vertical loads down to the foundation system.
Mechanical
Five air handling units located on the roof with an average flow of 4500 cubic feet per minute provide air flow for the building. Two 350 ton water cooling towers located on the roof provide the cooling load for the occupants. VAV boxes with electric reheat coils are located throughout the building to provide tenants with their own personal temperature preferences. Gas fired boilers located in the penthouse provide heating for the building.
Electrical/Lighting
Electricity is brought in through two 2400 Amp switchboards for normal 208Y/120V systems. 2400 Amp bus ducts run from the switchboards to service the building with one board serving the first 8 floors, and the other serving the remaining 12. Each floor is protected by a 1000 Amp circuit breaker. A 4000 KW 480Y/277V generator exists on the first floor to provide power for emergency systems. Most of the lighting throughout is Lithonia recessed fluorescent down lights.
Plumbing
Domestic hot water is provided through four 250 gallon gas fired water heaters located on the 8th and 20th floors. Domestic water is brought in through 8" pipes to the water boosting system where 3 pumps and a pressure tank push the water to where it is needed.
Fire Protection
The building complies with the International Fire Code of 2006 as well as Baltimore City building, Fire and related codes 2007. A 4" diameter standpipe provides the main feed for the fire protection systems. A full coverage automatic sprinkler system will also be installed to prevent loss of life, and sprinkler head guards will be installed on any sprinkler less than 8 feet from the ground.