Abet assesment:Course reflection: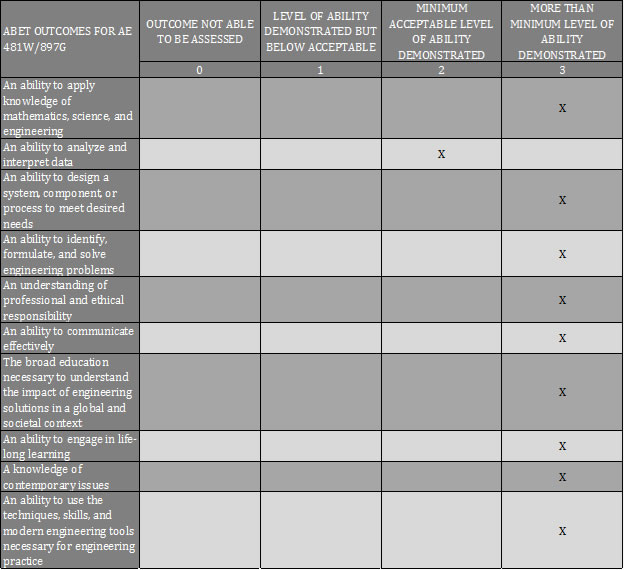 Course reflection:

Though thesis was an incredible amount of work, it was, overall, a rewarding experience that allowed me to research and improve my knowledge base in both new and existing areas of construction.  The fall semester work in AE 481W allowed me to improve my understanding of the parameters that affect the design and construction processes on a project, schedule, site plan, and project delivery.  While the fall semester focused learning about the existing building and construction processes, the spring semester (AE 882) focused on my exploration of new construction avenues and research areas.  I was able to focus on areas that interested me and through my own research, improve my understanding of them.  Overall, I feel thesis was a great learning opportunity as it allowed me to learn a great deal not just about the construction of a project, but also other aspects associated with a building's design and construction.

CPEP reflection:

The Capstone E-Portfolio was a challenging aspect of senior thesis for me, as I had no experience in the creation of websites or website design.  I used Dreamweaver to create my website and it was a frustrating program that wasted a great deal of my time.  I understand the importance of having a website that can be accessed by professors, project teams, and other students, but this particular program was extremely difficult to work with.  I would recommend a different program if at all possible.