Building Name: Center for Sustainable Landscapes
Owner: The Phipps Conservatory
Location: Phipps Conservatory & Botanical Gardens, 1 Schenley Park Drive, Pittsburgh PA 15213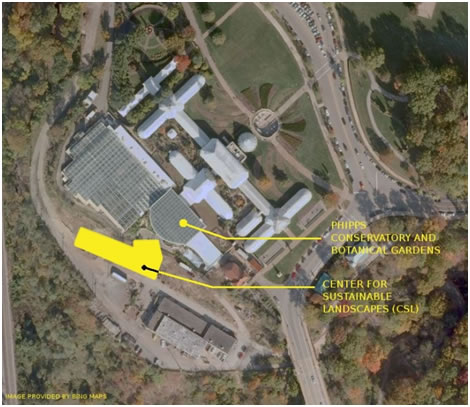 Above: The CSL location onsite
Below:The location of the Phipps Conservatory with respect to Downtown Pittsburgh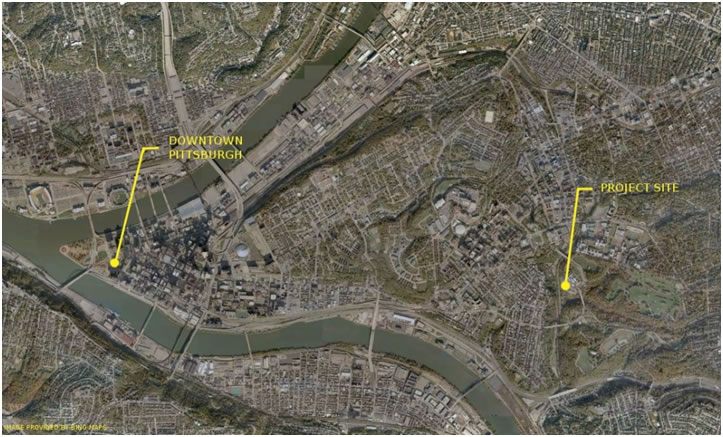 Occupancy/Function Type: The Center for Sustainable Landscapes will be used as a center for education, research, and administration.
Size:
| | |
| --- | --- |
| Total Gross Building Area: | 24,350 GSF |
| 1st Floor: | 11,209 SF |
| 2nd Floor: | 11,151 SF |
| 3rd Floor: | 1,990 SF |
Number of Stories and Defined Use: 3 Total all of which above grade
| | |
| --- | --- |
| 1st Floor: | Business Areas, Educational Classroom Spaces, Assembly without fixed seating, Accessory Storage Areas i.e. Mechanical Equipment Room |
| 2nd Floor: | Business Area |
| 3rd Floot: | Assembly Space without fixed seats |
Primary Project Team
Dates of Construction: November 12, 2010 - April 20, 2012
Contracted Value: $10 Million
Project Delivery Method: Design - Bid - Build
National model Code: IBC 2009
Zoning: "P" Parks District
Architectural Description:
The CSL has a contemporary design and can be described as having linear motifs. Long horizontal floor levels draw one's eyes across rather than upward; a stark contrast to the neighboring Victorian architecture. While large bands of horizontal glass create a transparency that ties the CSL back to its older neighbors.
Historical Information:
Located in Schenley Park, Pittsburgh, the Center for Sustainable Landscapes (CSL) is joining the green Phipps Conservatory and Botanical Garden community. The neighboring Conservatory and Gardens feature Victorian motifs of steel and glass intertwined with lush green vegetation. The Phipps Conservatory has stood as a cultural and architectural centerpiece of the city since the year 1893. Since its inception the Phipps Conservatory has been attracting national attention. Most recently, the Conservatory played host to the leaders of the world at the welcome dinner for the Pittsburgh G-20 Summit in 2009. The addition of the CSL is a landmark project to not only the Phipps community but the sustainable building community as well.
Building Enclosure:
Windows/Openings: Low-e insulated windows. Light shelves, louvers and overhangs minimize summer cooling loads. Additionally, translucent shades reduce nighttime heat losses and glare from low solar angles. Glazing type, insulated 2 and 3 pain krypton glass.
Curatin Wall System: Facade constructed of reclaimed barn siding for siding and soffit applications, insulated by wood battons, weather barrier, rigid board insulation, metal stud framing, 5/8" glass-mat gypsum sheathing.
Roofing: Thermoplastic Polyolefin (TPO) roofing covered by a green roof.
Sustainable Features:
On an annual basis, the CSL will be a net-zero energy and net-zero water building. The features are listed below:
Passive Solare Design - overall building energy usage minimized through passive design strategies for typical operation
Robust Building Envelope - reduces thermal heating losses and gains
Desiccant Dehumidification - Utilizes energy that would otherwise be exhausted to pre-treat temperature and moisture in incoming outside air with minimal energy use and without mechanical refrigeration.
Building Management System - Direct digital control building management system will control and provide feedback on various systems for optimal energy efficient operations.
Solar Photovoltaics and Solar Hot Water collectors - renewable energy system that generates and saves electricity.
Vertical Axis Wind Turbines - Renewable energy system generates electricity from wind
Natural Ventilation - computation fluid dynamics study determined optimal window location for natural airflow.
Demand Controlled Ventilation (DCV) - uses C02 sensors to measure occupancy and release the amount of ventilation air required.
Minimally Conditioned Atrium - 100% passively heated and cooled.
Daylighting - light shelves and interior daylight ceiling clouds maximize depth of solar penetration.
Sustainable Materials - locally environmentally conscious highly durable and long service life products.
Sustainable Landscapes - features all non-invassive native plants.
Green Roof - Reduces volume of storm water runoff and pollutants in storm water runoff.
Rainwater Harvesting - Storm water basins placed on the upper campus glass roofs and lower site will capture rain water for reuse.
Lagoon System - Replicates natural water treatment process that occurs in wetlands and marshes.
Constructed Wetland - treat all sanitary water from CSL and adjacent maintenance building.
Permeable Paving - for natural infiltration of site storm water.