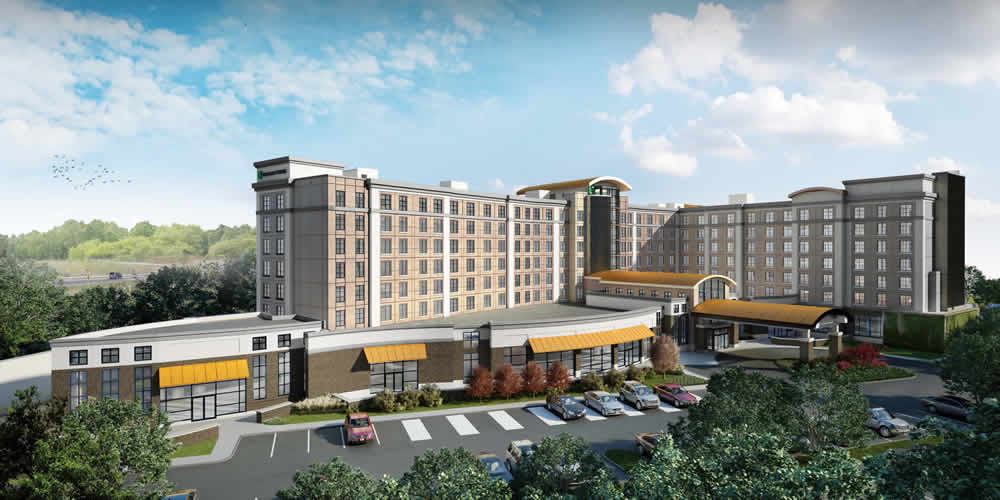 Embassy Suites Hotel Springfield, Virginia
Building Statistics
Building Data

Building Name: Embassy Suites Hotel

Site Location and Address: 8100 Loisdale Road Springfield, Virginia

Building Occupant Name: Embassy Suites Hotel

Occupancy Type: Residential/ Hotel R1

Size: 185,000 Square Feet

Building Height: 93 Feet Number of Stories: 7, 6 Stories Above Grade + Cellar

Project Delivery Method: Design-Bid- Build

Project Cost: $31.5 Million

Construction Dates: Start- November 2011, Completion- July 13th 2013

Project Team:




Owner: Miller Global Properties, LLC.
Location: 4643 South Ulster Street Suite 1500 Denver, Colorado
Company Web site: http://www.millerglobal.com


Architect: Cooper Carry
Location: 625 North Washington Street Suite 200
Alexandria, Virginia
Company Web site: http://www.coopercarry.com/


Structural: SK & A Structural Engineers, PLLC
Location: 1155 Connecticut Avenue, NW Suite 800 Washington, DC
Company Web site: http://www.skaengineers.com


MEP: Jordan and Skala
Location: 14500 Avion Parkway Suite 110 Chantilly, Virginia
Company Website: http://www.jordanskala.com/

Construction Manager: Balfour Beatty Construction .3
Location: 8100 Loisdale Road, Springfield, Virginia
Company Website: http://www.balfourbeatty.com/

Civil: Christopher Consultants, LTD
Location: 9900 Main Street Fourth Floor Fairfax, Virginia
Company Website: http://www.christopherconsultants.com


Architecture

The reimaging of a location comprised of an old two story motel building, the project team is in the process of converting the existing sight into a luxurious 219 guest room Embassy Suites Hotel for Miller Global Properties, LLC. The building is located minutes from interstate I-95 in Fairfax County Virginia. With its many amenities present, including a large open air atrium and spacious two room suites, the hotel will serve as a model for comfort and convenience. The building foot print offers long flowing curved lines that give it immense visual appeal and a unique flow. The building will feature over 1300 square foot pool area, a 1600 square foot fitness exercise center along with multiple meeting areas and a bar and lounge area. Located on the hotel's ground floor, will also be housing over 1400 square feet of retail space.

Historical requirements or historical district limitations are not applicable to this building project.

Code Features

The Springfield Virginia Embassy Suites Hotel building occupancy classifications are Assembly, Group A-2 and Business, Group 1B. The hotel is equipped with wet and dry sprinkler systems.

Major Codes

Building: 2009 Virginia Construction Code (IBC 2009) with the Virginia Statewide Building
Code
Mechanical: 2009 Virginia Mechanical Code (IMC 2009)
Electrical: 2008 International Electric Code
Plumbing: 2009 International Pluming Code (IPC 2009)
Fire: 2009 Virginia Fire Prevention Code (IFC 2009) with the Statewide Fire Prevention Code

Zoning

The zoning ordinance lies in the highway corridor. The allowable building height according to the IBC is 160 feet. Due to the slope of the grade of the site the zoning height is 83 feet 2 inches.

Building Enclosure

The building facade varies as one goes up in elevation for all four sides (north south east and west) for the Embassy Suites Hotel. The ground level store front is mainly comprised of manufactured masonry (adhered concrete stone veneer) made up of boral cultured stone country ledge stone along with architectural adhered precast concrete panels. It also contains 1" insulated glass windows with aluminum frames and automatic entrances. The glass in this these store fronts contain a frosted film finish. Many of the entrances to the store fronts also contain refinished stainless steel canopies with standard seam metal cladding. The east elevation entrance holds a 6 foot wide walkway with a bifold sliding glass door system. Above the entrance is a large channel letter sign that is externally illustrated and is mounted on steel cross members.

Moving to the upper levels of the structure the exterior facade changes to exterior insulation finish system (EIFS). All of the external wall elements are part of a curtain wall system. Windows in the upper level floors also are refinished aluminum frame windows with 1" insulated glass.

Roofing System

The high level roofing system includes painted standard ribbed metal ribbed roof system on a steel structure The lower level roof system is comprised of a thermoplastic membrane fully adhered with heat welded seams and vapor retarder over a metal deck. Part of the lower level roof (top of part of the second floor) contains a green roof system that includes a pre-vegetated 50 percent extensive and a 50 percent intensive system that is placed upon a protective mat.

Sustainability Features

The goal of this green building project was to obtain a LEED - Certified accreditation. The sustainable practices in place during construction are the use of local construction materials, waste management control, the recycling of materials, and use of low emitting products (adhesives, stains, primers). There will also be energy conservation practices in place. Along with it's sustainable practice will feature a partial green roof.
Engineering Systems
Construction
The Embassy Suites Hotel project was delivered using the design -bid- build project delivery method. The project began construction in November 2011 and will be completed July 13th of this year. Miller Global Properties, LLC hired Balfour Beatty Construction to oversee the 31.5 million dollar construction project.

Mechanical System
The mechanical equipment that will be implemented consists of chilled & hot water supply pumps and return that are flexible and force coupled that will feature variable frequency drive. The air conditioning and cooling aspect of the HVAC system have a variable cfm capacity and will have a split air system that contains a single point power connection, auxiliary condensate drain safety switch, and a compressor with anti recycling controls. The heating system proposed is comprised of wall mounted surface and recessed heaters that contain auto reset overload thermostats unit wall mounted tamper proof thermostats and remote low voltage system. The roof top air unit features an 100% outside air system with a modulating gas reheat coil that is capable of producing a temperature of 70 degrees at 50% relative humidity.
Lighting /Electrical Systems
The electrical system in place at The Embassy Suites Hotel project contains a 3 phase 4 wire 277/ 480 volt system that goes through the building, having panel board on every level. The system also contains an 250 KW/ 312 KVA electrical generator for emergency purposes. The lighting system features many decorative lighting fixtures that include LED pendant lamps an custom wall sconces.
Structural System

The foundation system was designed due to the variability in soil composition. The system used a partial mud matt system to equalize the soil capacity using 2000 psi concrete placed over the existing soil below making a stable base for construction. The spread footings were designed to have an allowable bearing capacity of 6000 psi. The size of the footings range from 3' by 3' to 12' by 8' and extend 2' below the slab on grade. To tie the footings together, longitudinally placed strap beams ranging from 36 width x 24 depths to 42 width x 24 depth beams were used. The typical slab on grade is a minimum of 5 inches in depth and sits on 4 inches of washed crushed stone. The capacity of the slab is 3500 psi for the interior portions and 5000 psi for exterior slab conditions. The slab contains 6x6 – W 2.0 x W2.0 welded wire fabric and has number 4 reinforcing steel bars spaced 12 inches on center each way. The Embassy Suites Hotel is made up of a typical flat slab construction. The two way slab thickness is 8 inch and the compressive strength of the normal weight concrete is 5000 psi. The slab reinforcing includes number 4 reinforcing bars spaced at 10 inches on center, either way and run the full length from column to column. The floor system also uses drop panel system around one of the interior columns to protect against punching shear. The Embassy Suites Hotel consists of mainly 14" x 30" rectangular reinforced concrete columns. The majority of the columns have a minimum compressive strength of 6,000psi. Due to the increased load on the second floor, large concrete transfer girders had to be used to accommodate for the fitness and pool area. The lateral force resisting system is made up of reinforced concrete moment frames. The lower storefront levels have welded steel moment connections. The moment connections were designed to develop the full capacity of the member. The connections use high strength ¾ or 7/8 inch ASTM A325 or A490 threaded bolts. The bolts connect the ¼ x 1 inch plates to the beams were the plates are butt and penetrate welded.
Support Systems
Transportation System
Located on either ends of the building structure the Embassy Suites contains to main stairwells. In addion to having one main elevator shaft containing 3 elevators and there is a service elevator located in the center of the structure. These transportation access all levels of the building.
Telecommunications System
The hub for the telecommunications systems is the main main electrical room located on the ground floor level . This room is connects to the subsequent smaller electrical rooms on every respective floor level. The telecommunications systems monists of voice/ data systems telephone services and security systems that will support the current plan of an open system of architecture. The sect system will consist of closed circuit caners, duress alarms key pads and intercom units located through the building.
"Note: While great efforts have been taken to provide accurate and complete information on the pages of CPEP, please be aware that the information contained herewith is considered a work‐in‐progress for this thesis project. Modifications and changes related to the original building designs and construction methodologies for this senior thesis project are solely the interpretation of Dominick Lovallo. Changes and discrepancies in no way imply that the original design contained errors or was flawed. Differing assumptions, code references, requirements, and methodologies have been incorporated into this thesis project; therefore, investigation results may vary from the original design."