Welcome to STUDENT's AE Senior Thesis e-Portfolio
Building Statistics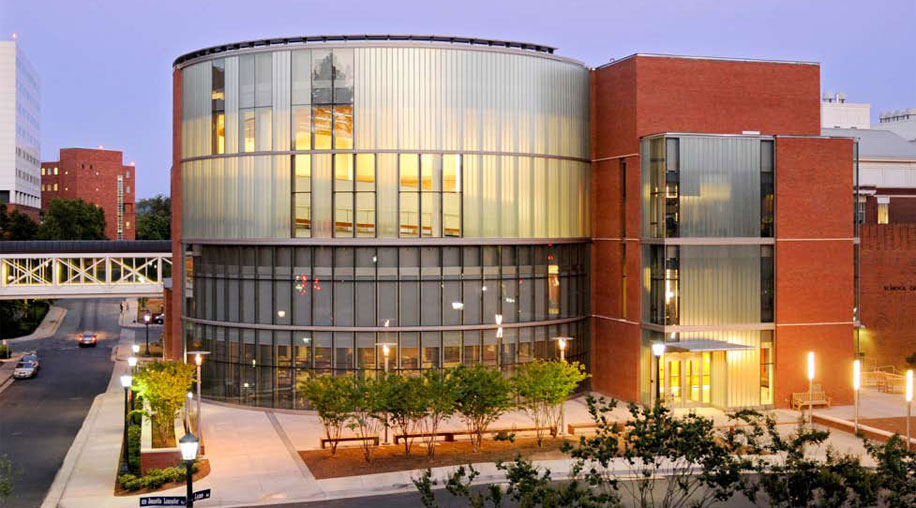 GENERAL BUILDING INFO
Name: Claude Moore Medical Education Building
Location: Campus of University of Virginia in Charlottesville, VA
Owner: University of Virginia School of Medicine
Occupancy: Busisness (Educational occupancies above 12th grade), Laboratory Space
Size: 58,000 sq. ft.
Number of Stories: five
Dates: Completed in August 2010
Cost: $40 Million construction cost
Delivery: Design-bid-build; bid decision made based half on price, and half on technical experience
PROJECT TEAM
Architects: CO Architects with Train and Partners Architects
CM and GC: Barton Malow Construction
Structural Engineer: Nolan Frisa Associates
MEP/FP: Bard, Rao, and Athansas
Civil Engineer: RMF Engineering
ARCHITECTURE
The Claude Moore Medical Education Building is meant to represent a significant leap forward in medical advancements, as well as the advancements in education at the University. The most iconic architectural feature is the round curtain wall on the northern corner of the site. Inside is the learning studio, which is an open classroom meant to promote interactive learning in small groups, as opposed to traditional lecture forums. The exterior, beside the curtain wall, is mostly red brick, and blends in very well with the surrounding buildings, and connects to the Medical Research Five building next to it. Below the learning center are two floors with mock patient rooms and procedural rooms for students to practice on standardized patients. In an effort to reduce the amount of energy used for both construction and maintenance of the building, a LEED Silver rating was achieved.
The only historical significance in the design of this building involves the 24 freestanding columns in the circular area that replicate the original columns used in the front entrance of the first UVA hospital.
MAJOR NATIONAL CODES
IBC 2003 with VA amendments (Virginia Uniform Statewide Building Code)
IFC 2003 with VA amendments (Virginia Statewide Fire Prevention Code)
IMC 2003 International Mechanical Code
IPC 2001 International Plumbing Code
ANSI/ASME A17.1 Safety Code for Elevators and Escalators
Local ordinances and amendments to all of the above codes
ACI 318-02 Structural Concrete Building Code
AISC Manual of Steel Construction, 9th edition
ASCE 5-02, 6-02 Code Requirements and Specifications for Masonry Structures
ASCE 7-02 Minimum Design Loads for Buildings
BUILDING ENCLOSURE
The exterior of the building is made mostly out of red brick, except for the curtain wall surrounding the circular section of the building, and the plan South wall. As the building is supported by a steel frame, this brick is only used as a veneer. The glass used in the curtain wall is a low-E, insulated glass, to reduce the amount of heating and cooling load required in those large spaces.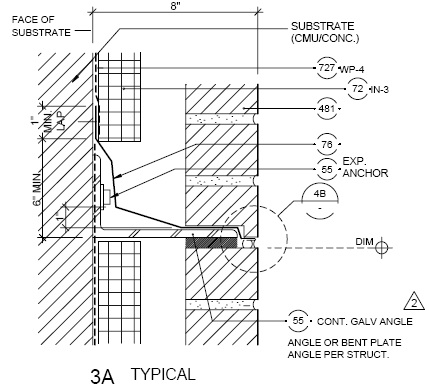 SUSTAINABILITY FEATURES
LEED Silver Rating
Efficient HVAC systems
Cool Roof
Low VOC paints
Recycled content used during construction
Insulated Low-E glazing
Several water reduction techniques to decrease runoff