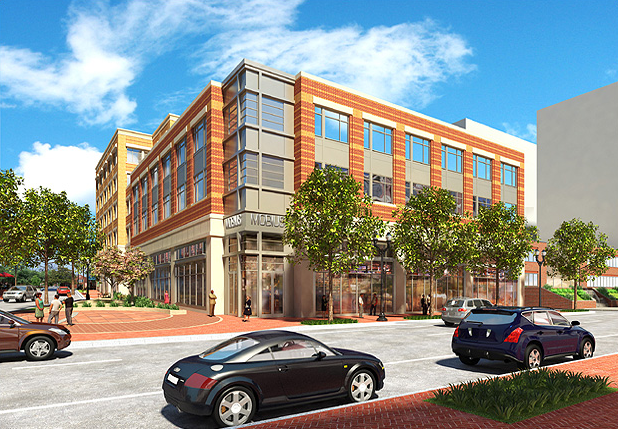 Building Statistics - Part One
Name: 1776 Wilson Boulevard
Location: Arlington, Virginia
Site: Central Rosslyn/Ballston Corridor
Occupant: Up for office and retail leasing
Function: Class A office building with retail space
Size: 249,000 SF
Number of Stories: 5 above grade, 3 1/2 below grade
Construction: May 2011 - August 2012
Cost: Contract value of $63.5 Million
Project Delivery Method: Design-Bid-Bond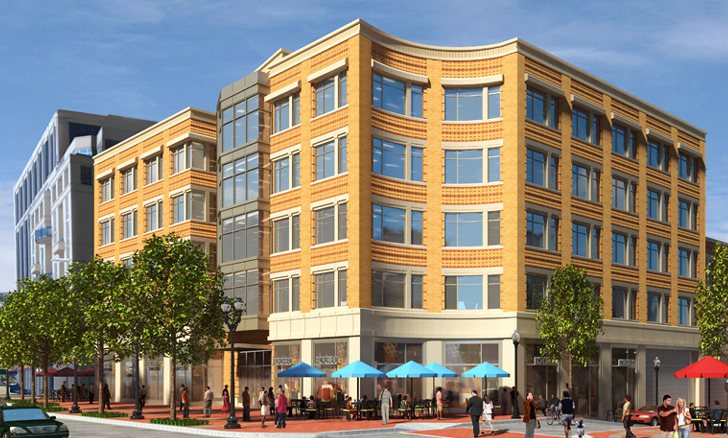 Note: While great efforts have been taken to provide accurate and complete information on the pages of CPEP, please be aware that the information contained herewith is considered a work inprogress for this thesis project. Modifications and changes related to the original building designs and construction methodologies for this senior thesis project are solely the interpretation of Joshua Urban. Changes and discrepancies in no way imply that the original design contained errors or was flawed. Differing assumptions, code references, requirements, and methodologies have been incorporated into this thesis project; therefore, investigation results may vary from the original design.
Architecture
Senior Thesis
Project Team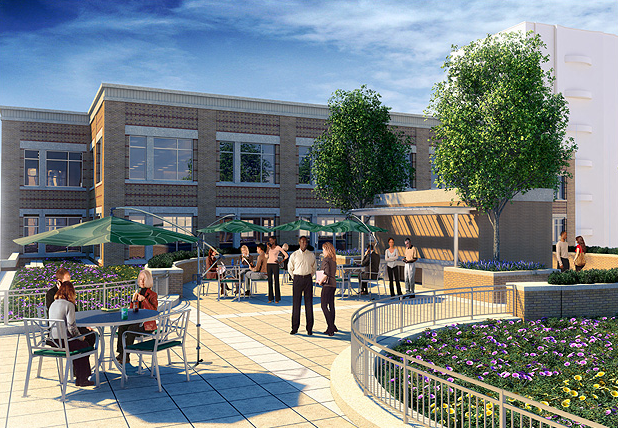 Designed by RTKL and associates and currently under construction, 1776 Wilson Boulevard is a 5 story retail and office building with 3 ½ levels of below grade parking that is to be completed in August 2012. The building will be located on a brownfield redeveloped site and features a 17,000 SF green roof that surrounds a 3,600 SF roof terrace. Various local amenities are within close range of 1776 Wilson. Two metro stations are within walking distance which will help decrease the traffic impact this new building will have on the area.  The project will also transform the streetscape by providing a public park area.
1776 Wilson contains a generous amount of glazing through windows and curtain walls that provide a significant amount of day lighting as well as views looking out from the building, including views of the National Cathedral and Georgetown University. The retail spaces will be located at ground level and will be sufficient enough for tenant mezzanines. There will also be an onsite fitness center for tenants only. Two of the biggest interior features will be the luminous lobby and flexible office space on the upper floors, suitable for a building still searching for tenants. Most of the mechanical equipment will be located in a top floor penthouse.
Codes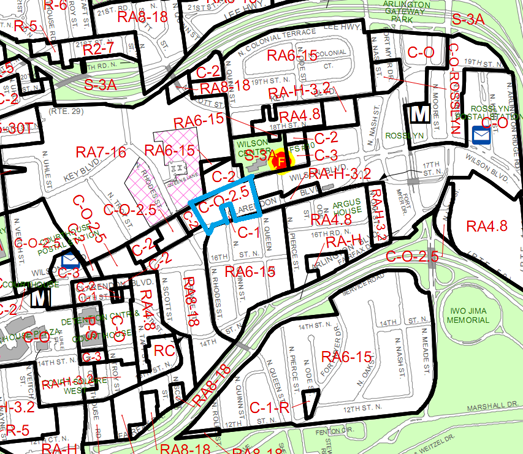 International Building Code 2006/2009
Virginia Uniformed Statewide Building Code- Recently updated and is based on IBC 2009
International Mechanical and Plumbing Codes 2006
National Electrical Code 2005
NFPA 2007
Virginia Statewide Fire Prevention Code
Virginia Construction Code
ASCE 7-05
Zoning
Overall, 1776 Wilson Boulevard helps the Rosslyn-Ballston corridor meet the goals provided by Arlington that call for increased commercial and retail spaces while still maintaining balance with residential areas. All of these factors, plus others, will help the building achieve LEED certification. The building is currently designed to be LEED Platinum. There appears to be no historical requirements.
Occupancy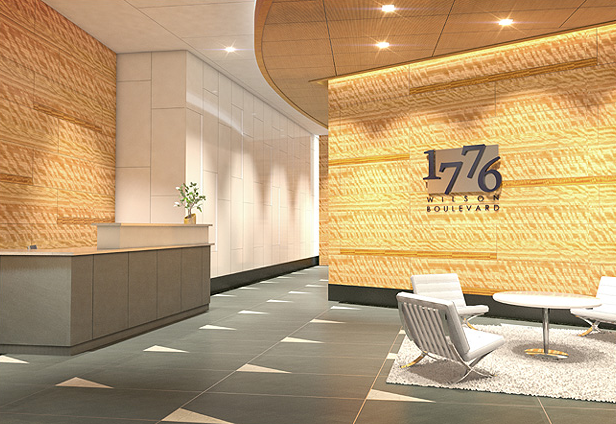 1776 Wilson Boulevard falls into Arlington County's C-0-2.5 zoning district. This district generally houses office buildings, commercial uses including retail and service, hotels, and apartment buildings. Buildings may have mixed office and commercial uses.
Ratio of maximum office and/or commercial floor area to site area - 2.5:1
No buildings, excluding penthouse area, can exceed twelve stories for office buildings. All permitted penthouses are to be limited to one story.
Each plot will have a minimum average width of 100 feet and a minimum area of 20,000 SF
First Floor and Garage Levels: non separated mixed uses
Upper Floors: separated mixed uses
Use Group B
Building Category (occupancy) II
Sustainability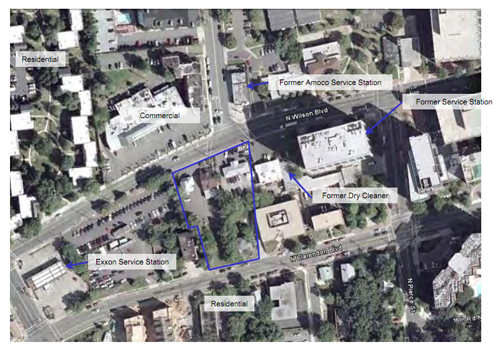 Building Enclosure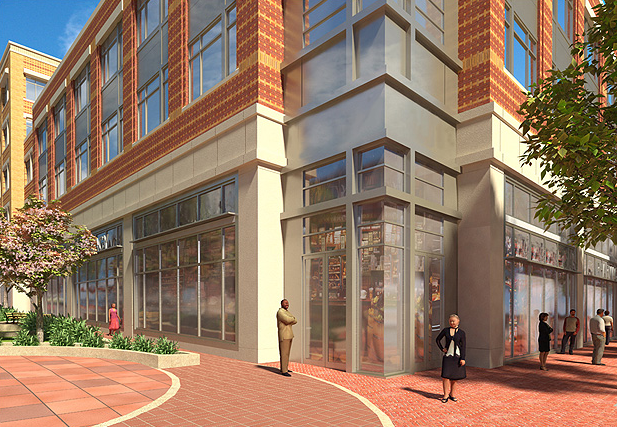 Facades:
Fitting in nicely with 1776 Wilson's LEED aspirations is a generous amount of high performance windows that decorate the façades along with aluminum framed curtain walls. The typical glass thickness is 1 inch with U values ranging from .26 to .28 and low E coating. Louvers are used as shading devices. The rest of the façade consists of pre-cast concrete panels including brick faced panels.

Roofing:
1776 Wilson has a combination of 10 and 12 inch thick post-tensioned flat slabs for the roof with roof pavers. The solar panels on the roof add an extra 6.6 to 8 psf to the roof load. In addition to the roof pavers, the roof is insulated and contains garden covering. Where roof pavers and garden covering aren't present, elastomeric cementitious topped insulation is used.
1776 Wilson Boulevard is being designed to LEED Platinum and is to be constructed on a previously contaminated site that was redeveloped. The building will be located within walking distance of two metro stations as well as various retail outlets and restaurants which will minimize the traffic impact. Priority parking will be given to those who drive fuel efficient vehicles and the parking garage will have outlets for electric cars.

A solar PV system is to be installed directly over the top of the roofing membrane and is non-penetrating. The use of this system, along with low solar heat gain windows and energy use monitoring, will provide an estimated 24% annual energy reduction.  One of the biggest green aspects of 1776 Wilson is the building's 17,000 SF vegetated green roof that surrounds the roof terrace.

Other sustainable highlights include 75% or more of construction waste diverted from landfill, CO2 monitors, low VOC limits, generous day lighting and views, and a program to educate future tenants on sustainability and design features.