Unionville High School Building Statistics

Building Statistics Part 1
Unionville High School Additions and Renovations
Michael Beam | Construction Option | August 25th 2011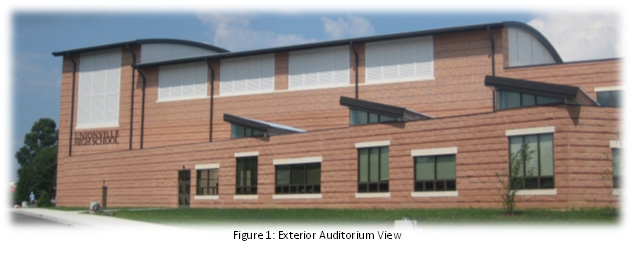 General Building Data

Building Name

Unionville High School

Location and Site

750 Unionville Road, Kennett Square PA

Occupant Name

Unionville-Chadds Ford School District

Building Area

319,000 Square Feet

Stories Above Grade

3 Stories
Project Team Data

Owner

Architect

General Contractor

Site/Civil Engineer

Structural Engineer

Mechanical & Electrical Engineer

Kitchen Design Consultant

Acoustical Programming & Design
Unionville High School, located in Kennett Square Pennsylvania, is a multi-purpose educational building. In addition to housing Unionville High School, the building is also the new location of the Unionville-Chadds Ford School District Administrative Office. Originally designed with a simplistic brick facade, UHS has kept some of the old features but has also gone in a new direction with rock face architectural blocks and several barreled roofs. Various new finishes appear on the interior of the building including oak trim, ceramic floor tile, and the same rock face architectural block used on the exterior.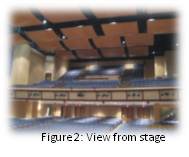 As a result of the many different uses within the building, numerous different tiers and depths are present in the exterior elevations. Among the many features within the building are a new state-of-the-art auditorium (figure 2), a new gymnasium, and renovated classroom space. With a seating capacity of over 1,200 and state of the art audio, video, and lighting equipment, the new auditorium is the clear focal point of the building. Many acoustical measures have also been incorporated in the design including carpet, upholster seats, acoustical CMU blocks, floating aerial acoustical panels, and vertical curtains (figure 3).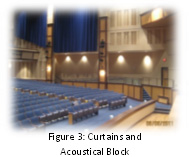 Zoning Data

Occupant Name

Unionville-Chadds Ford School District

Use Group

Educational Group - E (most restrictive)

Construction Type

Construction Type 11A

Allowable Height

3 stories, 65' high

Allowable Area

138,495 Square Feet (per story)
Code and Standard Data

2006 International Building Code

2006 International Fire Code

2006 International Mechanical Code

2006 International Plumbing Code

National Electrical Code, 2008 Edition

National Fire Protection Association 70
Note: There are no historical requirements for this project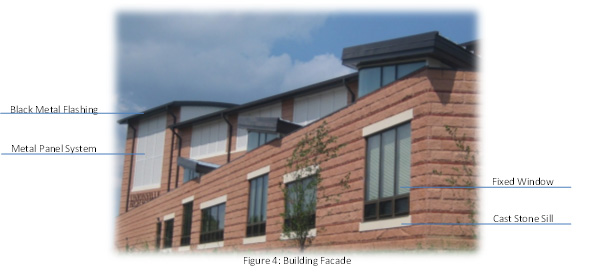 While there are several different elements involved in the various facades of the Unionville High School building, the building facade is made up primarily of architectural rock faced CMU block courses with red brick accent striping (figure 1). Other features include large louvers, black metal flashing, fixed windows with cast stone sills, frosted glazing, metal panel systems, and curtain wall systems.
With several different types of roofs comes a variety of materials. The majority of the building has a cold applied bituminous roofing system which is applied on top of 3 1/2" polyiso insulation, 1/2" fiber board, and either concrete roof slab or metal roof decking. On the auditorium and gymnasium, however, the roofing system is to be a double locked standing seam metal roofing system utilizing panels at 2 3/4" in height and 24" on center.
Unionville High School is designed with the goal of achieving a LEED certification but no rating has been designated. T5 lamps, occupancy sensors, and sensor actuated faucets are utilized in order to help achieve this rating.
Note: All non-sited photographs and figures were created by myself, Michael Beam.