Building Statistics
The Capstone Project Electronic Portfolio (CPEP) is a web-based project and information center. It contains material produced for a year-long Senior Thesis class. Its purpose, in addition to providing central storage of individual assignments, is to foster communication and collaboration between student, faculty consultant, course instructors, and industry consultants. This website is dedicated to the research and analysis conducted via guidlines provided by the Department of Architectural Engineering. For an explanation of this capstone design course and its requirements click here.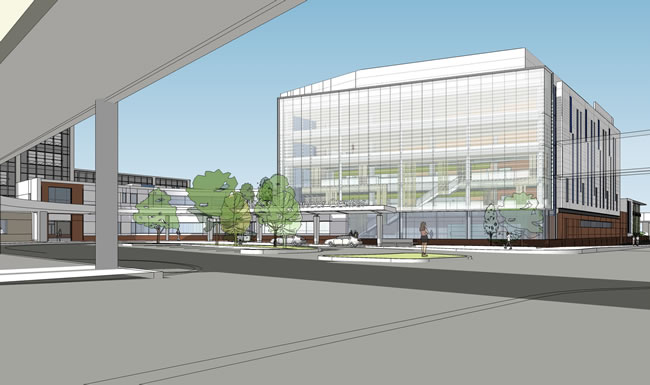 General Information
Building Name:

SUNY Upstate Cancer Center

Location & Site:

East Adams & Almond Street in Syracuse, New York - Upstate Medical University Campus

Building Occupant:

Upstate Medical University's adult and pediatric outpatient cancer services

Occupancy Type:

Health Care

Size:

90,000 Square Feet

Number of Stories:

Five stories (plus rooftop mechanical penthouse)

Project Team:

| | |
| --- | --- |
| Owner: | |
| Architect/Engineer: | |
| Civil Engineer: | |
| Construction Manager: | |
| Traffic Consultant: | |

Dates of Construction:

March 2011 - September 2013 (expected)

Cost:

$74 Million total cost ($50 Million Constuction Cost + $24 Million Medical Equipment and Furnishings)

Project Delivery Method:

Design - Bid - Build
Architecture

The Upstate Cancer Center is a five story healthcare facility that when completed, will house both the adult and pediatric outpatient cancer services for the Upstate Medical University. Located on a site just to the west of the existing Upstate University Hospital, the center will bridge the University's Regional Oncology and Gamma Knife Center to the hospital's west wing. The building will encompassed ninety thousand square feet through three floors with an additional two floors being built for future growth and expansion. Upon completion it will house twenty-seven private infusion rooms, three linear accelerator rooms, multidisciplinary practice rooms, private space for counseling services, a boutique for apparel and personal items, a meditation area, a family resource center, as well as an all seasons rooftop healing garden.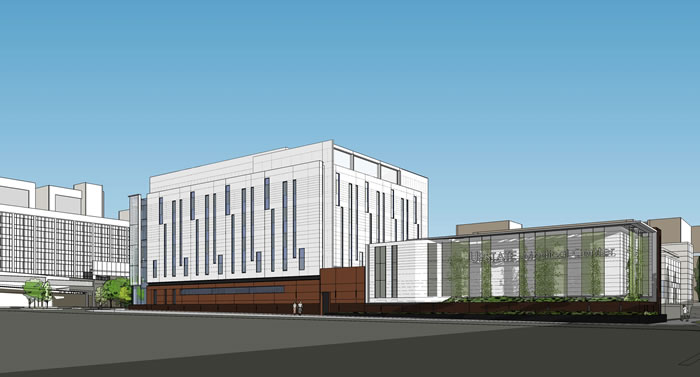 Applicable Codes

- 2007 Building Code of New York State (based on IBC 2003)
- 1997 Life Safety Code (NFPA 101)
- Sprinkler Code NFPA 13-02
- National Electrical Code, 2005 Edition
- 2007 Plumbing Code of New York State (based on IPC 2003)
- 2007 Fire Code of New York State (based on IFC 2003)
- 2007 Energy Conservation Construction Code of New York State
- 2007 Mechanical Code of New York State (based on IMC 2003)
- 2007 Fuel Gas Code of New York State (based on IFGC 2003)
- Accessibility - ICC/ANSI A117.1-03
- 2010 AIA Guidelines for Design and Construction of Healthcare Facilities
- Health Care - NFPA 99-1996
- Fire Alarm Code - NFPA 72-02 (Amended)

Zoning

The SUNY Upstate Cancer Center will be designed and built in accordance with the building zoning regulations of Syracuse, New York. Further research is being conducted on this subject.
Historical Requirements

There are no historical requirements for this building.
Building Enclosures

Along the main circle entry way is the primary facade of the cancer center, which features a fully glazed face and a three story atrium beginning on the ground level. This glazing is an inch thick insulated glass that has a custom ceramic frit pattern to provide partial solar shading. Besides glazing, the primary facade covering is a calming white insulated metal paneling curtain wall system backed by cold formed metal stud. The metal is broken up by a series of vertical panels of glazing each spanning different stories. Spandrel glazing is used in place of vision glazing when transitioning between floor levels, hiding mechanical space and the structural floor. Besides the entry area, which is exclusively glazing, insulated brick veneer is used on either metal stud backup or cast-in-place concrete backup to wrap the lowest level of the building. The Upstate Cancer Center is connected to the Regional Oncology Center through a two story central plant that will house electrical transformers as well as the building's mechanical space. The exterior of the facade for this portion of the facility utilizes the insulated white metal paneling with vertical strips of architectural metal meshing that resembles the vertical bands of glazing on the rest of the structure.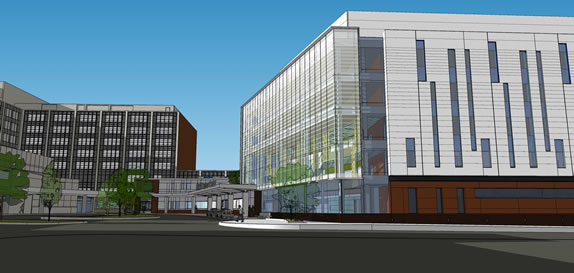 Rendering showing glazing facade of main atrium entrance.
Roofing

The Upstate Cancer Center uses three separate roofing assemblies, metal roof deck, concrete roof deck, and a green roof. The metal roof deck is comprised of metal decking, a gypsum thermal barrier, rigid insulation, five-eighths inch cover board with a sixty mil EPDM membrane topping. In place of the metal deck and gypsum thermal barrier, the concrete roof deck employs a poured concrete deck with a minimum of two inch lightweight concrete topping. Concrete roof decking and metal roof decking assemblies will be used for the rooftop mechanical penthouse portion of the cancer center. The green roof assembly is located on the lower roof levels, specifically the roofs over the mechanical rooms, and the building link between the Gamma Knife Center and the Upstate University Hospital. Native plants will be grown in one to three feet of planting soil, on top of a drainage board with rigid insulation, a root barrier and roofing membrane. This assembly will be supported by a concrete slab on two inch metal deck with a minimum of two inches of lightweight concrete topping.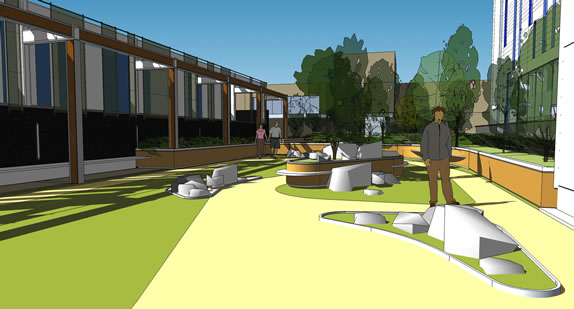 Rendering showing rooftop healing gardens, looking west.
Sustainability Features

The Upstate Cancer Center employs a variety of sustainable features in its design. Roof top gardens inhabited with native plants will help reduce cooling costs for the building. In addition to providing a calm and relaxing outdoor oasis, the green roof decks will also serve as a natural urban habitat for birds and create better air quality. The entire building structure was designed to allow the mass infiltration of natural light, highlighted by its iconic fully faced glass atrium, facing northest. The glazing is insulated and uses a custom fritted glass pattern to control thermal heat exchange. The south facing facade has a reduced amount of glazing in comparison to the other sides of the building. In addition, aluminum airfoil sunshades are used to shade the full height windows on the second and third floors. By using recycled and local materials along with other sustainable practices, the cancer center aims to achieve enough LEED points to receive the USGBC's Silver Rating.
Structural System
Foundation:

SUNY Upstate Cancer Center is supported by a deep foundation system consisting of cast-in-place concrete grade beams resting on drilled caissons. Caissons are specified with a minimum diameter of 30", and drilled 24" into the underlying dolostone bedrock. The grade beams vary in depth from 16" to 66", and are topped with a structural slab on grade. Specified concrete strength is 4000 pounds per square inch for the grade beams and slab on grade, and 5000 pounds per square inch for the drilled caissons.
Floor Construction:

Typical bay sizes within the Upstate Cancer Center are 30'-0" by 30'-0", with a floor-to-floor height of 14'-0" on all floors with the exception of the first floor's 16'-0" height. All elevated floors utilize a composite floor system working integrally with the structural framing members. The floor assembly is comprised of a 3" 20 gauge galvanized steel deck with 3 1/4" of lightweight concrete topping reinforced with 6x6 welded wire fabric. Two bays on the fourth floor feature a similar floor construction with 5 1/4" of lightweight topping in place of 3 1/4", due to the location of MRI machines. The extra volume of concrete is used to dampen vibrations from the machines.

Typical beam sizes range from W12's to W16's with girders ranging from W18's to W30's. Typical column sizes are predominantly W12's with a few W14's.
Lateral System:

Lateral forces acting on the Upstate Cancer Center are resisted by a series of braced frames and moment frames. The columns used in the braced frames range in size from W12x106's to W12x210's, with the diagonal bracing ranging from W8's to W10's. Because of the location of building expansion joints, the SUNY Upstate Cancer Center effectively acts as a collection of three buildings each with their own lateral system.
Mechanical System
Six roof top units and one interior air handling unit will provide conditioned air to the SUNY Upstate Cancer Center. Screen walls surround the perimeter of the roof and extend above the tops of the units to hide them from plain sight. Roof top units five and six as well as interior air handling unit one, located in the Central Plant, will supply air to the rather large first floor. Roof top units one and three will supply the second and third floors, while the remaining units, two and four, will supply floors four and five. All units will feature pre-heat coils and chilled water cooling coils, and be capable of producing 235,000 CFM. Roof top units will be double walled construction to account for exterior conditions.

A building automation system will control all HVAC systems and their supporting equipment. The system will feature a Front End Work Station, Direct Digital Control Panels, and Application Specific Controllers, which will constantly monitor spaces for temperature and humidity. In addition, the system alerts the owner of an equipment failure, and also provides hard copy reports for historical record. All duct terminals feature Variable Air Volume boxes with hot water reheat coils.

Overall the building will be cooled by three 325 ton, variable speed driven electric single compressor chillers in combination with one triple cell cooling tower. Each cell is capable of operating independently and has a capacity of 325 tons. One 125 ton heat exchanger will be provided for winter chilled water. Three 88 BHP hot water heaters will provide heat to the Upstate Cancer Center, and will be dual fueled by Natural Gas or No. 2 Fuel Oil. Although the design calls for three boilers, three chillers, and three cooling cells; one boiler, one chiller, and one cooling cell are redundant for the building's peak heating and cooling demand. In addition, a 70 BHP, 15 psi steam boiler will be provided for building humidification purposes.
Electrical System
The SUNY Upstate Cancer Center will obtain its power from a 13.2 kV dual primary electric service from the National Grid ductbank. Incoming power will be stepped down via a dual 5000 kVA, 13.2-4.16 substation with a secondary 5 kV distribution switchgear.

The main transformer will be a 300 kVA 490-208/120V, and is expected to serve the main appliance panel of the building. Primary distribution will be through a 1000A 480/277V busduct. A diesel powered, 96 hour, emergency backup generator will support the Cancer Center for crucial loads. Electrical distribution equipment and the emergency generator will be located inside the Central Plant.
Lighting System
Lighting systems will utilize T5 lamps, T5HO lamps, T8 lamps, compact fluorescent, electronic ballasts, and occupancy sensors to increase energy efficiency and attain LEED certification. Daylight studies will be conducted to determine whether natural light can be used to light spaces such as the entrance lobby.

LED cove lighting and down lighting will be used in Radiology and Radiation Oncology rooms for longer service life. Occupancy sensors will be used in locations such as offices, conference rooms, bathrooms, and storage areas to reduce energy when spaces are not occupied. Full cut-off site luminaires will be used to minimize spill light and light pollution.
Construction
| | | |
| --- | --- | --- |
| | LeChase Construction, LLC is the construction managment agency for the SUNY Upstate Cancer Center. The project was bid at 74 million dollars covering the cost of medical equipment to be installed in the facility, and was carried out as a design-bid-build contract. Pre construction services began in March of 2011, and the center is expected to open by September 2013. | |
Fire Protection
| | | |
| --- | --- | --- |
| | Sprinklers will cover all floor area of the SUNY Upstate Cancer Center except for the main electrical vault and main emergency generator room. Such areas will be constructed with a two-hour fire rating and do not require sprinklers. An electric fire pump, capable of operating on the emergency generator, will supply water to the sprinkler system. A manual wet standpipe will be located in each stairwell. Both the sprinkler and standpipe systems will have a secondary water supply from a 5" fire department inlet connection. | |
Telecommunications
| | | |
| --- | --- | --- |
| | The construction of the Upstate Cancer Center will relocate the existing overhead telecommunication lines underground. In addition, the existing SUNY campus IT ductbanks will be relocated to accommodate the building footprint and be enlarged to nine conduits to account for the new service. | |
Transportation
| | | |
| --- | --- | --- |
| | SUNY Upstate Cancer Center is fed by one bank of three elevators that travel the full height of the building. A three story lobby staircase easily allows patients to move between adult and pediatric radiology and oncology departments. Two full height staircases are located in the northeast and southwest corners of the building. A service elevator is located alongside the staircase in the southwest corner. | |