The Capstone Project Electronic Portfolio (CPEP) is a web‐based project and information center. It contains material produced for a year‐long Senior Thesis class. Its purpose, in addition to providing central storage of individual assignments, is to foster communication and collaboration between student, faculty consultant, course instructors, and industry consultants. This website is dedicated to the research and analysis conducted via guidelines provided by the Department of Architectural Engineering. For an explanation of this capstone design course and its requirements click here.
Kaiser Permanente is adding to and renovating its Largo medical office building. Located in Largo, MD and originally built in 1998, the fourteen year old, four-story building will be accompanied by a three-story, 106,000 square foot addition, basically doubling its size. The exterior façade of the building is intended to very closely match the existing building so one will not know they were built nearly a decade and a half apart, although there will be some key differences. Once the addition is complete, the renovation will take place.

Please Click the Image below for a PDF of the poster which demonstrates the Kaiser Permaente Largo Medical Office Building project characteristics.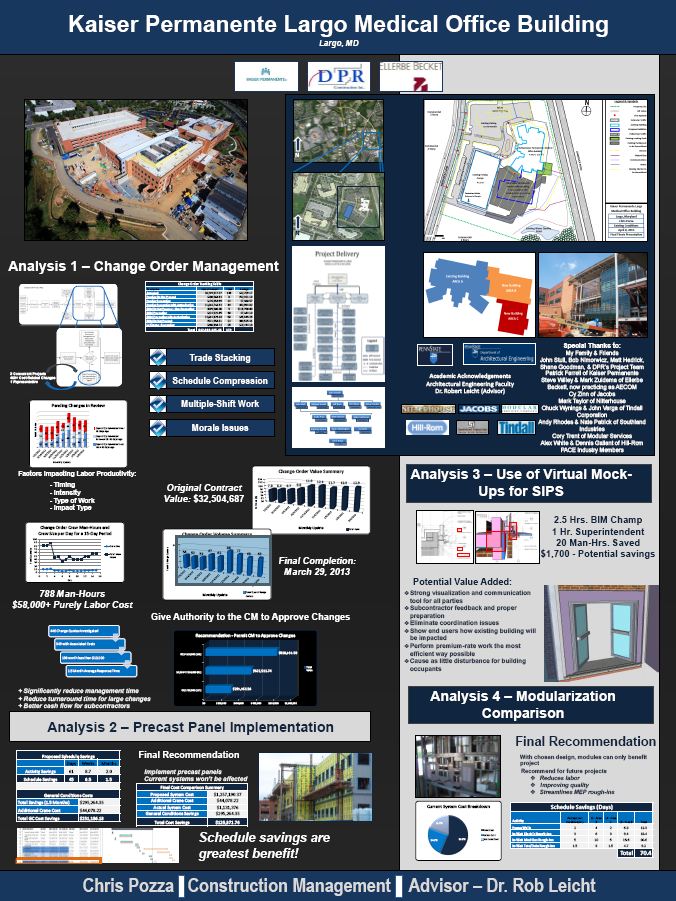 4.24.13
4.17.13
4.15.13
4.3.13
4.3.13
1.11.13
1.11.13
1.10.13
12.14.12
12.12.12
12.12.12
12.12.12
11.21.12
11.12.12
11.8.12
11.6.12
10.12.12
09.28.12
09.21.12
09.21.12
09.19.12
09.17.12
09.4.12
7.26.12
CPEP Complete
Reflection Page Update
Presentation Posted
Research Page Update
Final Report Posted
Breadths Revised
Proposal Page Update
Proposal Reposted
Proposal Posted
Bldg. Stats 2 Posted
Tech 3 Reposted
Tech 2 Reposted
Proposal Presentation
Tech 3 Posted
Tech 1 Reposted
PACE Roundtable
Tech 2 Posted
Abstract Posted
Tech 1 Posted
Menu Activated
Student Bio Posted
Bldg. Stats 1 Posted
Site Created
Owner Persmission Granted