Building Statistics:
Building Statistics Part one
General Building Data
Building name: Piez Hall Addition - Science, Engineering and Technology Building
Location and site: State University of New York at Oswego, Oswego, New York 13126-3599
Building Occupant: SUNY Oswego - Piez Hall Addition
Occupancy or function types: Business (Education above 12th grade), A2 and A3 Assembly
Size: 210,000 sq. feet
Number of stories above grade: 6 stories (including the roof)
Owner: State University College at Oswego
General Contractor: Whiting Turner Contracting Company
CM: Whiting Turner Contracting Company
Architects: Cannon Design
http://www.cannondesign.com/projects/project-catalog/science-engineering-and-technology-building/
Engineers: Cannon Design - Structural Engineer: John R. Boekelman
http://www.cannondesign.com/news/firm-news/2010/02/08/boekelman-named-as-principal-for-cannon-design/
Landscape Architects: Trowbridge & Wolf
http://www.twm.la/projects/
Dates of construction: Scheduled building completion: April 2013; site work to be completed by 2014
Costs: $110 million
Project delivery method: Single Prime Contract
Architecture
The building has many interesting architectural features such as asymmetric shapes and cantilevers. Its exterior curtain walls facade gives off a feeling of sublime yet fragile illusion. The masonry brick wall on the other side of the facade gives off a sense of bulkiness which keeps the glass facade in harmony. The Oswego program will redevelop all the academic science facilities on campus. A digital display which monitors the building's energy use will be located in the atrium as a part of a sustainable education program. In addition, the new hall will provide higher quality classrooms, teaching and researching laboratories as well as interaction spaces for all kinds of engineering department. Moreover, the new facility also included a planetarium, meteorology observatory and greenhouse. The academic commons connects Wilbur Hall with an atrium, cafe and a walkway.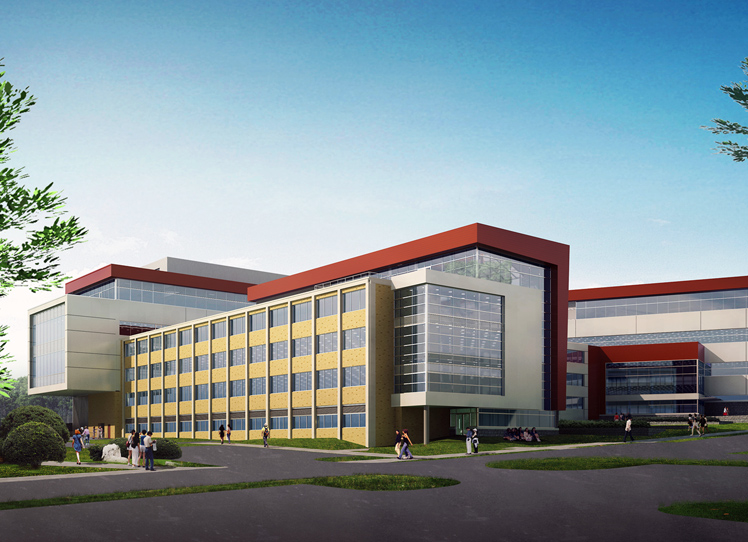 Building Code: Building Code of New York State 2007

Other Applicable Codes: 2007 Energy conservation construction code of New York State

2007 Fire code of New York State
2007 Fuel Gas Code of New York State
2007 Mechanical Code of New York State
2007 Plumbing Code Of New York State
2006 NFPA Life Safety Code (NFPA 101)
2007 National Electrical Code
2003 ICC/ ANSI A 117.1
SUCF Standards and Directives
Zoning: http://www.townofoswego.com/pdfs/zoninglaw2009.pdf

Historical Information
The new Piez hall addition will add an expansion of approximately 155,000 SF to the existing 70,000 SF Piez hall. The snygg hall next to Piez hall will be demolished as a result. In the back of the building, there will be a walkway connecting Wilbur hall and the new addition.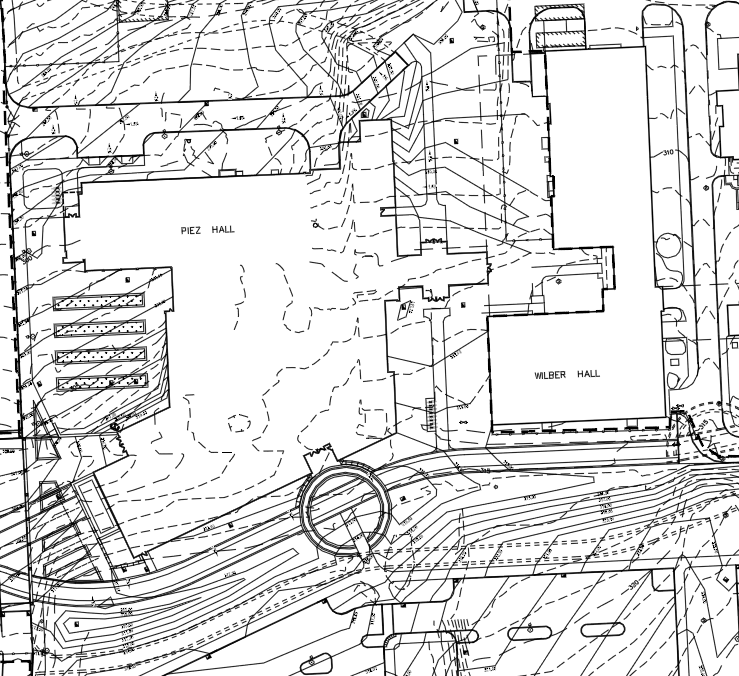 Building Enclosure

Facade
The building consists of high levels of recycled materials and they are manufactured locally. Only materials with low-VOC content will be utilized. The facade materials included precast architectural concrete, cast-in-place concrete, structural-sealant-glazed curtain wall, aluminum framing in most of the entrances, masonry units and masonry stones.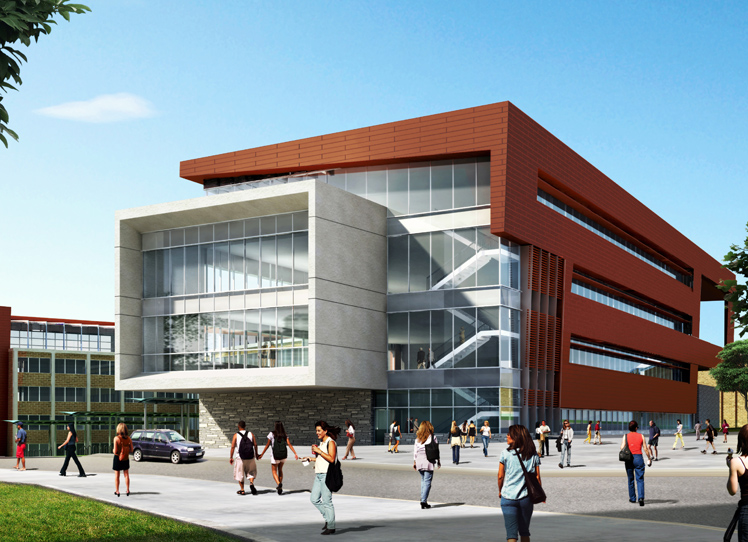 Roof

The roof consists of concrete slab and metal deck with fireproofing spray up to 2 hour. Photovoltaic array, skylights and wind turbine will also be installed on top of the roof as part of the sustainability requirement.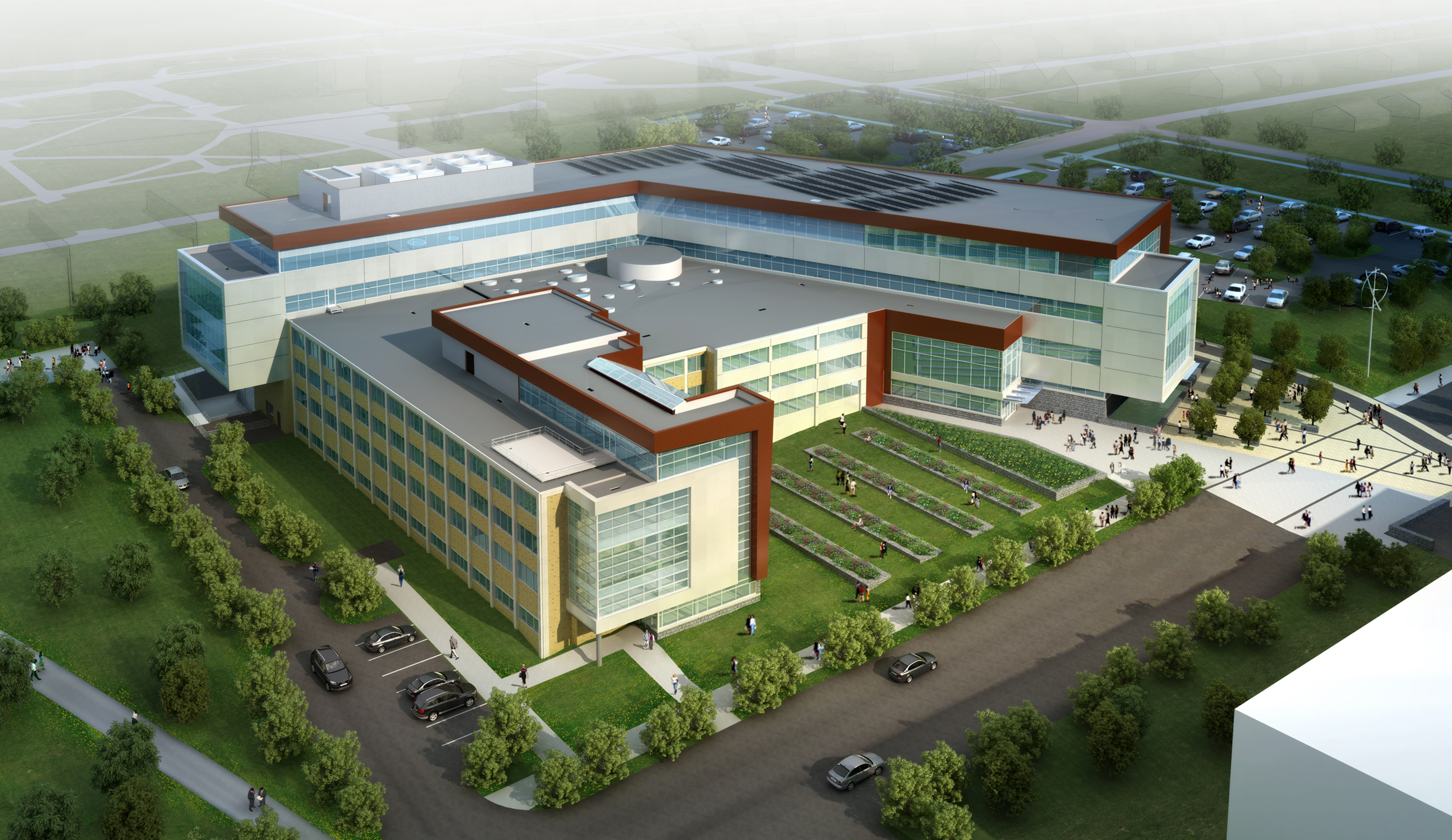 Sustainability

The new piez hall addition has many sustainability features. It consists of energy efficient curtain wall with high insulation R value. Its mechanical and lighting systems together will reduce the energy usage to 47% while saving 21% of the total energy cost annually over what would be permitted by the NYS Energy Code. A large geothermal heat pump with a design capacity of 800 tons and consists of 240 wells will also be implanted to cool and heat the building. Occupied space will also gain access to daylights allowing a reduction in electricity for lighting. Efficient water fixtures will reduce the usage of potable water by 46% and wastewater discharge by 38%. It is estimated that 75% of the construction demolition waste would be salvaged. All these features together will allow the new Piez Hall addition to obtain a LEED Gold rating.
Building Statistics Part 2

Structural

The structural system of Piez Hall is a cast-in-place two-way flat slab with drop panels. The slab thickness is 12" throughout the entire building made with 5000psi concrete. Drop panels are 8" thick and they are placed in almost every column location to increase the slab thickness in order to magnify the moment carrying capacity near the column support as well as resisting punching shear.
Shear walls and diagonal bracing are the main lateral force resisting system in the building. They are evenly distributed and orientated throughout the building to best resist the maximum loads coming from all directions. Typical shear walls are 12" thick and consist of 5000psi concrete. Shear walls extend from the first level to the top of the roof. Loads travel through the walls and are distributed down to the foundation directly. Diagonal bracing are concrete struts that framed into concrete beams. They are located on the second to fourth level and placed on the sides of the cantilevered portion of the building. Since the building is a concrete building, concrete intersection points also serve as moment frames. Together, these elements create a strong lateral force resisting system.
According to the soil report for Oswego County, the proposed site will be suitable for supporting
the renovation and addition with a shallow spread foundation system. The maximum net allowable pressure on soil is 6,000psf for very dense till layers and 4,000 psf for medium dense
clay and sand layers. All grade beams, foundation walls and piers will have a concrete strength of 4000psi while all other footings and slabs-on-grade will have a concrete strength of 3000psi.It is estimated that all foundations will undergo a total settlement less than 1 inch. Differential settlement is estimated to be less than 0.5 inch.
Construction

The new Piez Hall addition, conservatory and planetarium will be connected to the existing Piez Hall. The overall size of the building is 210,000 square feet, 70,000 SF for the old Piez hall and about 155,000 SF for the new extension. The $110 million dollars project is intended to provide students with high quality classrooms, teaching and research laboratories, as well as interaction spaces. The delivery method of the project is a single prime contract. The expected dates of completion will be 2014.

Electrical

The primary power enters the Piez Hall extension through four main feeders. They are stepped down to 480Y/277V, 3 phase, 4 wires by a utility transformer and bought into the switchboard. In addition, there are 14 dry-type transformers that further step down the voltage from 480Y/277V, 3P, 3W to 208Y/120V, 3PH, 4W to supply each panel boards in the building. General lighting and most mechanical loads use 480Y/277V, 3PH, 4W whereas receptacle loads use 208Y/120V, 3PH, 4W. Also, a 1.5 megawatt, 480Y/277V generator provides alternative power to the line side of each automatic transfer switch.

Lighting

Lighting fixtures primarily run at 277 volt. The interior fixtures consist of recessed fluorescent, pendent hung and surface wall mount. Various T8, TT, and compact florescent lamps are used in the recessed fixture. LED lights are used in fixtures such as exit sign and room in use sign. Most of the interior lighting fixtures are dimmable and direct/indirect lights in order to save energy and reduce glare while still be able to provide enough light level for students to read and write.

Mechanical

The main heating and cooling system in Piez Hall addition is a ground couple heat pump. Pipes are sloped and curved upward from 14 feet below finished grade to 6 feet below finish grade to ensure a minimum of 2 feet space in between other utilities (see the Piping elevation profile below). Variable air volume with reheat coil and hot water finned tube radiation are also installed in the building located in classrooms and laboratories to provide heats. Tube sizes are 2/4 inch with 60 fins per foot and it provides a heating capacity of 514BTU per linear foot.


Drycooler units are installed in the roof with vibration isolation and weights 605 lbs. each. The cooling capacity of the unit is 161.2MBH. The fluids that run in the drycooler contains 40% glycol. Glycol is used here to ensure water will not freeze during winter and cause all sorts of problem. The drycoolers supply the air condition units and the air condition units cool the interior of the building. Each laboratory is equipped with exhaust fans. These exhaust fans are connected to the emergency power and alarm. Whenever harmful chemical gases are reached above a certain point, the alarm will signal these fans to discharge the air in the room.

Fire Protection

The fire protection system in the Piez Hall extension is designed to achieve a two-hour fire rating. The building also implemented dry-pipe sprinkler system, which is designed to operate at working pressure of 1200kPA at maximum. Dry-pipe sprinkler systems have automatic sprinklers attached to the piping containing compressed air. When the sprinklers are activated, the compressed air permits water pressure to open dry-pipe valve. Water then flows into the pipes and discharges from the sprinklers that are open.