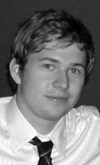 Grant Kightlinger is currently in his fifth year of study in the Architectural Engineering program at Penn State University. His main area of focus is lighting and electrical systems for buildings. Grant is working on an integrated MAE/BAE degree, expected in December of 2009. In addition, he is pursuing a minor in Architectural Studies. Mr. Kightlinger is a student member of the Illuminating Engineering Society of North America (IESNA).
Grant spent the summers of 2007 and 2008 working as an intern with Fox and Fox Design, located in Seal Beach, California. Through this experience, he has developed valuable skills in all stages of the design process, including significant work in site analysis, team correspondence, concept development, schematic design documentation, equipment selection, and construction documents. Both indoor and outdoor design projects were included.

With a particular interest in the integration of building and lighting design, Grant is considering graduate work in the field of architecture after graduation from the AE program. In the future, he hopes to work within the building industry for an established architecture or lighting design firm. In his free time Grant enjoys travel, sports, music and graphic and web design.
---
Resume

PDF
---
Portfolio