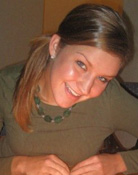 Joni Richelle Anderson is currently in her 5th year of study in the Architectural Engineering Program at Penn State University.  In May 2009, she will graduate with a Bachelor of Architectural Engineering degree (B.A.E.), with a focus in Construction Management.  Ms. Anderson passed the Fundamentals of Engineering (FE) Exam during the Spring Semester of 2007 and will gain EIT status upon her graduation.

For the past three summers, Joni has participated in construction management related internships with three different companies.  First, in the summer of 2006, she interned with Grunley Construction Company where she worked onsite alongside a superintendent for over three months.  In the summer of 2007, Joni interned with Hensel Phelps Construction Company in their Mid-Atlantic Estimating Department.  Her last internship was during the summer of 2008 with ISEC Inc. where she served as a Project Engineer on the interior specialties for multiple projects.

Outside of academics, Ms. Anderson is very involved in university organizations and activities.  For the past 4 years, she has served as a Mentor for the Women in Engineering Program (WEP) and was chosen for the position of 2008 Spirit Lead for the program's 3-day orientation known as WEPO.  Joni also holds the position of Secretary for the Student Society of Architectural Engineers (SSAE), which is the Penn State Chapter of the Architectural Engineering Institute (AEI).  In addition, Joni is Captain of a Spring Intramural Volleyball Team and a member of the Student Chapter of the Partnership for Achieving Construction Excellence (S:PACE). Along with these activities, Ms. Anderson has maintained an in-school job as a lab assistant for the Electrical Engineering Department for the last 5 years.
The Capstone Project Electronic Portfolio (CPEP) is a web-based project and information center. It contains material produced for a year-long Senior Thesis class. Its purpose, in addition to providing central storage of individual assignments, is to foster communication and collaboration between student, faculty consultant, course instructors, and industry consultants. This website is dedicated to the research and analysis conducted via guidelines provided by the Department of Architectural Engineering. For an explanation of this capstone design course and its requirements, visit the AE Senior Thesis link below.