TECH 1
This Technical Assignment takes a detailed look at the existing conditions of the renovation and expansion of Arena Stage. Several aspects relating to the construction project management process will be summarized including the project schedule, cost evaluation, and the project delivery system. An overview of the building systems, local conditions, and the existing site are also presented.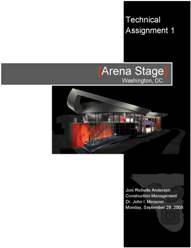 Click image to view the assignment
TECH 2
This Technical Assignment examines several different components of the construction process as they are applicable to the renovation and expansion of Arena Stage in Washington, D.C.  Within this report are an in depth project schedule, site layout plans for multiple phases of the project, a detailed estimate of the curtain wall system, and a comprehensive estimate for the project's general conditions.  At the end of this document is also an overview of the 2008 PACE Roundtable which took place on Wednesday, October 16th at the Penn Stater Conference Center Hotel.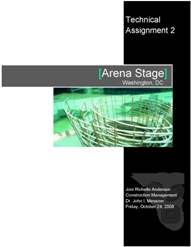 Click image to view the assignment
TECH 3
This Technical Assignment begins to identify areas of Arena Stage that are potential options for research, alternative methods, value engineering, and schedule compression.  A telephone interview was conducted with the Project Manager of Arena Stage, Matthew Galbraith, to discuss the topics listed above.  Mr. Galbraith answered questions pertaining to constructability challenges, schedule acceleration scenarios, and value engineering.  The report concludes with project problem identification and construction management activities for technical analysis methods.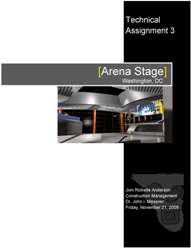 Click image to view the assignment
The Capstone Project Electronic Portfolio (CPEP) is a web-based project and information center. It contains material produced for a year-long Senior Thesis class. Its purpose, in addition to providing central storage of individual assignments, is to foster communication and collaboration between student, faculty consultant, course instructors, and industry consultants. This website is dedicated to the research and analysis conducted via guidelines provided by the Department of Architectural Engineering. For an explanation of this capstone design course and its requirements, visit the AE Senior Thesis link below.