Note: While great efforts have been taken to provide accurate and complete information on the pages of CPEP, please be aware that the information contained herewith is considered a work-in-progress for this thesis project. Modifications and changes related to the original building designs and construction methodologies for this senior thesis project are solely the interpretation of Lindsay Hagemann. Changes and discrepancies in no way imply that the orignial design conatined errors or was flawed. Differing assumptions, code references, requirements, and methodologies have been incorporated into this thesis project; therefore, investigation results may vary from the original design.

Building Statistics
General Information
Building Name

Mid-Atlantic Data Center (MADC)

Location

44521 Hastings Dr.
Ashburn, Virginia 20147

Occupant Name

DuPont Fabros Technology (Owner)
Confidential (Tenants)

Type of Building

Data Center

Occupancy

S1 - Storage with Accessory use area of B (less
than 10%) total area

Construction

Type 2B Combustible, Unprotected
Phased Project

Phase 1:

Complete build-out of Phase 1

Entire Building Shell - Phase 1 & 2

Office Space - First & Second Floor

Phase 2:

All interior work of Phase 2

Size

360,000 SF (Complete Building)

180,000 SF

Raised Access Floor

157,000 SF

Corridors

Generator Rooms

Mechanical Rooms

23,000 SF

Office Space

Number of Stories

2 (47.5 ft)

Dates of Construction
Start:
February 1, 2008
Finish:
March 2009 (Estimated)
Actual Cost Info
Owner would not release this information.
Delivery Method
CM - at RIsk with a GMP
Architecture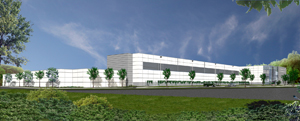 Architecture

The architectural design of the Mid-Atlantic Data Center, as the case with most data centers, is quite trivial compared to its inerior MEP design. The building is a rectangular monstrosity at an approximate size of 1100'-0" in length and 270'-0" in width with the office space extending 79'-0" beyond the main structure. Half of the interior space comprises of raised access floor where all data racks will be placed. A majority of the remaining space is dedicated to large, redundant MEP equipment, which is the backbone of the building.

Phase 1 interior of the data center includes 8 computer rooms with two of the rooms divided into four smaller rooms. All computer rooms have the future capability to be sub-divided. A mechanical room (aka Chiller Plant), eight uninterruptible power supply (UPS) rooms, eight engine-generator rooms, and a two-level office space area also included within Phase 1. Phase 2 interior is merely a mirror image of Phase 1 with the exception of the office space, which is a shared entity. The mezzanine level, which spans the entire length of the building and approximately 1/5 the width of the building, houses all of the engine-generator rooms as well as the second floor of the office space.

The office space is a much smaller, two-level square structure centrally located on the south side of the building. This area is built out with metal studs and drywall on slab-on-grade (not access floor). The first floor includes the loading dock, tenant staging areas, owner offices, and facility control rooms. The second floor is predominantly tenant office rooms, two smaller mechanical rooms, and two starge rooms.

National Codes

Building

2003 Virginia Uniform Statewide Building Code

Building/Elevator

2003 International Building Code

Fire Safety

2003 International Fire Code

Mechanical

2003 International Mechanical Code

Plumbing

2003 International Plumbing Code

Electrical

2000 National Electric Code

Handicapped

1998 ANSI-A117.1
Accessibility Code

Sprinklers

2000 National Fire Protection Association 13

Energy

2003 International Energy Conservation Code
Zoning
Allowable height of 3 stories (55 ft)
Allowable height for building with unlimited area is 2 stories
Historical Requirements
None that apply.
Building Envelope

The building envelope consists primarily of precast concrete shear walls, columns, and spandrel beams. One exception to this system is the glazed aluminum curtainwall system located on the southwest corner of the office area spanning both levels of the building. This system is constructed of coated vision glass, spandrel glass, and bullet resistant glass located outside the conference rooms. The other exception to the precast envelope is the aluminum louvers located on both the north and south sides of the mezanine level. There are sixteen 40'-0 1/4" x 15'-0" louvers on the north elevation and two 372'-0 1/2" x 12'-0" louvers on the south elevation. Tex-Cote has been applied to the precast concrete surfaces encompassing the entire building envelope.

The consistency of the roof is comprised of a themoplastic polyolefin membrane (TPO) applied on a cast-in-place 3" concrete topping slab on precast concrete double tees.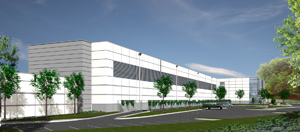 Structural System
Precast Concrete
The building envelope and structure consist primarily of precast pre-stressed concrete columns, beams, insulated exterior spandrels, shear walls, and pre-stressed double tees. There is grout in all open spaces, keywyas, connections, and joints to provide as a sealant. Precast members have typical connections using anchor blots, bearing pads, steel plates, and field welding. See the chart below for strength and size information for all precast members.
Type

Strength

Size

Pre-stressed Column

5000 psi

24" x 24"

Inverted Tee Beams

5000 psi

3'-4"W x 4'-0"D

Ledger Beams

8000 psi

2'-0"W x 4'-0"D

Spandrels

8000 psi

8"T x 12'-0"W x 8'-5"H
8"T x 12'-0"W x 11'-5"H

Double Tees

5000 psi

12'-0"W x 32" D
Precast members are manufactured by The Shockey Precast Group located in Winchester, Virginia.
Cast-in-Place Concrete
MADC incorporated cast-in-place conrete for caissons, spread and strip footings, foundation walls, slab-on-grade, and topping slabs. The following chart provides a summary of the mentioned concrete structures.
Type

Formwork

Reinforcing

Strength

Placement

Caissons
    (31) 30" dia.
    (139) 48" dia.
    (39) 60" diam.

Earth (typ)
Steel Casings (few)

Vertical: #7,10,11
Ties:  #3 @ 14" OC
#4 @ 18" OC

3000 psi

Pump

Footings

Stick Built

#4 Bars (typ)

3000 psi

Pump

Foundation Walls

Stick Built

#5 Bars (typ)

3000 psi

Pump

Slab on Grade
    6"

Stick Built

10 ga WWM
6x6 W4.0xW4.0

3000 psi (inside)
3500 psi (outside)

Belt

Topping Slab
    3"

Pour Stops

4 ga WWM
10x10 W6.0xW6.0

5000 psi

Crane & Bucket
Mechanical System
Adequate air conditioning and humidity control are two vital processes that must be maintained within a data center; therefore this center has implemented a system with N+1 redundancy. MADC has two chiller plants located in the north-central area of the building, with each plant servicing half of the building. The plants operate independently of one another, however in case of emergency there is an automated interconnection valve allowing one plant to support the other with up to three chillers. This condenser water and primary/secondary chilled water system is comprised of (16) chillers, (16) cooling towers, (16) condenser water pumps, (32) chilled water pumps, and (2) thermal energy storage (TES) tanks. The TES tank is a 500,000 gal chilled water storage tank housing chilled water and emergency makeup water. It is designed to provide emergency make up water without exhausting storage for the chilled water. The piping for this system within the computer rooms is located in the trenches below the raised floor. This provides more underfloor and overhead room for other MEP equipment.
Air handling equipment with chilled water cooling coils provide for the air conditioning system. There are approximately 480 computer room air conditioning (CRAC) units that supply cool air to the computer rooms and UPS rooms. Within the computer rooms, the cool air is supplied through the raised floor plenum and is distributed to the computer equipment via grates within the access floor. In the office area, there is one variable air volume (VAV) central station air handling unit (AHU) per floor. In addition, each chiller plant has one constant volume central AHU.
The heating system consists of four 1670Mbh input/1369Mbh output gas fired finned tube boilers, two for each half of the building, that are sized to support peak loads at N+N redundancy. The remaining heating loads are supplied by electric heating.
Electrical System
Total utliity power will service the data center at 34.5kV in two locations. Both locations will house a 34.5kV, 1200A medium voltage switchgear which will feed power into one of (16) 5MVA pad-mounted transformers. Each pad-mounted transformer steps down the utility power to 345/600V, 3-phase, 4-wire power and feeds its own electrical room which includes two switchboards, MxA and MxB. The switchboards contain a 3000A main breaker servicing the essential bus at 600V, 3-phase/3-wire and the uninterruptible power supply (UPS) bypass and an emergency main breaker served by backup engine-generators. Each electrical room is assigned two engine-generators rated at 2500kW, which are located directly above on the second floor, to backup its system. The Rotary UPS system, one dedicated to each switchboard, is supplied with a flywheel energy storage system capable of supporting the starting of the system's backup engine-generator for at least ten seconds. Electrical rooms also feed four distribution panels, two for critical power loads and two for essential A/C loads, in each adjacent computer room. Computer room capactiy is configured for a power density of 200W/SF with the ability to frow to 232W/SF. Operating at this load puts the system at N redundancy, meaning no spare system capacity in the computer room power distribution panels. The entire electrical system is protected by a high-resistance grounding that limits the maximum ground fault current to 15A.
Overall, the electrical system is configured into an Iso-Parallel system with N+2 redundancy. This system allows all UPS units to share the loads equally via a ring-bus. A system connected to the ring-bus will automatically support the failure of another system connected to the ring-bus without adversely affecting any other system, thus isolated.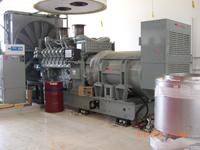 Curtain Wall System
The curtain wall system accounts for only a small portion of the building envelope. This facade is located on the southwest corner of the office area, which is on the south-central side of the building, and spans the full height, two floors. The curtain wall is intended to add aesthetic appeal to a rather mundane building by differentiating the office area from the rest of the data center. It creates a more pleasing view for the main entry of the building.
Like most curtain wall designs, this system was designed by a specialty contractor, Vistawall Architectural Products, who requires that the architect approve the shop drawings and information. The system includes an aluminum wall system for 1" glazing, storefront framing for 1/4" glazing, and medium style doors for 1/4" glazing. Another supplier provides the glazing to be used with the system, which consists of coated vision glass, spandrel glass, and bullet resistant glass outside of the conference rooms. Other materials required by this system are sealants, steel clips and anchors, fasteners, gaskets, and aluminum cladding. It is a typical installation for the Vistawall curtain wall.
Fire Protection System
Fire Alarm System
Fire alarm panels and electronic detection systems create the fire alarm system for MADC. Located within each computer room near the main exit there is an emergency response kiosk. The kiosk contains a fire alarm control panel for all devices in the room, underfloor/abovefloor annunciator panel, a fire extinguisher, a tile puller for the access floor, a phone, and a flashlight.
The electronic detection system includes photoelectronic smoke detectors which are mainly located in the computer rooms, both underfloor and abovefloor. These detectors are capable of determining the exact location of a possible fire situation within a room.
Suppression System
There are four systems utilized within MADC, including preaction sprinklers, wet-pipe sprinklers, dry system, and portable fire extinguishers. The preaction sprinkler system, 27 zones in the building, is provided in the switchboard rooms, computer rooms, generator rooms, and other rooms deemed critical. This system consists of double interlocked, electric/pneumatic release valves supplied from an air compressor loop. Valves, which are located within preaction closets within each zone, are double interlocked to avoid a charging of the pipes without a fire emergency. The wet-pipe sprinkler system, total of 7 zones, is provided in all remaining, non-critical areas including corridors, administration rooms, offices, and chiller plants. Valves for this system are located within the sprinkler room. A dry system is only in effect in the loading dock area.