ARCHITECTURE:

Design and Functional Components:
The Emily Couric Clinical Cancer Center is a new hospital being constructed by the University of Virginia in Charlottesville, VA.  The building is a 153,000 square feet.  The mezzanine floor is reserved for utility space.  Floors one thru three consists of exam rooms, offices, infusion rooms, and others.  The entire fourth floor is left open for expansion in the future.  A penthouse is located above the fourth floor occupied by mechanical equipment.  The building is striving for a LEED Silver rating from the USGBC.

Major notional model code/s
VA uniform statewide building code 2003
IBC 2003
VA statewide fire prevention code 2003
IFC 2003
ADAA 2003
ADA of 1990 Title III
NFPA 101, Life Safety Code – 2000

Historical Requirements
There are no historical requirements for the location of the Emily Couric Clinical Cancer Center in Charlottesville, VA.

Zoning Information
The Emily Couric Clinical Cancer Center is located in the B-3 Commercial zoning section of Charlottesville, VA according to the Code of Ordinances of Charlottesville, VA.  Under chapter 34, Article IV, Division 2, the height of a building is limited to 70 feet.  Hospitals and health clinics in the B-3 zoning areas are required to have a by-right use permit.  The green box on the map below shows the location and zoning area of the Emily Couric Clinical Cancer Center. (www.charlottesville.org, Zoning Map, 2009)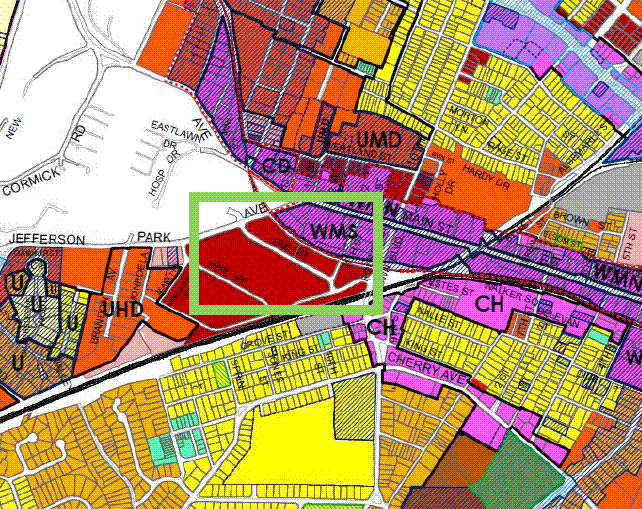 Zoning Map 2009
BUILDING ENCLOSURE:

Building Facades
The building façade consists mostly of two types of facades, brick and curtain wall.  The brick façade surrounds most of the building with a large glass curtain wall with spandrel panels at each floor covering the rest of the building.  Just under the "V" shaped roof, aluminum louvers line the walls to allow air flow to the mechanical systems in the penthouse.  The rendering below gives a better picture of the façade on the building.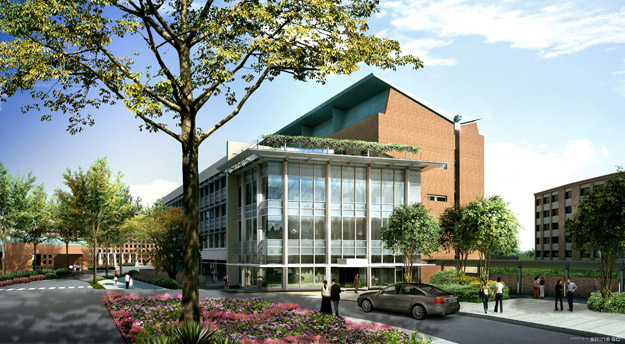 Facade rendering of the building.
Roofing
The main roof is made up of an EPDM single-ply roof membrane system which includes many different materials.  The first layer of the roof is a 1-1/2" metal deck sprayed with spray-on fireproofing.  There is a vapor barrier between the metal decking and 2 layers of extruded polystyrene foam plastic rigid insulation with drainage channels on the bottom.  The insulation is to have an average compressive strength of 40 psi and varies between 2 inch thick, non-tapered and tapered insulation.  On top of the insulation, the EPDM roof membrane that is 0.60 inches thick and reinforced with polyester scrim or fabric.  A ½" cover board is installed over the insulation which is covered with a white acrylic coating.   At the ends of the roof, flashing will be used to seal the roof.

The roof garden is made up of similar materials starting with 2 layers of 2" extruded polystyrene rigid insulation with an average compressive strength of 25 psi.  A layer of ¼" protection board covers the insulation for a surface of sandstone pavers to be installed.  The pavers will be 1-1/2" thick placed on a bed of mortar.
Sustainability Features

The Emily Couric Clinical Cancer Center is on track for a LEED Silver rating.  There are many different items the project team is using to obtain this rating.  One of the major contributers is a roof garden located above the 4th floor.  The renderings below of the roof garden are from the University of Virginia's website for the project.
Another key item attributing to the sustainability of this project is the use of sun shades.  The roofing membrane consists of an acrylic coating which is white to meet an initial solar reflectivity of 0.65.  It also has to meet a 3-year solar reflectivity of 0.5.  The emissivity of this acrylic coating is to be no less than 0.9.