BUILDING STATISTICS : PART 1
GENERAL BUILDING INFORMATION

Rydal Park CCRC Medical Center Addition

The Fairway, Rydal Park, Pennsylvania

Institutional Care (I-2)

5

142,862 SF

5 (None Below Grade)

Approx. $28,000,000

9/21/2009 -- 3/15/2011

Design-Bid-Build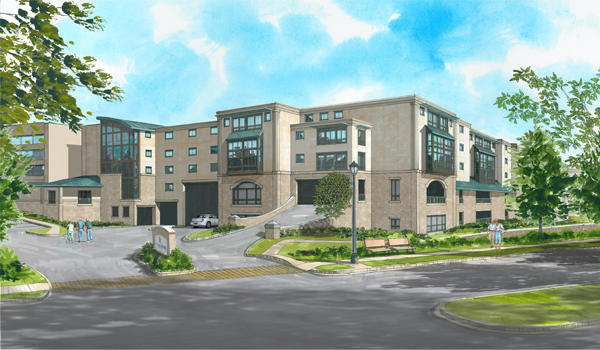 ARCHITECTURE:
Presby's Inspired Life has a campus of buildings at this Rydal Park location, therefore forcing the MCA to conform to its surroundings.  This Medical Center Addition is laid out with the first two floors containing parking garage space and the top three floors housing 114 skilled nursing single residential rooms.  Due to the fact that this campus is a continuing care retirement community, there is a very prominent feeling of residential construction. Presby's Inspired Life wanted to create a location that seniors could receive skilled nursing care but at the same time still feel as if they are living at home.  In order to provide this residential feeling, living rooms, parlors, small kitchens, dining rooms and other rooms that one would normally find in a single family home have been incorporated.  Also, finishes such as wood floors, fireplaces, elaborate trim, millwork and casework have been utilized to assist with achieving the desired aesthetics.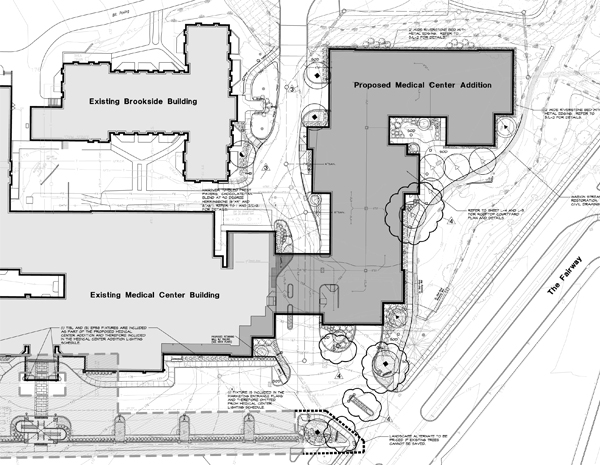 APPLICABLE CODES:
International Building Code (IBC) 2006 and the Montgomery Municipality are the two primary constructions codes that this building must adhere to.  As indicated within the specifications, the remaining systems must adhere to the most current versions of the International Mechanical Code (IMC), National Electrical Code (NEC), International Plumbing Code (IPC), International Fire Code (IFC), and the International Fuel Gas Code (IFGC).  There are no historical requirements for this continuing care retirement campus.
ZONING:
The Medical Center Addition will sit on a site that is zoned in the 'AO' District –Apartment and Office group as an I-2 Mixed Occupancy Institutional Care Facility.  The maximum allowable height on this site is set at 160 feet and maximum lot occupancy of 100%. Type 1-B construction is mandated for this addition.  A total area of disturbance has been calculated to 6.3 acres by the civil engineering team.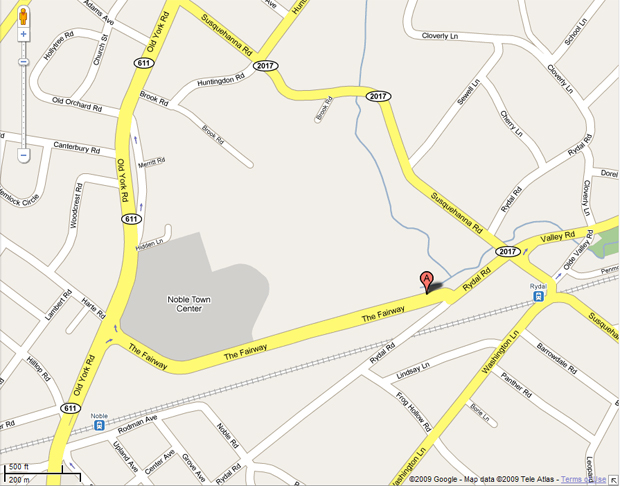 Image provided from Google Maps
BUILDING ENVELOPE AND FACADE:
The exterior building façade is comprised of two main components. A stone wall veneer system will be used for the first two floors and stucco EFIS will be used for the remaining upper three floors.  The glazing system will utilize a combination of Oldcastle Glass®, YKK AP America® and Pella® Windows. The aluminum framed storefront glazing will be the Vistawall system from Oldcastle Glass®. YKK AP America's® YWW system will be used for the glazed window wall system.  Both of these large glazing systems occur in large public areas providing great views for the residents.  Pella® fiberglass sliding windows will be placed in all of the resident rooms to promote the intended residential aesthetic appearance.
ROOFING SYSTEM:
Standing seam metal and built-up EPDM membrane are the only roofing materials that will be utilized on this building.  Standing seam is utilized where the large window wall systems or bay windows jut-out requiring some form of roof.  The remaining, approximately 90%, roof area will utilize a built-up membrane roofing system.  Structural K-Series joists and corrugated metal decking will comprise the primary support of the roof.  Rigid insulation will be laid on top of the decking, which will be the basis of the built up membrane roofing system.
SUSTAINABILITY FEATURES:
LEED® Certification is not going to be incorporated into the design and construction of this Medical Center Addition. According to the owner, due to the tight budget and several financial issues, LEED® is currently not a viable option for Presby's Inspired Life.  Several sustainable features have been incorporated into the MCA's building design.  Stewart-Conners Architecture placed solar shades above every window wall system at the roof level.  Since the window wall system spans a large distance, this will assist with cutting back the solar rays entering the building. As seen below, another sustainable feature is the incorporation of a roof top wondering courtyard garden for the residents to stroll through during their stay as this facility.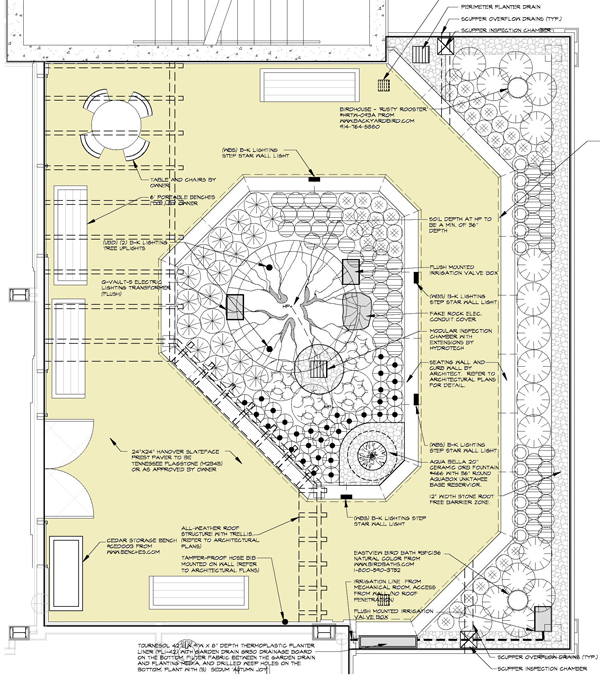 All pictures, renderings, graphics, images provided courtesy of Stewart-Conners Architects