Reflection
ABET Outcome Survey: These outcome ratings reflect a personal assessment of the course, not the instructor's assessment.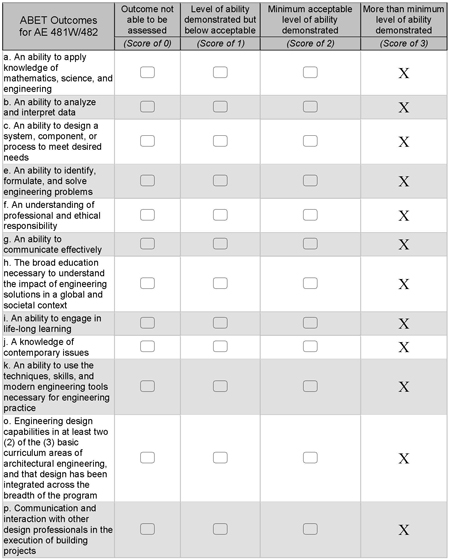 AE 481W and AE 882 IPD/BIM Thesis Class Reflection
The AE department and the Senior Thesis experience has proven to be very helpful in preparing me for the professional engineering environment. In particular, participating in the Pilot IPD/BIM Thesis project was extremely useful in understanding and gaining knowledge in a new and important area of study. Working with three other students to complete a year-long final project helped me learn how to work well on a team and how to delegate responsibility to produce a quality finished product. Additionally, knowledge gained using IPD and BIM practices was a very intriguing and desirable skill to future potential employers. The AE Senior Thesis project involved a lot of hard work, endless hours of collaboration, and was at times frustrating, but the experience is something that I believe will make me a better engineer and person as a whole.
CPEP Reflection
Prior to Senior Thesis, I had taken a basic html course in high school. However, the CPEP portion of this project challenged me to produce a professional and easy to navigate website utilizing Adobe Dreamweaver. I very much enjoyed the process and take pride in my website as a portfolio of the work I have completed throughout this project. I am thankful for the web design skills I have learned and will have an excellent foundation for web design should I need to use these skills in the future.