This report was developed through the identification of a central theme on providing construction efficiency through information exchange, by developing BIM use efficiency in construction planning, schedule efficiency in both an architectural and structural applications, and facility information development and exchange.
Thesis Proposal Report || Posted to CPEP on December 9, 2011 at 11PM
Techincal Analysis Description
Analysis No. 1 | BIM for the Construction Manager: Structural Analysis
| | | |
| --- | --- | --- |
| | It is expected that BIM information optimization will streamline the construction estimating and planning processes on this project. It is believed that this analysis will expose new opportunities for model information usage for the structural system of the New Regional Medical Center. The goal of this analysis is to reduce time needed for estimating and site logistics planning, in addition to leveraging BIM with readily available model information. | |
Analysis No. 2 | Prevention of Risks in Delay of Atrium Enclosure Construction
| | | |
| --- | --- | --- |
| | An effective schedule analysis and architectural redesign of the atrium curtain wall will provide a strong comparison of the benefits in early designer and builder communication. With extensive research into the conditions that lead to the missed milestone date, this analysis will help develop a procedure in order to recognize potential schedule concerns on future projects with a similar glazing enclosure system. These preventative planning measures will assist in revising activity sequencing and resource loading. With the additional investigation through an Architectural Breadth, as detailed in Appendix A, this analysis will also demonstrate the benefits of modularization. | |
Analysis No. 3 | Schedule Acceleration Recovery of Delay in Pour Stop Construction
| | | |
| --- | --- | --- |
| | This analysis will develop a feasible schedule acceleration scenario in order to recover from existing construction delays regarding the structural pour stops for the New Regional Medical Center. With the additional investigation through a Structural Breadth, as detailed in Appendix A, this analysis will also demonstrate the influences of the design decision for the pour stop over a typical building expansion joint. This analysis will identify the importance of design alternative discussions between the designer and builders through schedule and cost comparisons. | |
Analysis No. 4 | BIM for the Owner: Facility Management
| | | |
| --- | --- | --- |
| | Incorporation into a working virtual mockup is an innovative solution to provide substantial benefits of project development based on designer - builder - user collaboration. In this analysis, an operating room will be modeled, as designed by the construction documents. This investigation will also develop workflow processes to produce usable models during the construction and operation lifecycle of the hospital. As a package, this visual can be turned over as a focused BIM model, ensuring proper construction logistics, as-built information, user information, and performance standards of the space. The goal of this analysis is to efficiently produce BIM models for facility management for the owner, user group, and facility management staff. | |
Demonstration Breadth
Architectural Breadth | Contributes to Technical Analysis 2
| | | |
| --- | --- | --- |
| | The architectural breadth will involve redesigning the New Regional Medical Center's to align more clearly with the value engineering efforts mentioned previously in the 'VE Considerations' section of Technical Report No. 3. The extent of redesign will not be as substantial as the VE recommendation to reduce the atrium from 4 stories to 1 story, for cost and schedule savings purposes. Redesign will be implemented to revise the assembly feature of the atrium's curtain wall glazing. Redesigning efforts will push for modularization of the glazing in order to meet the aggressive enclosure deadline and parallel construction sequencing within the rest of the building. Additionally, the goal of the breadth is verify the benefits of prefabrication of this critical path item. Methods would include research into Medical Center architectural design, materials, and curtain wall performance requirements. Constructability, costs, and schedule durations would be reviewed and compared to the existing system, in addition to identifying key cost and schedule impacts of the new system. The new design would be developed in Autodesk Revit Architecture, and merged into the existing architectural model to produce renderings for owner review. Architectural details, including assembly programming will complete the architectural breadth analysis. | |
Structural Breadth| Contributes to Technical Analysis 3
| | | |
| --- | --- | --- |
| | The structural breadth will include structural redesign of the concrete pour stop as a typical building expansion joint (or as recommended otherwise by the project's structural engineer). Case studies would be analyzed to review the conceptual and structural differences within these two systems. The structural engineer would be consulted on the decision to utilize the pour strip in the original design, and structural calculations will be performed to compare this system to a building expansion joint system. Additional costs, schedule impacts, and constructability reviews will be considered as a substantial part of the redesign, notably focusing on foundation changes, and steel frame revisions. Methods will consist of hand calculation in addition to virtual mock ups in Google Sketch Up and/or Autodesk Revit Structural of each system to covey the differences in design, assembly, and constructability. Structural details of the new system, including framing plans will complete the structural breadth analysis, in addition to identifying key cost and schedule impacts of the new system. | |
Note: A revised version of Senior Thesis Final Proposal and it's related Appendicies have be added to this page on 01/13/2012 to supplement the original version posted on 12/09/2011. These file incorporates updates and revisions from advisor and industry comments.
To view to document, please click on the thumbnail image.
Revised Proposal (1.19 MB)
Posted 01.13.2012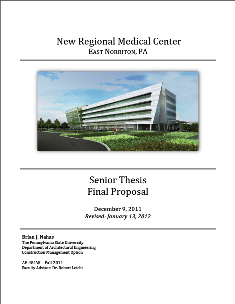 Revised Appendix A | Breadth Analysis (0.68 MB)
Posted 01.13.2012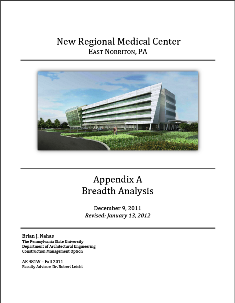 Revised Appendix B | Proposed Schedule (0.20 MB)
Posted 01.13.2012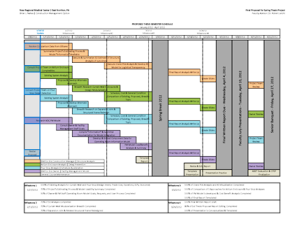 Original Proposal (1.11 MB)
Posted 12.09.2011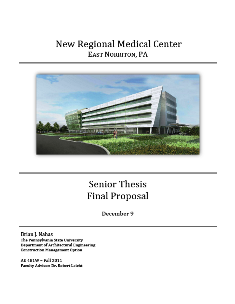 Appendix A | Breadth Analysis (0.58 MB)
Posted 12.09.2011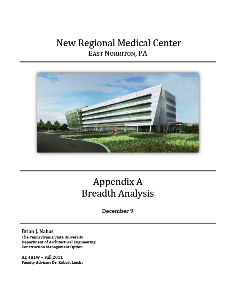 Appendix B | Preliminary Schedule (0.19 MB)
Posted 12.09.2011