UPMC Hamot Final Report!
After a semester long structural analysis of the UPMC Hamot Womens Hospital was completed, a redesigned lateral system was determined to be investigated further. This was done through succcessfully designing a new moment frame system, a braced frame system, and a concrete shear wall system.
Upon the completion of these designs an architectural study was completed to investigate the impacts of the various lateral systems and their implications on the magestic views that the hospital is known for. This investigation involved two spaces, one of which was primarily a employee space and the other is a private patient room.
A construction management breadth was also completed. This breadth analyzed the cost and schedule of the various lateral systems. These were prepared by analyzing only Phase 1 of the project, which is the structural shell phase of the project. The implications of the schedule were then compared to the potential increase in revenue for the hospital to be able to make an accurate comparison.
You can find a PDF of the entire report by clicking on the Title Page below.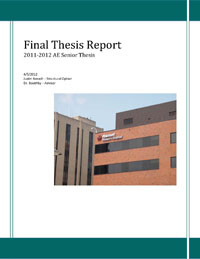 The Executive Summary may be accessed through the link availbale HERE!
Senior Capstone Project (CPEP):
The Capstone Project Electronic Portfolio (CPEP) is a web-based project and information center. It contains materials produced for a year-long Senior Thesis class. Its purpose, in addition to providing central storage of individual assignments, is to foster communication and collaboration between student, faculty consultant, course instructors, and industry consultants. This website is dedicated to the research and analysis conducted via guidelines provided by the Department of Architectural Engineering. For an explanation of this capstone course and its requirements click here.
Note: While great efforts have been taken to provide accurate and complete information on the pages of CPEP, please be aware that the information contained herewith is considered a work-in-progress for this thesis project. Modifications and changes related to the original building designs and construction methodologies for this senior project are solely the interpretation of Justin Kovach. Changes and discrepancies in no way imply that the original design contained errors or was flawed. Differing assumptions, code references, requirements, and methodologies have been incorporated into this thesis project; therefore, investigation results may vary from the original design.