| | |
| --- | --- |
| Builing Name | Hunter's Point South Intermediate & High School |
| Location | Queens, New York 11101 |
| Site | 1-50 51st Avenue, Long Island City |
| Occupant Name | New York City School District |
| Occupancy Type | (E) Educational |
| Size | 154,500 square feet |
| Number of Stories | 5 stories above grade |
| Dates of Construction | January 10, 2011 - October 2013 |
| Building Cost | $61,098,000 construction cost |
| Project Delivery Method | Lump Sum Bid |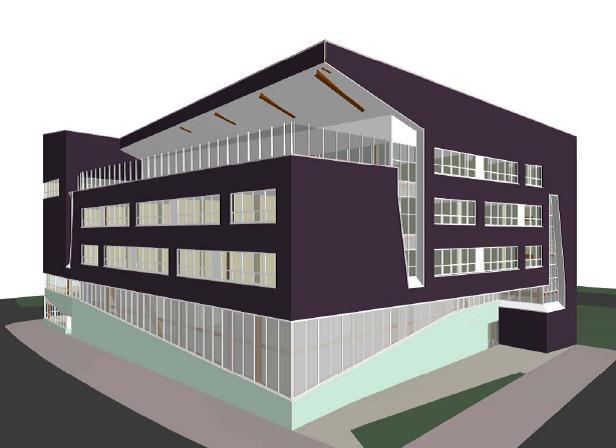 | | | |
| --- | --- | --- |
| Owner | NYC School Construction Authority as representative for NYC Department of Education | |
| General Contractor/CM | SKANSKA | |
| Architect | FXFOWLE Architects, PC | |
| Structural Engineer | Ysreale A. Seinuk, PC | |
| MEP/Fire Protection | Kallen & Lemelson, LLP | |
| Lighting Designer | Tillotson Design Associates | |
| Acoustical/AV Consultant | Cerami & Associates, Inc | |
| Site-Civil Engineering | Langan Engineering and Environmental Service | |
Architecture
Architecture:
Hunter's Point South School is a new 5 story educational building being constructed as part of the first phase of New York City's new mixed-use development plan on a 30 acre site of waterfront properties in Long Island City, NY. The new development focuses on creating an affordable middle-income area that includes several new mixed use housing towers, along with supporting retail spaces, a school, and new park.   The mixed use intermediate and high school will house roughly 1100 students from grades 6-12 and District 75 (special needs) from the Queens School District. Being constructed on 51st Avenue, Hunter's Point will take up almost a full city block between 2nd Street and Center Boulevard. The building will include 26 classrooms, several laboratories, a full sized gymnasium and auditorium, and even a near 4000sf walk out roof terrace outside of the 2 separate cafeterias on the 5th floor. Following along with other city development ideals, the school building has a modern architectural feel as it incorporates interesting shapes, cantilevers, and sense of solids and voids together. The cubic shape of the building is broken up with vertical shafts, horizontal windows, and slanted edges. The exterior façade comprises of a unique blend of grey brick, slate veneer, concrete block, orange aluminum composite panels, and glass curtain walls. The interior takes a more traditional look, with tile flooring, gypsum walls, and acoustical ceiling tiles making up most of the room finishes.
Major Codes:
New York State Codes:
2008 New York City Building Code

2007 Building Code

2007 Mechanical Code

2007 Plumbing Code

2007 Fire Code

2007 Energy Conservation Construction Code

2007 Fuel Gas Code
2005 National Electric Code
Zoning:
Hunter's Point South School is located in a M1-4 Zone. M1-4 is designated as light manufacturing zone, allowing light industrial and public access structures to be built
Historical Requirements:
This building/site does not have any historical significance
Building Enclosure
Facade:
The building Façade is made up of a combination of materials.  Much of the upper floors has a face finish of 4x4x12 Manganese Ironspot  (grey) smooth modular brick over 6" lightweight CMU. Curtain wall glazing and projected windows are aluminum framed with a 1" preassembled Type I Class 1 clear annealed float glass system comprised of a 1/8" annealed exterior sheet, 60mil Polyvinyl Butyral interlayer, and 1/8" interior sheet with a low-e coating. Curtain walls are surrounded by 4mm thick aluminum composite panels with a cupral 913 (shade of orange) colored fluoropolymer finish. The first floor has a 2" honed finished slate stone veneer over a 6" CMU back-wall along the north, south, and west façades. The first and second floors also have an Insulated Translucent Sandwich Panel System, or ISTSPS. This 2-3/4" fiberglass system includes reinforced translucent sheets placed on a core of thermally broken I-Beams, and allows for 15% light transmission and a NFRC certified U factor of .28.
Roofing: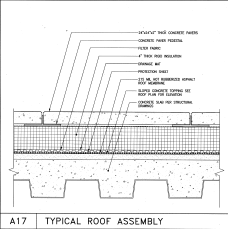 Typical roof assembly for this building is concrete on metal deck with a system of hot applied, fabric reinforced, rubberized asphalt membrane placed at a thickness of 215mil on top. The roof finish is 24"x24"x2"thick concrete pavers with 4" rigid insulation underneath.  In several places, a preformed aluminum deck is used.
Sustainability Features
Hunter's Point South School follows the NYC Green School Guide. Enacted in 2007 by the New York City School Construction Authority, this requires all new educational facilities to adhere to a higher standard of sustainable design and construction. Hunter's Point has exceeded these guidelines and is being designed to meet LEED Silver certification. Sustainable design features include occupant sensor lighting, self-adjusting ventilation systems, and solar shading. The project also takes advantage of both recycled and local materials (within 500 mile radius) for the construction of this building.