TECHNICAL ASSIGNMENTS
Technical Report lll | 11/15/2011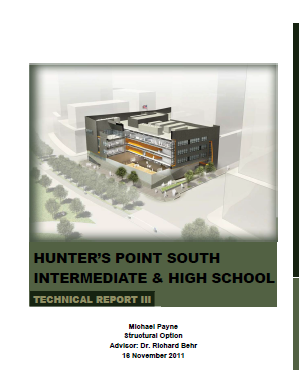 Technical report lll is an in-depth lateral system analysis and confirmatio study. Building off of the lateral design introduction of Technical Report l, this report goes into a detailed analysis of the strength and serviceability characteristics of the Hunter's Point South lateral force resisting system. A 3D computer model in ETABS is used for a detailed design of the structure, and hand calculations are provided to check the model for accuracy. This report looks at system stiffness, deflection and drift control, foundation impact, and strength checks of individual members.
Technical Report ll | 10/18/2011
Technical report ll is a pro-con structural study of alternate floor systems. Three alternative systems were analyzed and compared with the existing system to decide whether or not it would be a viable alternative to the structural design.
Technical Report l | 09/22/2011
Technical report l is a structural concepts and existing conditions report. It starts with an overview of the exisiting structural design, codes, materials, and loads. It then goes into a summary of the wind and seismic loads applied using ASCE7-10.