The Johnnie B. Byrd Alzheimer's Center & Research Institute stands out with its architectural features comparing its surrounding both in design and function. The uniqueness of the building comes from the following elements:
It has a wavy like curtain glass wall that spreads its entire height on the east side (See figure 1 above). That last connect to a rectangular part of the building that notches out of the building covered also by  a curtain wall. In that part of the building we find a 4 story high square curtain wall atrium that is rotated about 75degrees and thus has its 4 corners coming out of the building giving it an open entrance. That atrium is designed in such way to bring in the light to lift people's spirit even when visiting an Alzheimer's Center (See figure 2).
On the West side, the building is cement plaster o that the building doesn't look completely alienated from its surroundings but has vertical curtain wall windows to look cohesive throughout (See figure 3).
Also these features were not only put in place because of style but because of the use of the building. The east side where all the light shines is for the Administration wing. , the Imaging suite is on the west side where it is darker.
<![if !word & !ppt & !excel & !vml]>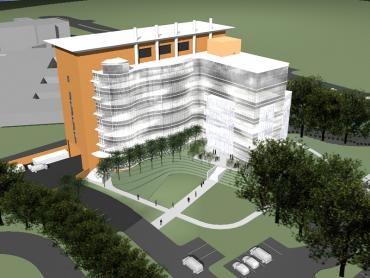 <![endif]>                                  <![if !word & !ppt & !excel & !vml]>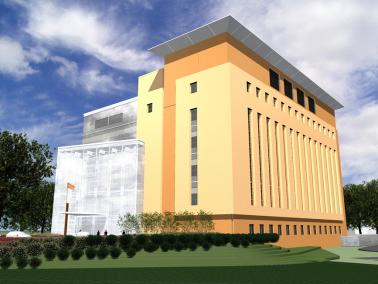 <![endif]>
Figure 2. South east view showing the wavy curtain wall,                                      Figure 3. Showing the cement plaster with the uniform vertical the  rectangular part and the cube atrium with its 4 corners nudging out.                          curtain walls along its west façade.
Major national model codes
       2001 Florida Building Code with 2003 Updates:                          2001 Florida Building Mechanical Code
                                                                                                    2001 Florida Building Plumbing Code
                                                                                                    2001 Florida Building Fuel Gas Code
                                                                                                    2001 Florida Building Accessibility Code as Ch.11 and Energy Code as Ch.13
       Florida Fire Prevention Code:                                                      2000 National Fire Protection Association
                                                                                                           1999 National Electrical Code (NFPA No. 70)
Zoning
The building is not under the USF design process fully however it follows part of the University of South Florida planning.
For example, the USF design process states: "All buildings that have over 50,000 gross square feet of space should be designed  at  a minimum of three (3) stories in height.[..] Taller buildings (maximum eight (8) stories) are permitted in the medical district due to land area constraints and adjacent non-University property densities across Bruce B. Downs Boulevard and Fletcher Avenue." For more info on the USF design process please click here
more info needed on the restrictions.
No Historical requirements of building or zone where built
Building envelope
The façade of the building is mainly divided into two parts. The east side consist of curtain wall glazing and Aluminum panels. The curtain wall glazing consists of: Clear Tempered, insulating laminated spandrel glass, clear insulating laminated glass, insulated fritted glass 30% silkscreen coverage pattern, insulating fritted glass 50% silkscreen coverage pattern, sunscreens and louvers (see figure 4). The west side consists of cement plaster with the same curtain wall like glazing and decorative grille with louver at the top. (see figure 5). As for the roof the use of Thermoplastic Membrane roofing was chosen with ¼"/ft slope with Aluminum parapet for architectural reasons . A 2" thick polyurethane foam coated in acrylic elastomeric emulsion coating is used as insulation.
       <![if !word & !ppt & !excel & !vml]>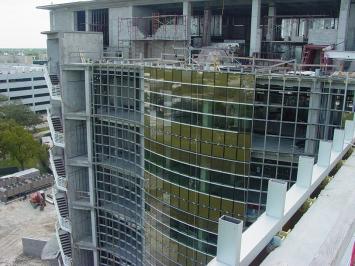 <![endif]>                                          <![if !word & !ppt & !excel & !vml]>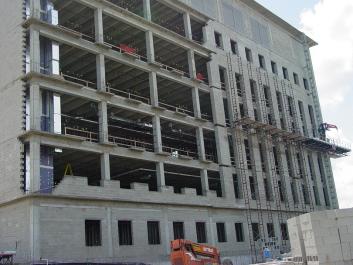 <![endif]>
Figure 4. The curtain wall with the 5 different types of glazing.                                        Figure 5. The west side where the cement plaster will apply as                                                                                                                                                         well as the decorative  grille with louver at the top.

Sustainability

The use of louvers, sunscreens and 30% and 50% silkscreen coverage pattern glazing were used to reduce the amount of heating/cooling of the building on the curtain wall. Other features such as low water consumption toilets and urinals, natural day-lighting, bike racks, use of local materials and products and construction waste management was used.
It has been LEED silver accredited after construction.

<![if !vml]>